Posted by Graham Holland in news and reviews, spotlight
LIVERPOOL ACOUSTIC SPOTLIGHT
2013 CHRISTMAS SPECIAL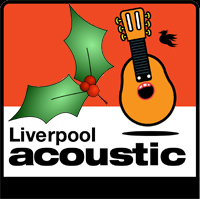 Christmastime is here, by golly
Disapproval would be folly
Deck the halls with hunks of holly
Spare the cup, and don't say 'when'

Kill the turkeys, ducks and chickens
Mix the punch, drag out the Dickens
Even though the prospect sickens
Brother, here we go again.

Tom Lehrer
Pity poor Tom who obviously bears a grudge against the most wonderful time of the year. Maybe he got savaged by a reindeer when he was a child… Here at Liverpool Acoustic we don't share his sentiments, and to prove it we're celebrating all things Christmassy and Wintery with our seasonal special podcast.
Thanks to all of the artists who've submitted songs for this year's show. If you want to catch up on the previous two then the links are here.
Liverpool Acoustic Spotlight 106
2013 Christmas Special

2013 Christmas Special
Play Now
|
Play in Popup
|
Download
To play click the player above or right click Spotlight 106 to download for free.
If you're an acoustic musician from the Greater Merseyside area, or from further afield but play on the Liverpool scene, then feel free to send us your music for future shows. We can't promise we'll be able to play everything that's sent to us, but we will listen to every track. Find out all about the show, how to submit your music, and the Terms of Use, at liverpoolacoustic.co.uk/spotlight/about
1. Jo Bywater – Little Christmas (Chasing Fairy Lights)
jobywater.com
Song recorded for the album A Searching For Dandelions: Vol 2
Check out the video here.
2. Leo Roberts – Panto Season
soundcloud.com/leoroberts

3. Derek King - Bah Humbug
facebook.com/Derek.King.Music
soundcloud.com/derek-king-4

4. Anna Corcoran – And Winter Came (live) 
annacorcoran.com
soundcloud.com/annacorcoran

5. Benjamin Stephen Jones - Cold Winter's Morning 
soundcloud.com/ben-jones-7 

6. The Southbound Attic Band - The Lone Crow
southboundatticband.co.uk
soundcloud.com/southbound-attic-band
Set to be included on the band's new album, due out soon


7. Alex Hulme & Allie Bradley – Christmas Day (Right There With You)
Alex Hulme - thisisalexhulme.com
Allie Bradley - reverbnation.com/alliebradleymusic
Check out the video for this song here.
BEDDING MUSIC
Ken Nicol – God Rest Ye Merry Gentleman, and other songs
Taken from the superb Christmas album 'Tidings' available to buy from kennicolmusic.com
If you get the chance, please support your local artists by joining their mailing lists, liking their facebook pages, following them on twitter, leaving them comments, going to their gigs, and buying their music direct from them where possible. The Liverpool Acoustic Spotlight is produced and presented by Graham Holland on behalf of the Liverpool Acoustic website, and is a proud member of the Association of Music Podcasting. The theme music is King of the Faeries by Andrew Ellis from his CD Midnight On The Water.
>>>
Spotlight 106: Liverpool Acoustic Spotlight 2013 Christmas Special

Graham Holland is the owner and editor of the Liverpool Acoustic website, and runs Liverpool Acoustic's award-winning live music events with local musician Stuart Todd. In real life he's an Apple Professional Development Authorised Trainer, has been producing podcasts on a regular basis since July 2006, and runs a number of websites for other organisations. He lives in Wavertree with his partner and their cat Xiao Hei.