About
The Liverpool Acoustic website is designed as a central resource for anyone interested in acoustic music in and around Liverpool. We also cover Merseyside, Cheshire West, Halton, Warrington, and West Lancs. Whether you're a musician looking for an open mic event where you can play for the first time, or just a lover of acoustic music looking for somewhere to go for a good night out, you'll find all the information you need here. If you run an open mic night, or just attend one as a regular, then why not tell us all about is so we can add it to the diary?
Musical talent runs deep through the veins of the City of Liverpool, and is reflected in the healthy acoustic music scene. Thanks to pioneers such as Acoustic Engine and Catacoustic, local acoustic musicians not only have the chance to perform at Open Mic nights but also to be booked to perform as artists in their own right. Add into the mix informal open mic nights in pubs up and down the region, plus the bedrock of local folk clubs, and you have a exciting and expanding scene befitting one of the world's great music cities.
Feel free to contact us if you have any reviews of events or CDs, any news from the local acoustic scene, or any dates for the diary. Let us know if you'd like to contribute in any other way too.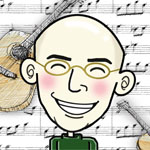 Graham Holland is the owner and editor of the Liverpool Acoustic website. He runs the double award-winning Liverpool Acoustic Live events with Stuart Todd, and has presented the Liverpool Acoustic Spotlight show since May 2008. The Spotlight features artists due to appear at  future events, and songs from other local and visiting musicians.
Graham is Liverpool's longest active music podcaster having produced and presented the It's A Frog's Life Acoustic Podcast since July 2006. This Podcast Peer Award winning and European Podcast Award nominated show features some of the best unsigned and independent acoustic music from across the UK and around the world.
An acoustic musician and former regular performer, Graham ran and co-hosted the Come Strut Your Stuff open floor poetry and acoustic music night at Liverpool's Egg Cafe from 2000 to 2011. It was at Come Strut Your Stuff that he was regularly asked the question "Where else can I play in Liverpool?" He knew that there were lots of acoustic events happening in and around Liverpool, but that it was difficult to find out information about many of them. So the Liverpool Acoustic website was born.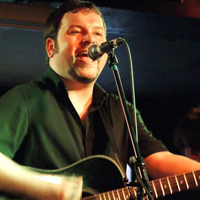 Stuart Todd runs and hosts the double award-winning Liverpool Acoustic Live events with Graham.
Graham and Stuart first met at Come Strut Your Stuff many years ago where Graham was immediately impressed by Stuart's songwriting and performing skills.
Stuart was formally in the group Triad before leaving to do solo work. In recent years he has had a successful partnership with local classical guitarist and composer Neil Campbell with whom he formed the duo Campbell Todd, and formed the band The Freebies, featuring sound engineer Andy Fernihough on bass, Wayne Dineley on electric guitar and Mark Brocklesby on drums. His current venture is Three Minute Hero.
about liverpool acoustic