Posted by Liverpool Acoustic in news and reviews
Liverpool Acoustic Spotlight #21
Christmas Cracker 2009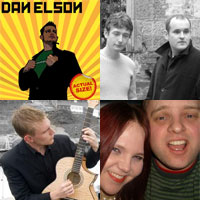 1. Dan Elson – Kicking Off
2. Thomas-Joseph & Murphy – Power of Persuasion
3. Adam Ritchie – Chasing Dancers
4. The 10p Mixes – Christmas No 1
Download the show

for free
(right-click to download)
Or listen online below
http://itsafrogslife.net/podcast/player/player.swf
(not available for email subscribers)
There is no Liverpool Acoustic Live gig this month, so instead the Liverpool Acoustic Spotlight is featuring a number of acoustic tracks from local artists to help fill the gap. Thanks to Dan Elson, T-J & Murphy, Adam Richie, and The 10p Mixes for helping out.
Liverpool Acoustic Live will be back on January 22nd with a line-up of Naomi Mather, Andy Chandler, Suzanne Jones, and Sparkwood & 21.
Dan Elson
myspace.com/danelsonmusic
You're probably like Dan….. sick of pretentious indie bands, boring singer/songwriters, egotistical rappers, and generally crap gigs.
Dan Elson is Dan Elson's answer to dull music. Instead of doing what everyone else was doing he decided to cheer the hell up and bring a little bit of the bop back to gig venues across Liverpool.
Dan has been delighting audiences with silly rock, pop and ska tunes on his own with an acoustic guitar, or sometimes with a trumpet player named Keegwad, more often with a drummer called Al, and recently with a bass player called Mr Seaman. Together they will play your gig/party/event for a good time and a friendly smile, bringing with them some good quality entertainment, and some tunes to which you may wish to dance.
WARNING: You may not like Dan Elson if you have no sense of humour, are four feet up your own arse, or have no ears.
Dan Elson and The Rhythm Pixies have a brand new EP. Email danelsonmusic@live.co.uk to buy one for only £3! Even better get one for only £2 at any of his live shows!
Dan appeared on the Music Review with Victoria Derbyshire on BBC Radio 5 Live on 26th October 2009. Just for your pleasure you can download the show here

or listen online here (not available for email subscribers).
http://itsafrogslife.net/podcast/player/player.swf

And don't forget you can get some lovely new acoustic tracks for free, as Dan's Christmas present to the rest of the world, from www.reverbnation.com/danelson
Thomas-Joseph & Murphy
myspace.com/thomasjosephandmurphy
T-J & Murphy have certainly had a busy year gigging all over the city and beyond. Not only have they been playing as a duo, they've also been playing with their new band.. Ted Guy (Harmonica/ Slide guitar), Jake Foord (Bass), Mark Byrne (Drums), and Alison Campbell (Viola, Piano).
Don't forget to buy your own copy of the fabulous album Weary Nights from CD Baby and you can read Liverpool Acoustic's review of the album here.
Adam Ritchie
www.myspace.com/adamritchie23
Adam was born and raised in Crosby, and loves his home town of Liverpool with its incredible musical heritage. He started jamming in a local pub aged 18, and shortly after joined the band Barfinkle. With Barfinkle he played over 100 gigs, including the first Hub Festival and the switching on of Liverpool's Christmas lights.
Adam has since gone solo, and has recently finished recording at Elevator Studios in the city.
"A strong voice coupled with technical wizardry with a strong sense of melody and a free heart felt style. Adam's music uses classical phrases mixed with blues and honk tonk licks that bring the rhythm of the music to the forefront."
The 10p Mixes
myspace.com/the10pmixes
The 10p Mixes are all about making pop music, drinking pear cider &eating; sweets.
"We are an indie-pop group, currently playing as an acoustic duo. We have good melodies, interesting lyrics and unusual harmonies, or so it has been said. We write songs about things that are meaningful to us, such as being skint, wearing a coat, and the notorious antics of the French canine population. We like making people think, laugh, cry, smile, dance and sing along."
Danielle sings lead vocals and plays keyboard melodies, whilst Will plays the guitar and provides vocal harmonies. They are currently looking for a bass player to go with them and their new drummer, Keith.
You can buy music from The 10p Mixes, including their new mini-album Bedroomsound, at last.fm/music/The+10p+Mixes
Liverpool Acoustic Spotlight #21 – December 2009
If you get the chance, please support your local artists by emailing them, joining their mailing lists, leaving them comments, going to their gigs, and buying their music direct from them where possible.
The Liverpool Acoustic Spotlight is produced and presented by Graham Holland on behalf of the Liverpool Acoustic website. It is also available on the Internet courtesy of Art In Liverpool FM (Defnet Media), and is a proud member of the Association of Music Podcasting – supported by Libsyn
The theme music is King of the Faeries by Andrew Ellis from his CD Midnight On The Water.

Liverpool Acoustic is the only website of its kind in the UK. It was created by Graham Holland in April 2008 as a central resource for the vibrant and exciting acoustic music scene in Liverpool and the Greater Merseyside area. It contains an extensive diary of acoustic events, from festivals, theatre concerts and folk clubs to showcases and open mic nights. The News and Reviews service is available as a free email subscription and carries previews of upcoming events, reviews of music releases and gigs, the Liverpool Acoustic Spotlight podcast, and a newsletter on the first of each month.