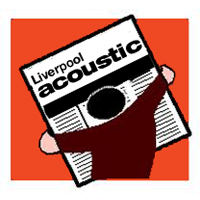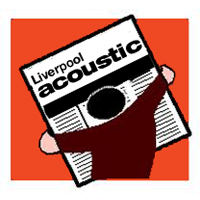 March 2014 sees the return of Threshold Festival across the Baltic Triangle over the weekend of 28th to 30th March. Liverpool Acoustic will be there on the Saturday once again with a full afternoon of fantastic live music. Don't forget you can get your weekend tickets in advance from the links at tinyurl.com/threshold2014

Also taking place this month is the Liverpool Acoustic Festival on 21st and 22nd March. Although it shares the same name as us, it's actually run by the Unity Theatre. Check out the exciting lineup on the website here.

LIVERPOOL ACOUSTIC OPEN MIC @ SOUND
Liverpool Acoustic Open Mic takes place every Monday evening at Sound Food and Drink on Duke Street. Hosted by Three Minute Hero (Stuart Todd) each night features a mix of booked acts and open mic. If you want to play and would like to book your slot in advance you can do this by posting on the event page at facebook.com/liverpoolacoustic/events

LIVERPOOL ACOUSTIC LIVE
Liverpool Acoustic Live enters its sixth year with another cracking  gig at the View Two Gallery on Mathew Street. Headlining the night is Treetop, the solo project from local singer-songwriter Craig Lamb. Treetop made an impact last year with his performance at the Liverpool Music Awards ceremony at St George's Hall. Joining Craig with be Bolton duo Throwing Pandas, local musician Carl Foulkes Jones, and 12 year old Millie Courtney.  It's all happening on the evening of Friday 28th March 2014. Tickets will be available in advance for £5 from wegottickets.com/liverpoolacoustic or for £6 on the night. Doors open at 7.45pm with the music starting at 8.15pm.
You can join the facebook event at facebook.com/liverpoolacoustic/events
All of our future live events can be found at liverpoolacoustic.co.uk/live and if you want to receive information about tickets before they go on general sale then sign up to our events publicity mailing list here.

LIVERPOOL ACOUSTIC AFTERNOON @ THRESHOLD
Try keeping us away from Threshold Festival (not much chance of that happening!). We're back with another Liverpool Acoustic Afternoon on Saturday 29th March 2014 and we've got ten acts performing between 2.00pm and 7.00pm.
We can exclusively reveal that our lineup for this year is:-
Neildsy
Caroline England
Three Minute Hero
Dan Whitehouse 
SheBeat
Chris Callander
Tiz McNamara
Nora Konstanse
Alex Hulme
Kevin Critchley
We're in our regular Threshold venue of The Baltic Social (formally Elevator Bar) and don't forget you can only get in if you have a festival day or weekend ticket available here.
All we can say is BRING IT ON!

DIARY NEWS
If you can help us out by bringing us up to date, drop us a line using the 'Contact' page. And if you have anything to add to the diary, just visit the 'Diary' page and click the 'Add Event' button.
All change…
The Tillerman Show has moved from its former Friday afternoon slot at Lomax. It's now every Thursday evening from 6.30pm to late, having taken over the slot vacated by the former Cup of Tea Open Mic.
You say goodbye…
…we've not been told of any regular events coming to an end.
And I say hello…!
Woolton Guitar Club takes place every Tuesday (except the first Tuesday of the month) at the Woolton Village Club. It starts at 7.15pm and runs for two hours. Price to get in is £6 and the night combines guitar lessons with informal jam sessions. There's a PA, advance notification of the set list, chord sheets and backing tracks provided. All levels of expertise are welcome with the only criteria being enthusiasm! Details and tickets from Dave O'Brien on 07803 955437
Grateful Fred Cafe Series is a set of intimate gigs at Café D' Art in Formby Village. The first one sees Peter Mulvey performing and there are only 30 tickets in total at £10 each from gratefulfreddie@gmail.com

MARCH DIARY SELECTION BOX
Here's a selection of some of the acoustic events taking place this month. Click on the event in the diary for full details and links.
Saturday 1st – Liverpool Musicians Awards @ The Zanzibar – Not to be confused with any other music awards in Liverpool with a similar name… This one features performances from Vanessa Murray, Ste Neildsy, and Thom Morecroft. Details here.
Monday 3rd – Liverpool Acoustic Open Mic @ Sound Food and Drink. Kicking off at 8.30pm, this week's booked guest is Mark Pountney.
Wednesday 5th – Hannah Aldridge @ Grateful Fred's at The Atkinson Studio. Nashville's Hannah Aldridge continues Grateful Fred's policy of booking only the very best headline acts touring in the UK today. This month sees support from The Goat Roper Rodeo Band, and hosts the Grateful Fred Band. Tickets from theatkinson.co.uk
Thursday 6th – Låpsley and Nadine Carina @ Leaf – we love Nadine Carina and new kids on the block Låpsley are pretty darned good too! Check out the facebook page here.
Saturday 8th – Radical Liverpool Performers' Night @ The Cross Keys – continuing their new format at their new venue, Radical Liverpool this month recognises International Women's Day plus the 30th anniversary of the miners' strike. Details on facebook here.
Thursday 13th – Stefan Melbourne @ The Shipping Forecast. Introspective blues from Stefan Melbourne, haunting and passionate songs from Michael Reeve, plus Beaten Tracks DJs and more courtesy of Mellowtone. Entry is only £4, tickets here.
Friday 14th – The Good Intentions @ View Two Gallery - Acoustic Dustbowl this month features home-grown award-winning talent in the form of The Good Intentions, with support from Iain Till with Stephanie Kearley and regular hosts The Southbound Attic Band. Doors 8pm for an 8.30pm start, and tickets £6 on the door or £5 in advance from wegottickets.com
Saturday 15th – Mark Pountney album launch @ House – Launching his long-awaited debut solo album 'Mark I', Mark Pountney is joined by Rae Clark. £5 will get you in and a copy of the new album, or £3 in without the album. It all kicks off at 8.00pm, details here.
Saturday 15th – The Songbook Sessions @ The Zanzibar – New guys Cavalry can be seen alongside Brigantes, James Michael, Jessicas Ghost, Twisted Trees, Carl Harper, and The Restless Venture. And all for a measly £5 on the door at 7.30pm. Details on facebook here.
Wednesday 19th – Kathryn Williams @ Leaf. Liverpool's Kathryn Williams returns to the city after far too long away for what's set to be one of Mellowtone's gigs of the year. Support is from Lizzie Nunnery and Vidar Norheim, plus Matt Deighton, and Beaten Tracks DJs. Tickets £12.50 here.
Wednesday 19th – Spiers and Boden: Goodbye… the Final Tour @ The Arts Centre. The finest instrumental duo on the traditional scene are going their separate ways, but not before one final tour together. Tickets available from edgehill.ac.uk/artscentre
Friday 21st & Saturday 22nd – Liverpool Acoustic Festival @ The Unity – featuring Robert Vincent, Thomas McConnell, Ian McNabb and many more, plus workshops, seminars and Q&As. Details and tickets here.
Sunday 23rd  - Rag Mama Rag @ Wallasey Folk and Acoustic Club – Do check out this top class blues duo on their website to see and hear just how good they are. Tickets are £7 and details can be found at wallaseyfolkandacousticclub.co.uk
Friday 28th – Liverpool Acoustic Live @ View Two Gallery. 7.45pm doors, 8.15pm start, tickets £5 in advance, £6 on the door. Treetop, Throwing Pandas, Carl Foulkes Jones, and Millie Courtney.
Friday 28th to Sunday 30th – Threshold Festival @ venues across the Baltic Triangle. Details here.
Saturday 29th – Liverpool Acoustic Afternoon @ Threshold at The Baltic Social (formally Elevator Bar) from 2pm to 7pm. Get your tickets here.

AND FINALLY…
If we've missed anything from the diary or the selection box above then let us know so we can add it for everyone to see.
Graham – on behalf of the Liverpool Acoustic Team


Liverpool Acoustic Newsletter – March 2014
>>>

Liverpool Acoustic is the only website of its kind in the UK. It was created by Graham Holland in April 2008 as a central resource for the vibrant and exciting acoustic music scene in Liverpool and the Greater Merseyside area. It contains an extensive diary of acoustic events, from festivals, theatre concerts and folk clubs to showcases and open mic nights. The News and Reviews service is available as a free email subscription and carries news about upcoming events, reviews of cds and gigs, interviews with local musicians, and a newsletter on the first of each month.