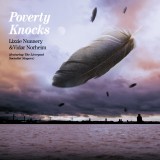 tagged:
black hound howling
,
crisis
,
graham holland
,
liverpool socialist singers
,
lizzie nunnery
,
music review
,
poverty knocks
,
single review
,
vidar norheim
Posted by Graham Holland in music reviews, news and reviews, reviews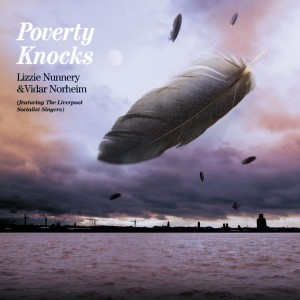 SINGLE REVIEW
Artists: Lizzie Nunnery and Vidar Norheim
Single: Poverty Knocks (featuring the Liverpool Socialist Singers)
Website: lizzienunnery.co.uk
Poverty Knocks (not to be confused with the old mill-workers' song Poverty Knock) is the first single from Lizzie Nunnery's eagerly awaited second album Black Hound Howling, due for release on 17th September. It's been over two years since we were treated to Lizzie's debut album Company of Ghosts (see review here), and since then Nunnery has been busy writing stage and radio plays to great critical acclaim. Fortunately for us she has also found time to write new songs with her long-time musical partner and now real-life partner (they got hitched last Spring!) Vidar Norheim (Wave Machines, Solid Air Band). And given the creative and musical input Vidar has had in Lizzie's music over the years it's great to see him being given equal billing on the single and album.
Poverty Knocks opens with Lizzie strumming a syncopated guitar waltz before her highly distinctive vocals come in. The rest of the instruments – bass, piano, trumpet – are introduced like carefully planned appliqué layers, each one contributing perfectly to the overall design. The gilded thread in this particular musical tapestry is the introduction of the Liverpool Socialist Singers, giving the song additional depth and atmosphere.
Lizzie is a master wordsmith, exhibiting a remarkable ability to paint pictures with words. With Poverty Knocks the picture being painted is of life's struggles, the daily game of 'sink or swim'.
'Inside the walls and under the ground
In all of the graveyards in all of the towns
Sure as the stroke of a time worn clock
Close as your heart beat, poverty knocks'
Lizzie and Vidar have one of those rare, precious musical partnerships that creates images in the mind's eye and brings those images to life with the power of words and music. This is music with real vision, and inspired production, and I, for one, can't wait for the album.
Poverty Knocks by Lizzie Nunnery and Vidar Norheim, featuring the Liverpool Socialist Singers, was released on 8th August and is available to download from lizzienunnery.co.uk
All profits (77p from every £1 purchase, and £4.77 from every £5 purchase) will be donated to Crisis, the national charity for single homeless people.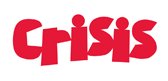 The new album Black Hound Howling is released on 17th September and is available to pre-order for only £7 from Lizzie's website.
© 2012 Graham Holland
Liverpool Acoustic – liverpoolacoustic.co.uk
single review lizzie nunnery and vidar norheim poverty knocks featuring the liverpool socialist singers

Graham Holland is the owner and editor of the Liverpool Acoustic website, and runs Liverpool Acoustic's award-winning live music events with local musician Stuart Todd. In real life he's an Apple Education Trainer, has been producing podcasts on a regular basis since July 2006, and runs a number of websites for other organisations. He lives in Wavertree with his husband and their cat Xiao Hei.