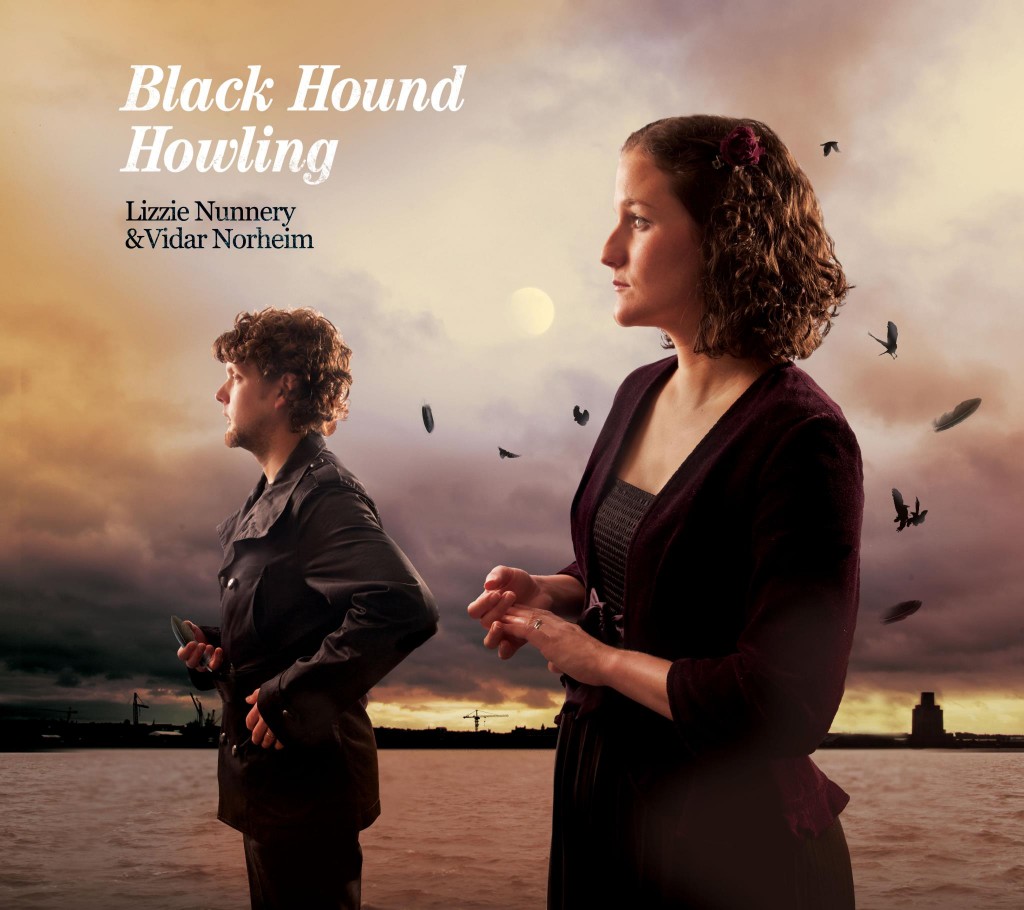 ALBUM REVIEW
Artist: Lizzie Nunnery & Vidar Norheim
Album: Black Hound Howling
Website: lizzienunnery.co.uk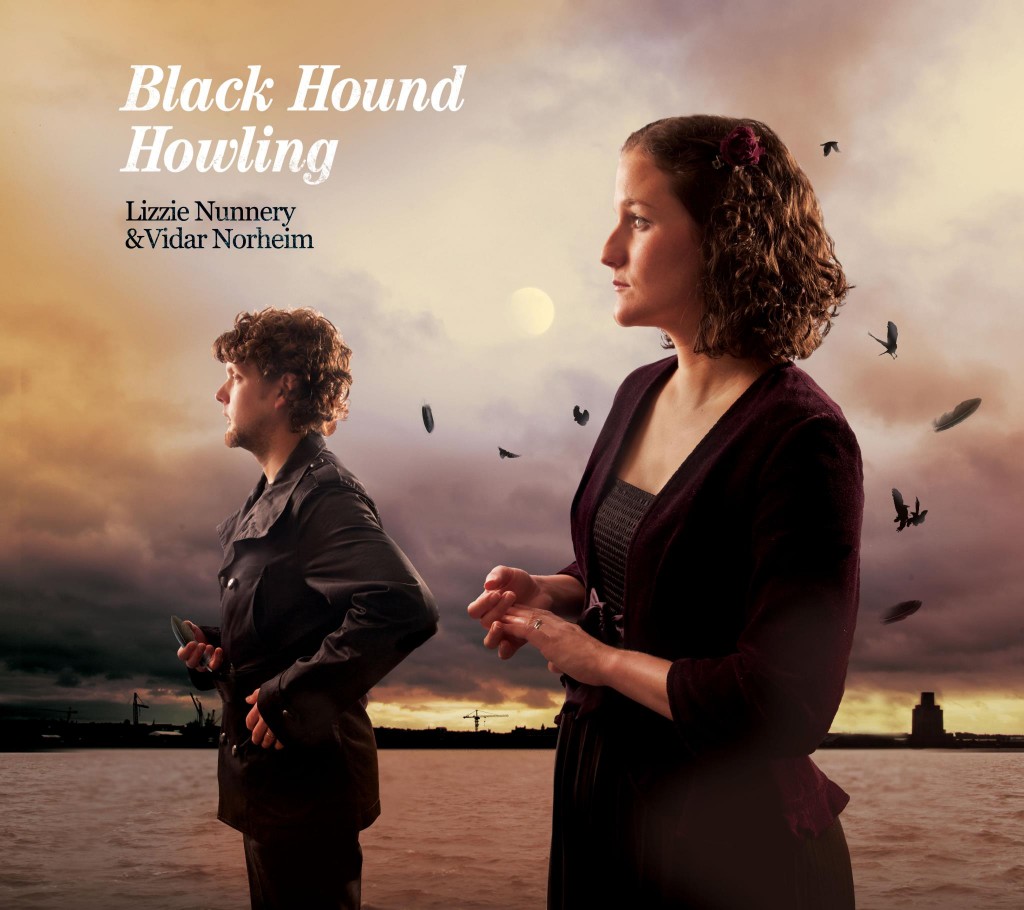 There's a musician I know who has four albums to his name – albums which, despite containing well-written, well-produced songs, could easily be interchanged with each other and nobody would be any the wiser. That's because there's been no progress, no development, no musical journey over the years. And it all ends up sounding rather samey and (there, I've said it) boring.
The same could never be said of Lizzie Nunnery. Here's a singer, songwriter and musician who burst onto the scene in 2006 with a self-released EP Monkeys and Devils oozing style, confidence and individuality. The 2008 EP Hungry was Lizzie's first collaboration with Norwegian musician Vidar Norheim (Wave Machines) who instantly added an extra dimension to Lizzie's songs with his skilled arrangements and adventurous instrumentation. Anyone who's heard the bowed guitar on the title track Hungry will know just what I mean. 2010 saw Lizzie release her debut album Company of Ghosts, which continued to develop many of the themes from the Hungry EP, and showcased Lizzie's undoubted skill as a songwriter and a weaver of words.
Keeping up the tradition of releasing new music every two years, Lizzie Nunnery's new album – Black Howl Howling – is out this week. I said when I reviewed the single (and album track) Poverty Knocks [here] it was good to see Vidar Norheim receiving equal billing. It's only right, given his contribution to this album as a singer, songwriter, musician, producer and collaborator.
The press release for Black Hound Howling promises ballads of apocalypse and heartbreak, and we get that full blast from the opening note. A prayer-like vocal hum, a spooky vibraphone-type droning, and what sounds like the striking of bass strings on a piano accompany Lizzie's powerful, distinctive vocal on the album's opening track, Evensong. These are all complete guesses, by the way, and knowing Vidar's musical inventiveness I could well be wide of the mark.
"They say the end of the world is coming.
They say plagues of locusts, frogs,
banging drums and howling dogs;
the last prayer in Evensong.
They say."
Instantly we're transported to 1930s dustbowl America, a clapped-out chapel, a grey, world-weary congregation, and a 'fire and brimstone' preacher standing in the pulpit, firmly clutching his bible, and telling all to repent for the end of the world is nigh. I love the way songs like this can take you on a journey to a different place and time using just the power of words and music. The theme continues with Five Thousand Birds, where we're presented with images of taps running black, sand storms, plagues of locusts, and birds falling from the sky.
Black Hound Howling is one of the standout tracks for me. It's another dark tale featuring guitar, piano and percussion, plus the introduction of a menacing staccato string sound from the Liverpool Session Orchestra. Throughout the song the strings and percussion build up to a crescendo, drop off suddenly, then reappear bringing with it a real sense of foreboding.
The pace slows to a gentle lament with Sand, and there's no let up on the imagery.
"I've been sleeping with the dead.
I've been watching the shapes in my bed.
The things I think I thought I was
carried away with the wind on the rock.
I'm sand."
The Cold Has Come introduces Christian Badzura on grand piano, along with the return of the string section, this time in a more soothing, legato mode. It's a sad song about loss and separation, but with a note of hope at the end.
"There will be love beneath the snow.
Don't ask me to promise, don't ask how I know,
but there will be… there will be…"
Plucking The Stars is another of my favourites. It starts with Lizzie aptly plucking then strumming her guitar before launching into a classic folky-pop sound with percussion and tambourine. This song wouldn't be out of place in a concert by The Seekers, and I can just see Judith Durham on stage singing this one and enjoying every minute. Featuring the keyboard talents of Mr Gary Daley (China Crisis), Treat Lightly is a love story written in a way that only Lizzie Nunnery could write. It's a plea for a lover to treat the singer gently following the unspoken hurts of past relationships.
Cherry Blossom is reminiscent of the title track from Lizzie's previous album, but whereas Company of Ghosts combined beat poetry and singing, this time the whole track is poetry set to music. Whether writing songs or crafting plays, Lizzie is a truly gifted wordsmith, and this talent comes shining through with her free-form poetry. We're also treated to a sublime instrumental break from the wonderful Martin Smith on trumpet, as the music takes on a cool lounge music-type feel. I'd heard Don't Put Your Life On The Stage in a solo acoustic setting at the View Two Gallery back in May, so was interested to see what treatment it would receive on the album. The answer is a bigger, more orchestral sound courtesy of string arrangement by Christian Badzura.
For many people Twisting On The Breeze, a song with just Lizzie's vocals and Vidar's piano, will be new. However, those of us who've followed Ms Nunnery's musical journey will know it was originally featured on Monkeys and Devils. It's always been one of my all-time favourite Lizzie songs (I played it on the It's A Frog's Life Acoustic Podcast back in January 2007) and it's great that it's set to find a new army of admirers. It's a superb song which seems to get better every time I hear it. We get more beat poetry with Don't Look to Me, and some more vibraphone and trumpet. The sleeve notes say that Martin Smith plays the 'weird horn' on the album, and I'm wondering if it's on this track. I'm also wondering what a weird horn is!
The last track is Poverty Knocks, a song I reviewed when it was released as a single last month. For me this is the catchiest song on the album; the one that pops into my head as I'm walking round the house or standing at the sink washing the dishes. It bears repeating that the introduction of the Liverpool Socialist Singers on this track is an act of inspired genius, and I couldn't help singing their part (to myself, under my breath!) when Lizzie played it on stage at the Liverpool Philharmonic Hall as part of the Hope Street Feast's Irish Sea Sessions taster ahead of her appearance at the full concert for this year's Liverpool Irish Festival (see information below).
With Black Hound Howling, Lizzie Nunnery and Vidar Norheim present us with an incredible album crammed full of truly memorable songs, inspired musical arrangements, and multi-layered imagery that at times is almost tangible. In short, it's a masterpiece, and I, for one, can't wait to see what they do next!
© 2012 Graham Holland
Liverpool Acoustic – liverpoolacoustic.co.uk
Black Hound Howling was released on Monday 17th September 2012 on Redthread.
It's available to buy in physical form from lizzienunnery.co.uk and as a digital download from iTunes and AmazonMP3.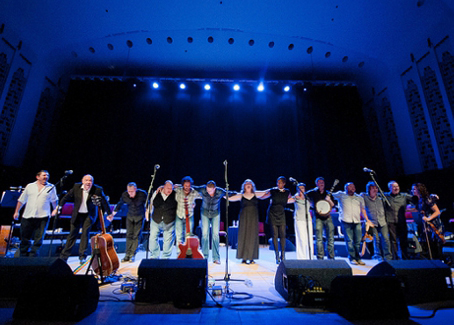 Lizzie Nunnery will be performing at the Royal Liverpool Philharmonic Hall as part of the this year's Irish Sea Sessions on Friday 19th October 2012. Also taking part are Pauline Scanlon, Frank Kilkelly, Alan Burke, David Munnelly, Terry Clarke-Coyne, Damien Dempsey, Ian Prowse, Stevie Dunn, Bernard O'Neill, John McSherry, Méabh O'Hare, and Gino Lupari.
Tickets for this event start at £17.50 and are available from the Liverpool Phil box office online, in person or by phone 0151 709 3789.
Album review: Lizzie Nunnery & Vidar Norheim – Black Hound Howling

Graham Holland is the owner and editor of the Liverpool Acoustic website, and runs Liverpool Acoustic's award-winning live music events with local musician Stuart Todd. In real life he's an Apple Professional Development Authorised Trainer, has been producing podcasts on a regular basis since July 2006, and runs a number of websites for other organisations. He lives in Wavertree with his partner and their cat Xiao Hei.