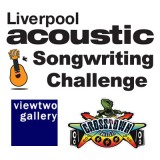 tagged:
liverpool acoustic songwriting challenge
,
songwriting challenge
,
the view two gallery
,
view two gallery
Posted by Liverpool Acoustic in news, news and reviews
The Launch Event for the Liverpool Acoustic Songwriting Challenge 2012 is taking place on the afternoon of Saturday 8th September 2012, in association with the View Two Gallery
From 1pm to 4pm on Saturday 8th September the View Two Gallery on Mathew Street will be open for songwriters to have a look round and be inspired by the art on display. To enter the challenge, each songwriter chooses a piece of art and has one month to write a brand new song inspired by it, and submit it as a recording. The judges will listen to all the submitted art-inspired songs and select ten to be performed at the Showcase Final on the evening of Friday 23rd November when they will pick the Judges Award. The audience will pick an Audience Favourite too.
Last year's judge, local songwriter Stephen Langstaff, is joined this year by Kaya Herstad Carney – musician, singer, organiser of Threshold Festival, and lecturer in Popular Music Performance at the University of Chester.
The Songwriting Challenge is open to all ages, and last year's geographical restrictions have been removed to enable songwriters from outside Merseyside to enter. Arrangements will also be put in place for anyone who wants to enter but can't make it to the Launch Event on 8th September. Click here for more details.
Liverpool Acoustic's Graham Holland said:-
"We held this event for the first time last year and were amazed at the imagination, creativity and talent of our local songwriters. This is a unique event that combines Liverpool's duel passions for art and music, and once again we're laying down a challenge to the region's talented songwriters to show what they can do."
The Liverpool Acoustic Songwriting Challenge is free to enter, and there is no charge for entry to the View Two on Saturday 8th September. The same afternoon Liverpool Acoustic will also be hosting another Liverpool Acoustic Afternoon in the top floor performance space between 1pm and 4pm. This event features booked guests Terry Gray and Kaya, plus open mic, and refreshments will be available from the bar.
The facebook event can be found here.
Entry to the Showcase Final on Friday 23rd November is by ticket only, available in advance from 26th October or on the door for £5. All money raised will be split between Marie Curie Cancer Care and Garston Animal Rescue in memory of Liverpool Acoustic team member Sharon Jones who died in May 2011.
The first place prize for the Judges' Award and the Audience Favourite is to have the song professionally recorded and videoed at Liverpool's Crosstown Studios
Full details of the Challenge can be found at challenge.liverpoolacoustic.co.uk
2011 WINNERS
Judges Award 2011: Simon Madison – Brother of Fur
Watch Simon playing his winning song at last year's Showcase Final here.
Audience Favourite 2011: Rob Rivieres – Enough is Enough
Listen to Rob's song recorded at Crosstown Studios 
here
.
Full details of all Liverpool Acoustic live music events can be found at
liverpoolacoustic.co.uk/live
Liverpool Acoustic Songwriting Challenge 2012

Liverpool Acoustic is the only website of its kind in the UK. It was created by Graham Holland in April 2008 as a central resource for the vibrant and exciting acoustic music scene in Liverpool and the Greater Merseyside area. It contains an extensive diary of acoustic events, from festivals, theatre concerts and folk clubs to showcases and open mic nights. The News and Reviews service is available as a free email subscription and carries previews of upcoming events, reviews of music releases and gigs, the Liverpool Acoustic Spotlight podcast, and a newsletter on the first of each month.