Posted by Liverpool Acoustic in news, news and reviews, newsletter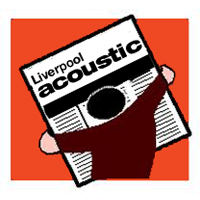 In the same way that August sees the start of the grouse hunting season, so September sees the start of the music releasing season, with a large number of singles, EPs and albums being released this month. Some of them have been added to the diary dates below, and highlighted in blue for your convenience. 
September also sees the brand new Lark Lane Acoustic Festival on 1st and 2nd September, and the ever-popular Hope Street Feast on Sunday 16th. Also floating into view is the new Riverboat Shuffle Music Festival taking place onboard a Mersey Ferry from 25th to 30th. Guests include Ian Prowse, The Hummingbirds, Ian McNabb, and The Speakeasy Bootleg Band. Details from merseyferries.co.uk
And don't forget the return of the Liverpool Acoustic Songwriting Challenge with the Entry Event on 8th September – see below for more info.

SONGWRITING CHALLENGE ENTRY EVENT
and LIVERPOOL ACOUSTIC AFTERNOON
This event is taking place on Saturday 8th September from 1pm to 4pm at The View Two Gallery on Mathew Street.
If you're a songwriter, why not take part in the Songwriting Challenge?
If you're a performer, why not have a go at the open mic?
If you're just a lover of music and/or art, come and enjoy the fantastic paintings and chilled out music.
In addition to the open mic we've got two booked acts – local performer and event host Terry Gray, and Songwriting Challenge judge Kaya.
The bar will be open selling drinks and refreshments too.
You can join the facebook event at facebook.com/liverpoolacoustic/events

LIVERPOOL ACOUSTIC LIVE
Liverpool Acoustic Live this month is on Friday 28th September 2012 at the View Two Gallery when we'll be raising Merry Hell!
Merry Hell play folk-rock with punk attitude, indie ethos, and latino feel – with an added helping of soul. If you liked Galley Begger in June, you'll love Merry Hell.
Mark Wynn is a talented singer-songwriter from York with an impressive appetite for gigging, writing original country/blues, and for winning new admirers along the way.
The 4.20s are a fruity tootie funky flutey, guitary, bassey, vocally kinda band. Totally original, and totally fun.
and introducing 15 year old singer-songwriter Sophia Ben-Yousef. Another of our performer in the 'one to watch' bracket, Sophia has already supported Jo Bywater, has gigs lined up with Rob Vincent and Dominic Dunn, has been scouted from The Voice UK, and was approached by a record producer in America.
Tickets are available in advance for £5 from wegottickets.com/liverpoolacoustic or for £6 on the night when the doors open at 8.00pm. The music starts at 8.30pm and goes through to just after 11.00pm.
You can join the facebook event at facebook.com/liverpoolacoustic/events
All of our future live events can be found at liverpoolacoustic.co.uk/live and if you want to receive information about tickets before they go on general sale then sign up to our events publicity mailing list here.

DIARY NEWS
We're slowly weeding out the dead events from the diary – thanks to everyone who's helped out with this. We could also appreciate help spotting the acoustic music events that haven't made it into the diary, so if you come across something we're not listing drop us a line using the 'Contact' page to let us know, or better still ask the event organiser to use the 'Add Event' button on our 'Diary' page.
You say goodbye…
Thanks to eagle-eyed Steve who pointed out an event from the diary that's no longer running at Basement 20 which has had yet another name change…
The change of management at Barcelona Bar has not only pulled the plug on the Tuesday showcase and Thursday open mic (as mentioned last month), but also Ample Music's Saturday evening and Sunday afternoon events. The new management have other things in the pipeline, and we'll let you know what they are as soon as we know. Meanwhile, Ample Music have moved their events to other venues – check them out on facebook.
And I say hello…!
Open Mic @ D&N – a new, weekly open mic at a new venue. D&N stands for Day and Night, which can be found in the Womens Organisation building on St James Street (opposite Chung Wah Chinese supermarket) in the Baltic Triangle. It takes place every Thursday evening between 7.30pm and 11.00pm and is free. If you're interested in playing then just turn up or email stuart2010robertson@yahoo.co.uk for more info and the facebook page is here.
Open Mic @ Bumper – a new, weekly open mic at Bumper on Hardman Street, hosted by Tom George. It's weekly, every Wednesday, runs from 9pm to midnight, and is free to attend. Tom is particularly keen to encourage a blues/rock 'n' roll/indie-rock vibe, although all performers are welcome.

SEPTEMBER DIARY SELECTION BOX
Here's a selection of some of the acoustic events taking place in June. Click on the event in the diary for full details and links.
Saturday 1st & Sunday 2nd – Lark Lane Acoustic Festival @ Christ Church, Linnet Lane (off Lark Lane). Taking place each day from 2pm (doors 1.30pm) to 7.30pm. It's £5 entry on the door, and children get in free with adults. The lineups for the two days can be found on the facebook event page (see the timings here) and include Thom Morecroft, Suzanne Jones, Ogo, Dave O'Grady, Neil Campbell and Nicole Collarbone, Paul Cappa, Alister Said, Lizzie Nunnery, and more.
Monday 3rd – Come Strut Your Stuff @ The Egg Cafe – one of Liverpool's longest-running events, this is open floor poetry and acoustic music in one of the city's best vegetarian bistros. It runs on the first Monday of each month from 8pm to 10.30pm, but be sure to be there early to put your name down for a five minute poetry or two-song music slot.
Tuesday 4th – The Fresh Sessions @ Schmooze Bar, hosted by Thom Morecroft. This weekly event is already making a name for itself. Why not come along and see what the buzz is about? Facebook page is here with up-to-date details of who's playing.
Friday 7th – Acoustic Night @ Darkstar Laser  – the award-winning St Helens venue is known for its rock and metal band nights, but is branching out in an acoustic musical direction, as mentioned in August's newsletter. Six artists or groups will be performing 15/20 minute slots, with discounted Laser Tag games in between. Acoustic music, happy hour bar, and laser tag. Throw in a couple of giant pizzas and you've got a great Friday night!
Saturday 8th – Liverpool Acoustic Songwriting Challenge entry event @ View Two Gallery, 1pm to 4pm – free. challenge.liverpoolacoustic.co.uk for full details. This event includes the Liverpool Acoustic Afternoon, with Terry Gray, Kaya, and open mic.
Saturday 8th – Radical Liverpool @ Studio 2. This event returns after the summer break with Rich Mans Ruin, Josh Cartwright and Emma Runswick, and the Liverpool Socialist Singers. Tickets are £4.50 in advance or on the door from 7pm.

Saturday 8th

– Misery Guts Single Launch @ The Ship & Mitre. An ultra-intimate gig to launch Let Me On My Way from the new album Faded Traditions. Tickets £5 from Skiddle.
Wednesday 12th – Artmagic/Rue Royale/Silent Sleep @ Leaf – another fantastic night of music from Mellowtone, plus Monkey and Beaten Tracks DJs. Tickets are just £6 in advance from Skiddle.

Saturday 15th

– The Hummingbirds: Break Your Heart EP launch @ The Zanzibar, with support from The Imagineers and Reva. Tickets £7 from ticketline. Facebook event here.

Monday 17th

– Lizzie Nunnery & Vidar Norheim: new album Black Hound Howling released lizzienunnery.co.uk

Thursday 20th

– Only Child EP launch @ Leaf. Presented by Mellowtone, Only Child launch their debut EP with support from Dave O'Grady and Will Maitland. Tickets £5, doors 8pm. Facebook event here.
Friday 21st – The Lonnie Donegan Band with Peter Donegan @ Whitby Sports & Social Club, Ellesmere Port. Following in his father's footsteps, Peter is a superb performer in his own right fronting Lonnie's original band. Tickets £13 on the door, £12 advance from hungryhorseacoustic.com

Friday 21st

– Bird: Shadows EP launch @ The Kazimier, with support from All We Are, Owls*, Secret Garden Gathering, and Beach Skulls. Facebook event here.

Monday 24th

– James J Turner: new album How Could We Be Wrong? released.
Friday 28th – Liverpool Acoustic Live @ The View Two Gallery. Marry Hell, Mark Wynn, The 4.20s, Sophia Ben-Yousef. Tickets £5 in advance.

AND FINALLY…
Here at Liverpool Acoustic we're always looking for ways to improve what we do, and have recently tweaked the website's menu structure to make the content clearer. If you have a sudden brainwave whilst navigating the website or a flash of inspiration whilst reading our emails then we'd love to hear from you. Drop us a line using the Contact page.
Graham – on behalf of the Liverpool Acoustic Team

Liverpool Acoustic Newsletter – September 2012

Liverpool Acoustic is the only website of its kind in the UK. It was created by Graham Holland in April 2008 as a central resource for the vibrant and exciting acoustic music scene in Liverpool and the Greater Merseyside area. It contains an extensive diary of acoustic events, from festivals, theatre concerts and folk clubs to showcases and open mic nights. The News and Reviews service is available as a free email subscription and carries previews of upcoming events, reviews of music releases and gigs, the Liverpool Acoustic Spotlight podcast, and a newsletter on the first of each month.