Posted by Liverpool Acoustic in news, news and reviews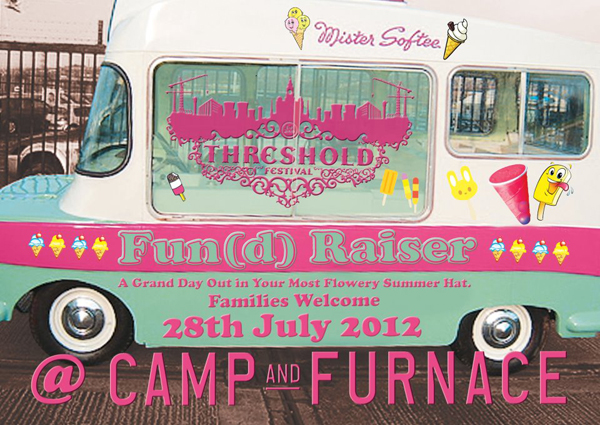 Gosh, has it really been five months since this year's Threshold Festival took place? The weather might not have changed much since February, but that hasn't stopped the organisers from bringing a little summer sunshine of their own to the Baltic Triangle's fabulous Camp and Furnace venue.
The Threshold Summer Fun(d) Raiser is a one day mini-festival packed full of more fun activities and music than you can shake a shaky stick at (and they've tried!).
It's taking place on Saturday 28th July from 2.00pm to 11.00pm, and there's a suggested £3 donation to get in (why not round it up to £5? – it all goes to Threshold 2013)
The facebook event is here.
There will be musical offerings to entertain the most hard to please, from the beastly We the Undersigned, funksters 69 Watts, youngsters Bolshy, Dominic Dunn and Vanessa Murray, punksters The Thespians, hipsters Triphazard, just plain fabulous Thom Morecroft, mesmerizing Science of The Lamps, anthemic Silent Cities, groovy Audio Voyeur, heavy DJ Monkey, bluesy Dave O Grady, quirky Jazamin Sinclair, some A Capella stunts from Indigo Vibe and the opportunity to join in and do the Folk-e-oke with '62 Pieces of Lego'. There's also a very special guest act from Antipop still to be announced.
The rest of the programme looks very much like this…!
The Littlepool Art Prize (Kiddies Art Comp) judged by Robyn Woolston (Liverpool Art Prize Winner 2012)
Pillbox Vintage Pop Up
Vintage Clothing Swap Shop
Raffles, Prizes & Giveaways
Kids Craft Activities
Live Art
Yarn bombing
Have-a-Go Dj Tasters with CMWMSMDM
Folky-oke
LEGO
Great Food
Craft Beers
Quizzy Rascals
Retro Gaming
And the whole thing is hosted by Cheeky Monkey & Sly Lox
See you there!
Threshold Summer Fund Raiser next Saturday 28th July 2012

Liverpool Acoustic is the only website of its kind in the UK. It was created by Graham Holland in April 2008 as a central resource for the vibrant and exciting acoustic music scene in Liverpool and the Greater Merseyside area. It contains an extensive diary of acoustic events, from festivals, theatre concerts and folk clubs to showcases and open mic nights. The News and Reviews service is available as a free email subscription and carries previews of upcoming events, reviews of music releases and gigs, the Liverpool Acoustic Spotlight podcast, and a newsletter on the first of each month.