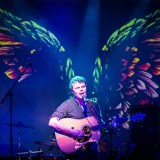 tagged:
east village arts club
,
evac
,
gig review
,
live review
,
review
,
stephen langstaff
,
the thespians
Posted by Graham Holland in live reviews, news and reviews, reviews
Live review: Stephen Langstaff
Support: The Thespians
Date: Thursday 12th December 2013
Venue: East Village Arts Club (EVAC)
Reviewer: Graham Holland
With my current job I don't get out to as many gigs as I'd like. There's nothing quite like a regular 6.00am start to cramp your social life! So it's rare for me to be in town on a Thursday night for a gig, but for some people I'm willing to make the effort. The last time was for Jon Gomm. This time? Stephen Langstaff.
It was the first time I'd visited the East Village Arts Club – EVAC – since it re-launched in its current guise, and they've done a really good job sprucing up the old venue. There were only a handful of people in the auditorium when The Thespians took to the stage, but those of us who had arrived in time for the support were treated to some really good tunes. Described by MTV New York as "The next massive UK garage band" they had a lot to live up to, and they didn't disappoint. Their 50 minute set was packed full of catchy pop rock and vocal harmonies the likes of which would go down well on the Japanese music scene. Perhaps that's why their music is released by Vinyl Junkies in Japan as well as on Eighties Vinyl Records in the UK. The Thespians (Paul Thespian on guitar and lead vocals, Jessie Thespian on lead guitar and backing vocals, Mark Thespian on drums and backing vocals, and Phill Thespian on bass) played new songs such as their current single Why Do I Like You? and previous single Adored, alongside older songs such as Too Fast To Live which they told us was originally performed 17 years ago! Do check out their music if you've not come across the band before.
By the time Dave Monks stepped up to the mic the auditorium was packed with Stephen Langstaff fans looking forward to his last gig of the year. Switching seamlessly between electric and acoustic guitars, Stephen was joined on stage by Chris Campbell (drums), Gianluca Rizzuto (bass), and Satin Beige (cello). The introduction of the cello added a deep, rich sound to the music that was a joy to listen to.
Opening with New York Dolls, Stephen treated the appreciative crowd to a well-picked selection of songs from his back catalogue alongside three of the four tracks from his Alive EP due to be released next year. Looking down the set list of 13 songs it's really tough to pick out favourites because so many of them are just so darned good. Call Me, Unaware, America, Alligator, Black Northern Line, Smile – there's half a greatest hits album already, and that before the encore of Sirens, Saw The Angels, and the new EP's title track Alive.
I'd heard Road Trip on Dave Monks' show the previous Saturday so was delighted to see Peter Higham stepping onto the stage to play trumpet. Just like the cello, the addition of trumpet added extra warmth and character to the song and brought a big grin to my face. The start of the next song Black Northern Line also brought a grin to my face when Chris on drums stopped the song ten seconds in to tell Stephen that his guitar was out of tune. A quick change of guitar solved the problem, but not before an even quicker drummer joke which I'm sure went over the heads of many!
Another element that really added to the performance was the projection onto a huge sheet across the back of the stage of video montages and images specially created for each song by Johnny Gregory and Kim Farrell. There must have been a huge amount of work to edit all the video, and it really paid dividends.
Stephen was very much at home on stage in front of a local crowd, and more than once mentioned how much he appreciated the support he'd received over the last year. He also said that there was someone who couldn't be there on the night. I'm sure there were many in the crowd that didn't know who Amanda DeAngeles was, but those who did couldn't have failed to be touched that he dedicated Spires to her.
In a recent review for Getintothis Alan O'Hare wrote: "Too many people were loud, too many people were gathered in groups at the back and too many people showed a lack of respect to the band." He could just as well have been writing about this gig at EVAC rather than the one at Leaf, and it makes me wonder why people pay to see an artist only to stand around talking throughout the performance.
However, the majority of the packed crowd who'd come along to listen was treated to a top class gig from an artist whose talent is there for all to see. Stephen's engaging songs, superb musicianship, compelling stage presence, and unforgettable voice combine to produce one of the most exciting artists on the scene today – more than worth being out on a school night for!
© 2013 Graham Holland – Liverpool Acoustic
Stephen Langstaff
website - stephenlangstaff.co.uk
facebook - facebook.com/StephenLangstaffOfficial
twitter – @slangstaff
The Thespians
website - thethespians.com
facebook - facebook.com/TheThespians
twitter - @thethespians
>>>
Live review: Stephen Langstaff @ EVAC 12/12/13

Graham Holland is the owner and editor of the Liverpool Acoustic website, and runs Liverpool Acoustic's award-winning live music events with local musician Stuart Todd. In real life he's an Apple Professional Development Authorised Trainer, has been producing podcasts on a regular basis since July 2006, and runs a number of websites for other organisations. He lives in Wavertree with his partner and their cat Xiao Hei.