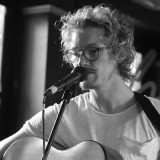 tagged:
acoustic session
,
gig review
,
heebie jeebies
,
johnny sands
,
live review
,
saturday
Posted by Graham Holland in live reviews, news and reviews, reviews
Live review: Johnny Sands' Acoustic Session
Date: Saturday 14th December 2013
Venue: Hebbie Jeebies
Reviewer: Graham Holland
Johnny Sands has gained a well-earned reputation for running top class events, most notably the weekly Out Of The Bedroom every Tuesday at LEAF on Bold Street. He has since added both Maison Johnny and Johnny's Acoustic Caravan to his roster, although it was the Saturday afternoon Acoustic Sessions I decided to sample on a cold winter's day in December.
The timing for Johnny's Acoustic Session is perfect, running as it does from 3.00pm to 6.00pm. Let's face it, what else is there to do in town on Saturday afternoon after you've finished shopping? Exactly! So the lure of Heebie Jeebies with the promise of good beer, good company, and good music is too strong to resist. No surprise then that it's so popular with a loyal following.
The format is simple. Each performer gets three songs. There's no sound check, it's just plug in and play. For a sound engineer this approach isn't at all easy to do, so I can't help but show my appreciation for the skills of John Mac who was behind the sound desk this afternoon.
Like the well-seasoned host he is, Johnny opened the event with three of his own lyrical compositions, and did a fine job getting the crowd warmed up.
Dogman Dave is a familiar presence on the local scene who performed with confidence and style.
Simon Cousins was up next, and is was nice to hear some Christmas classics performed in Simon's engaging, laid-back performance style. It certainly got me feeling 'proper Christmassy' for the first time this year!
Joseph Topping performed three songs on his resonator guitar, and had the audience spellbound by his guitar playing and incredible voice. His version of She Moved Through The Fair even managed to quieten the chatty drinking crowd at the back of the bar.
The Southbound Attic Band are regular performers here and always go down well. Barry Jones and Ronnie Clark's sweary song about a missing sausage is perfect for the pub environment and even had people who weren't there for the music singing along!  You can find a YouTube video of it from this very event by following the link provided [please note, don't watch it if you're offended by swearing] – link here.
Sturle Sandvik provided another change of style with his instrumental percussive guitar pieces. A technically accomplished guitarist, Sturle was a pleasure to listen to.
ME and Deboe have a habit of amazing people who've never heard them play before. I overheard Sturle Sandvik saying to himself, "f**king awesome!" And you know what? He's not wrong! Someone else said that they're the best acoustic act performing on the scene at the moment and I wouldn't disagree with that. Super-tight harmonies, super-tight guitar playing, and energetic, exciting songs make these two performers stand out wherever they play.
Lil Scheie and Gøril Nilsen changed the mood once more with their gentle, vulnerable vocals and understated guitar and flute. They finished their set with a delightful, stripped back Silent Night sung by Lil.
Stuart Todd treated us to three Rolling Stones songs as a tribute to the band. For the final song he was joined by Barry Jones on harmonica and Ronnie Clark on bass for a version of Little Red Rooster performed on a cigarbox! The cigar box in question is a three-stringed musical instrument Stuart made from a cigar box at a recent workshop hosted by Grateful Fred.
Ian Till described himself as "the least Christmassy person here" and went on to prove it by singing three of his original country-flavoured songs! These went down well as the event moved towards the end.
Sunshine Johnson was a late addition to the lineup with an acoustic rock song, and the afternoon was finished off with a final appearance by Johnny Sands.
What impressed me about this event was the amazing variety of styles of music performed, and the speed with which Johnny kept things moving along. There was no wasted time – just three hours of fine music. I really enjoyed it and will certainly be returning in future.
© 2013 Graham Holland – Liverpool Acoustic
Johnny's Acoustic Sessions next takes place on Saturday 21st December and features Elijah James, Ariel Jaycott, Stuart Todd, The Southbound Attic Band (Barry Jones & Ronnie Clark), Jay Rehm (Jimmy & The Revolvers), Simon Cousins, Matthew McGurty and Joe Kelly.
Contact Johnny on facebook for more information.
>>>
Live review: Johnny Sands' Acoustic Session @ Heebie Jeebies 14/12/13

Graham Holland is the owner and editor of the Liverpool Acoustic website, and runs Liverpool Acoustic's award-winning live music events with local musician Stuart Todd. In real life he's an Apple Professional Development Authorised Trainer, has been producing podcasts on a regular basis since July 2006, and runs a number of websites for other organisations. He lives in Wavertree with his partner and their cat Xiao Hei.