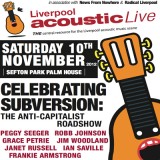 tagged:
celebrating subversion
,
frankie armstrong
,
grace petrie
,
ian saville
,
janet russell
,
jim woodland
,
liverpool acoustic
,
news from nowhere
,
peggy seeger
,
radical liverpool
,
robb johnson
,
sefton park palm house
,
the anti-capitalist roadshow
Posted by Liverpool Acoustic in news, news and reviews
Celebrating Subversion: The Anti-Capitalist Roadshow is coming to town next month, and since it's something rather special we thought you'd like a little more advance notice than normal.
Liverpool Acoustic and Sefton Park Palm House, in association with News From Nowhere and Radical Liverpool, are proud to present a very special evening celebrating subversion through music and magic, on Saturday 10th November 2012 at Sefton Park Palm House.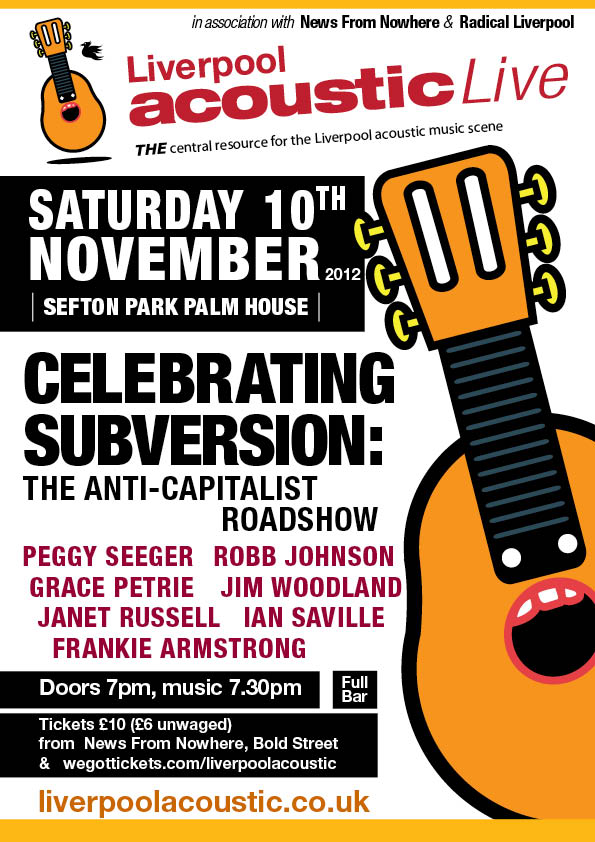 Celebrating Subversion: The Anti-Capitalist Roadshow is a collective of singers and songwriters comprising Frankie Armstrong, Roy Bailey, Robb Johnson, Reem Kalani, Sandra Kerr, Grace Petrie, Leon Rosselson, Janet Russell, Peggy Seeger, Jim Woodland, plus one (there is only one!) socialist magician, Ian Saville. Each show features six or seven performers from the collective.
According to chief mischief-maker Leon Rosselson, the Anti-Capitalist Roadshow was created "to raise spirits and give hope and cheer and a smile or two to those angry at the ideologically driven austerity programme imposed by this millionaire government on all but the elite, and in particular on the poor, the vulnerable and the disabled. We are part of the resistance to a capitalism that functions only on behalf of the wealthy, that aims to shrink the public sphere and privatise public services, including the NHS, and that is destructive to the planet. We are part of another way of looking at the world."
Artists confirmed for the Liverpool show are:-
Peggy Seeger
Frankie Armstrong
Robb Johnson
Grace Petrie
Janet Russell
Jim Woodland
Ian Saville
The Anti-Capitalist Roadshow has enjoyed enthusiastic audiences and sold-out shows in Leicester, Leeds, Hebden Bridge, London, Porstmouth, Shoreham and St Albans. November and December 2012 sees more shows in Liverpool, Halifax, Wellingborough, Newcastle, Sheffield, and William Morris's home town of Walthamstow.
The Liverpool show is the Anti-Capitalist Roadshow's only North West date.
It takes place on Saturday 10th November 2012 at Sefton Park Palm House.
Doors open at 7.00pm and the music runs from 7.30pm to 10.30pm.
Tickets are £10 (£6 unwaged) from wegottickets.com/liverpoolacoustic or in person from News From Nowhere (no booking fee) on Bold Street.
The facebook event can be found here.
REQUEST FOR HELP
In addition, we're asking for your help publicising this event. If you get the chance, please re-tweet this, share it on facebook, and invite all your friends to the facebook event. You can download the poster as a jpeg image, full page A4 pdf, and Word documents containing both A6 and A5 flyers from liverpoolacoustic.co.uk/live/downloads
ARTIST INFORMATION
PEGGY SEEGER
Peggy Seeger is a singer and multi-instrumentalist, considered to be one of North America's finest female folksingers, with 22 solo recordings to her name and contributions to more than 100 recordings with other performers. She was born in 1935, is Pete Seeger's half-sister, and Ruth Crawford Seeger's daughter. She was partner to Ewan MacColl, who wrote First Time Ever I Saw Your Face for her and to whom she bore three children. Her best-known compositions are Gonna Be An Engineer and The Ballad of Springhill (the latter rapidly becoming regarded as a traditional song). The MacColl-Seeger partnership is seen as one of the driving forces behind the UK folk revival of the 1960s.
FRANKIE ARMSTRONG
Frankie Armstrong has been singing professionally since 1964, and has ten solo albums plus an autobiography As Far As The Eye Can Sing. She began her pioneering Voice Workshops in 1975 based on ethnic styles of singing, and has sung and run workshops all over Europe, North America and Australia.
Frankie says: "I'm so looking forward to bringing our Celebrating Subversion: The Anti-Capitalist Roadshow to Liverpool.  All the concerts I've been part of so far this year have been a real lift for our spirits – and we all need it. What a privilege to turn our frustrations, anger and aspirations into songs that can be stirring, satirical, hilarious, moving and beautiful is a great way to 'not let the bastards get us down'. To share them with you in Liverpool is an exciting prospect."
ROBB JOHNSON
Robb Johnson is now widely recognised as one of the finest songwriters working in the UK today. Mojo made his Gentle Men album folk album of the month, while the Daily Telegraph made it their Folk Album of the Year for 1998. He has played pubs, clubs, pavements, pickets and benefits, arts centres and festivals, local, national and international radio and TV, and featured in the BBC's prestigious Folk Britannia series where he lead all the artists in the encore. He has toured solo and with his band The Irregulars, playing extensively in Belgium, Holland and Germany, has toured the UK with Chumbawamba, and the USA with David Rovics and again with Leon Rosselson.
Rob says: "Personally I am really looking forward to being part of the Anti-Capitalist Roadshow gig in Liverpool because the city has a proud radical history of political and cultural anti-capitalism. I've always had really lovely gigs in Liverpool and made lots of good friends when I've played there."
GRACE PETRIE
Grace Petrie comes from Leicester and writes indie folk rock songs with the occasional acoustic punk twist, plays the guitar, and sings with a voice that's been likened to Laura Marling and Kate Nash. She has toured in support of Frank Turner and Mark Morriss (The Bluetones), and has played The Big Session Festival, Nottingham Gay Pride, and the Summer Sundae. In 2010 Grace's music began to take a new, political direction. The heartbreaking results of the UK general election inspired in her such rage and despair that she picked up a guitar and wrote what has become one of the most celebrated anti-establishment anthems of recent times, Farewell to Welfare. When folk legend (and Grace's personal hero) Billy Bragg heard her music and invited her to play at Glastonbury on the Leftfield stage, she went down a storm and, in Bragg's own words, "stole the f@!#ing show, sister!"
JANET RUSSELL
Janet Russell first made a name for herself on the folk circuit in the 80s as a young singer singwriter writing with hard-edged humour about issues affecting women. Whilst living in London she was involved with Leon Rosselson, Sandra Kerr and Roy Bailey in the Political Song Network, and after moving to Yorkshire she became a community choir and voice workshop leader established through Frankie Armstrong's work. Janet has arranged many songs by favourite songwriters such as Leon Rosselson, Maggie Holland, Robb Johnson, Sandra Kerr, and partner Jim Woodland. Her work includes Sisters Unlimited (singing the wit and wisdom of womankind for more than 25 years) and JigJaw (singing for dancing, dancing for singing).
JIM WOODLAND
Jim Woodland has pubished hundreds of songs. He started performing with a London punk band called Red Rinse in the 1970s, and was one of the very first buskers in Covent Garden working as a Punch and Judy Man. He was a member of The Fabulous Salami Brothers in the 80s and 90s which mixed Jim's songs with street theatre, juggling, fire eating, and illusions of various kinds. Jim has worked as a songwriter for many years with Mikron Theatre, which tour plays about English industrial history and current issues on the canals of the UK.

IAN SAVILLE
Ian Saville is a magician on a mission. Whereas David Copperfield is content with little tricks like making the Statue of Liberty disappear, Ian Saville aims at the much more ambitious goal of making International Capitalism and exploitation disappear. True, he hasn't quite succeeded, but he keeps on trying. This is a funny, magical, thought-provoking and topical celebration of socialism. Ian first developed his socialist magic act in 1979, and over the years has used magic and ventriloquism to present a socialist view of the world. He's presented shows with Leon Rosselson, and has appeared numerous times on national TV. He doesn't belong to any political party, although he is active in the peace movement, Friends of the Earth, Jews for Justice for Palestinians, Asylum Seekers Support, and many other left and progressive campaigns. As well as performing magic he also teachers part time on the Theatre Arts courses at Middlesex University.
PARTNERS
LIVERPOOL ACOUSTIC - liverpoolacoustic.co.uk
SEFTON PARK PALM HOUSE - palmhouse.org.uk
NEWS FROM NOWHERE -  newsfromnowhere.org.uk
RADICAL LIVERPOOL - radicalliverpool.com

Liverpool Acoustic is the only website of its kind in the UK. It was created by Graham Holland in April 2008 as a central resource for the vibrant and exciting acoustic music scene in Liverpool and the Greater Merseyside area. It contains an extensive diary of acoustic events, from festivals, theatre concerts and folk clubs to showcases and open mic nights. The News and Reviews service is available as a free email subscription and carries news about upcoming events, reviews of cds and gigs, interviews with local musicians, and a newsletter on the first of each month.