Posted by Luke Moore in music reviews, news and reviews, reviews
ALBUM REVIEW
Artist: James J Turner
Album: How Could We Be Wrong?
Website: jjturner.com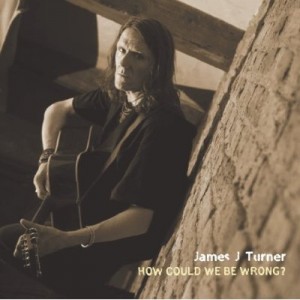 I'd never come across James J Turner's work but I was enticed initially by the impressive cast of backing musicians that he had assembled for this album.  After all, Vicky "Mono LPs" Mutch and Paul Walsham (still the tightest and most virtuosic drummer I've ever worked with) don't put their names to just anything. But the real star here is the infectiously uplifting feel throughout much of the album's blend of Celtic/pop/rock, with the occasional slightly more exotic flavour. The opening title track How Could We Be Wrong? sets thing up nicely with whistles, fiddle and energy, in abundance. There's a real conviction in the vocal (almost reaching a kind of Phil Lynott sound) that instantly grabs the attention throughout this up-tempo opening track. Turner takes it down a gear or two for Forever No More, then it's back to the feel of the opening track for Gone Away.
The gorgeous cello lines on Walk The Bridge echo early Scott Mathews, with a slightly Indian feel intertwined between the guitar and vocals. It's a nice change of mood and the standout track so far, even if I found James' exposed and slow vocal vibrato a touch distracting (for example, "home" becomes closer to something that might read like "ho,oh,oh,oh,ohm"). Then it's foot to the floor tribal drums for Beyond The Pain, which echoes McNabb's majestically soaring vocal line in the verses of Icicle Works classic Love Is A Wonderful Colour. The majority of the rest of the album seems to occupy a musical territory somewhere between Seth Lakeman (especially the ninth track, Long Time) and Amsterdam, though perhaps without the latter's immediate sing-along factor and Ian Prowse's seemingly unstoppable energy.
The ninth track, Let Love Into Your Heart, is the second single from the album and is being released on the same day.  Again, it's a rich blend of the rest of the ingredients on the album and like Walk The Bridge (which also appears on the single release), is a good showcase for Turner's voice and writing.
Perhaps it would be difficult to make such broad comparisons with Lakeman and Amsterdam if there was more variation in the tracks on offer here but despite this, How Could We Be Wrong? is still a polished set of solid performances and excellently mixed.  That said, even though I understand that James went back to his roots for this, by the end I was really hungry to hear something different (perhaps just guitar and vocals, or something as sorrowful musically as Forever No More's lyrics) to break up the second half of the album.  Like anything, it's personal taste, but I can't help feel that for a thirteen track collection, just a bit more variety in style, pacing and different instrumentation would have gone a long way: maybe that's around the next corner.
© 2012 Luke Moore
How Could We Be Wrong? was released on Monday 24th September 2012
It's available to buy from [Amazon]
Album review: James J Turner – How Could We Be Wrong?

In addition to writing reviews for liverpoolacoustic.co.uk, Luke Moore is a freelance composer, arranger, session musician (cello/piano/bass guitar/double bass) and songwriter. With a business that aims to be a 'one stop shop' for bands and artists, Luke works with a lot of bands and artists in Liverpool, sharing their passion for original new music.