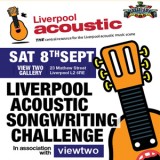 tagged:
liverpool acoustic
,
liverpool acoustic songwriting challenge
,
songwriting challenge
,
view two gallery
Posted by Liverpool Acoustic in news, news and reviews
Don't forget the Liverpool Acoustic Songwriting Challenge 2012 launches on Saturday 8th September from 1pm to 4pm at the View Two Gallery on Mathew Street [map]. The challenge is for songwriters (individuals or partnerships) to visit the View Two and be so inspired by what they see that they can go away and write a song inspired by one particular piece. Songwriters have until 5pm on Sunday 7th October to write their song, record it, and submit their entry. Entry will be handled completely online on the Challenge website, and submissions will include a copy of the lyrics and a photo of the chosen work of art.
POINTS TO REMEMBER
Take a camera with you so you can take away your own snap of your chosen piece of art. You'll need a clear digital image of it when you upload your song during the submission process. The Liverpool Acoustic team will have a camera at the event on 8th September and can take photos and email them to you on request.
If you can't attend the View Two on 8th September, you're more than welcome to call in to the gallery during its normal opening times – Thursday and Friday 12pm to 4pm, Saturday 12pm to 5pm. Details at viewtwogallery.co.uk
It's the song that's being judged, not the performance. Songwriters can get anyone to perform their song on their behalf if they so wish.
Don't worry if you can't record your song at home. We will be providing a list of local recording studios who've kindly offered their services for free for you to make a basic, no-frills recording of your finished song.
More information can be found in the latest press release
here
, and full details, including the rules (please read the rules), can be found on the Challenge website at
challenge.liverpoolacoustic.co.uk
LIVERPOOL ACOUSTIC AFTERNOON
From 1pm to 4pm on the afternoon of Saturday 8th September we'll also be running our Liverpool Acoustic Afternoon open mic event, so if you're a musician come along and take part. There's no obligation to take part in the Challenge if you don't want to. We've got two booked acts playing for us too.
1.30pm sees one of this year's judges Kaya
3.00pm sees local performer Terry Gray
The bar will be open selling tea, coffee and anything stronger, and it's an all age event so the kids are more than welcome. Entry is FREE.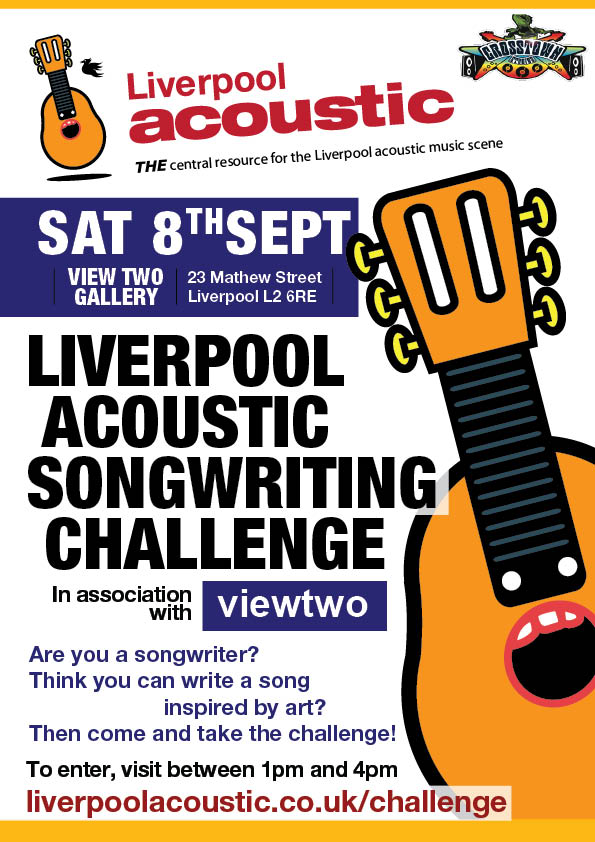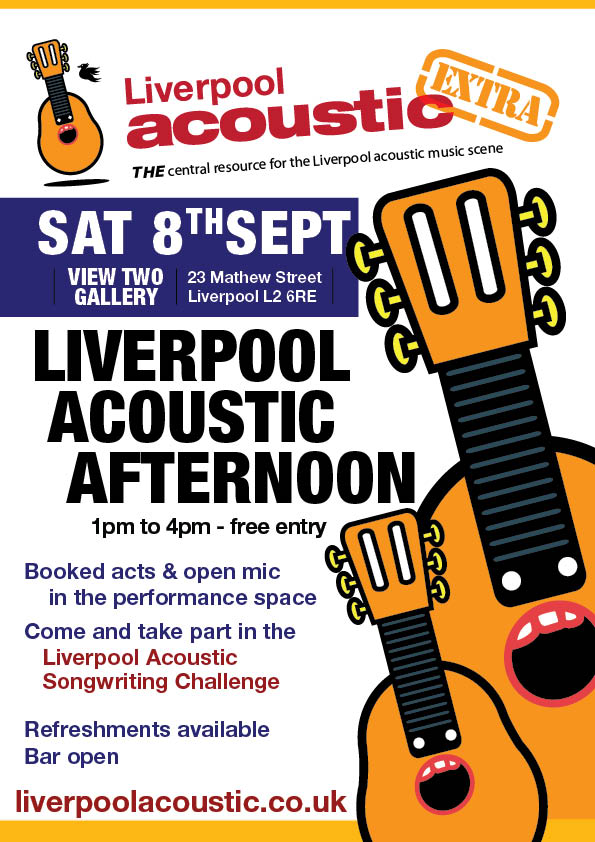 Liverpool Acoustic Songwriting Challenge launches 8th September

Liverpool Acoustic is the only website of its kind in the UK. It was created by Graham Holland in April 2008 as a central resource for the vibrant and exciting acoustic music scene in Liverpool and the Greater Merseyside area. It contains an extensive diary of acoustic events, from festivals, theatre concerts and folk clubs to showcases and open mic nights. The News and Reviews service is available as a free email subscription and carries previews of upcoming events, reviews of music releases and gigs, the Liverpool Acoustic Spotlight podcast, and a newsletter on the first of each month.