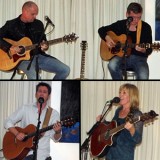 tagged:
fatea magazine
,
George Lawless
,
mary mccombs
,
peter cowley
,
tj & murphy
,
tom strasser
,
view two gallery
Posted by Peter Cowley in live reviews, news and reviews, reviews
Live review: TJ & Murphy
plus Tom Strasser, Mary McCombs, and George Lawless
@ Liverpool Acoustic Live
The View Two Gallery, Mathew Street
Friday 24th August 2012
This was a significant evening as it was the first event of the first ever Liverpool Fringe Festival. Fringe to what you may ask? Well, it's the alternative to the highly popular and more commercial Mathew Street Festival. Once again, Graham Holland and Stuart Todd had booked a fabulous array of original talent as an antidote to the endless Beatles tribute bands playing the venues along Mathew Street. In the words of one of tonight's performers, there is no better venue in the City of Liverpool than the View Two Gallery and it is no wonder that artists are queuing up to play Liverpool Acoustic.
On tonight's eclectic bill we had an extremely talented 16 year-old guitarist; one of Liverpool's top female singer-songwriters; a unique and exciting guitarist from Austria, and,topping the bill, one of the best acoustic-guitar-harmony duos you are likely to encounter.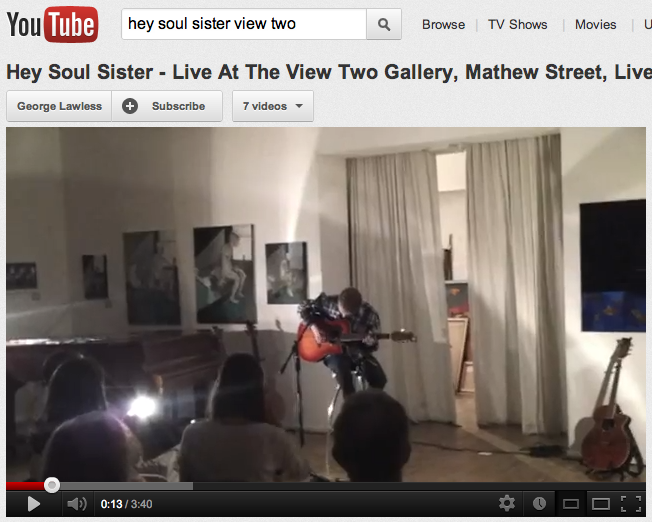 Liverpool Acoustic have a most admirable policy of giving young, up-and-coming musicians an opportunity to perform in a concert setting and tonight's "young performer" was the very talented 16 year-old guitarist George Lawless, who in the space of a week has received his GCSE results, done a session on BBC Radio Merseyside and played at Liverpool Acoustic! George has a fine fingerpicking technique and a very clean, clear tone. He played instrumentals made famous by Stefan Grossman [Mississippi Blues] and Davy Graham [Anji] as well as the more contemporary "Hey Soul Sister" by Train which George has cleverly rearranged into a ragtime guitar number. George's short set went down a storm with the crowd and his is certainly a name to look out for in the future.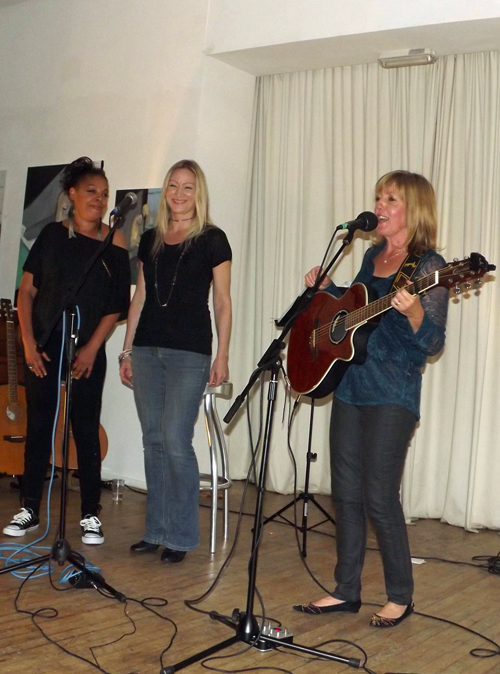 George was followed by Mary McCombs, a fine singer songwriter, who was joined on certain songs by backing singers and Sense of Sound choir-mates Jan and Denise. Mary's songs cover a range of subjects, from her children ["Show Them All"] to local characters ["Selling Flowers"] to ecological issues ["Gaia"]. The latter featured superb harmony singing from Mary, Jan and Denise. Mary changed the mood for the jazzy "Make Me Stay" and "The Laughter" recalled her earliest musical influences [Donny Osmond, David Cassidy and Michael Jackson].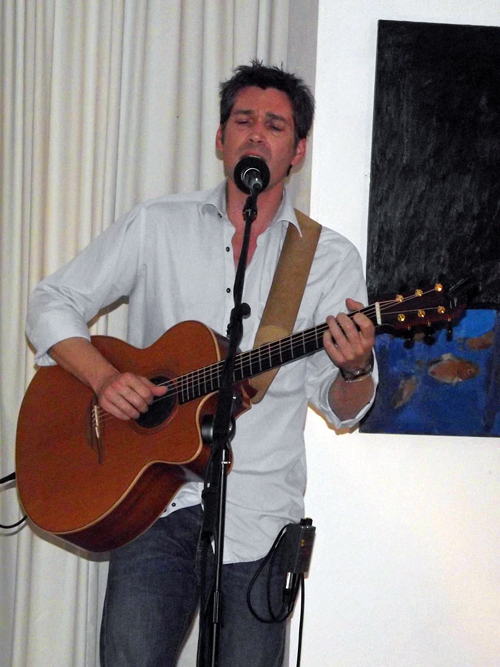 Next up was Tom Strasser, a highly original guitarist from Vienna whose virtuoso playing was simply stunning. Tom's style combines fingerstyle with tapping and percussion on the instrument to create a fantastic sound. He also played one-handed. As Tom himself said "I do a lot of weird stuff on the guitar". Tom played songs from his current EP "Live and Learn", including the stunning instrumental "Right On Kee" which he dedicated to one of his influences Andy McKee. Fabulous stuff – If you ever get the chance to see Tom, do so, because he will blow you away.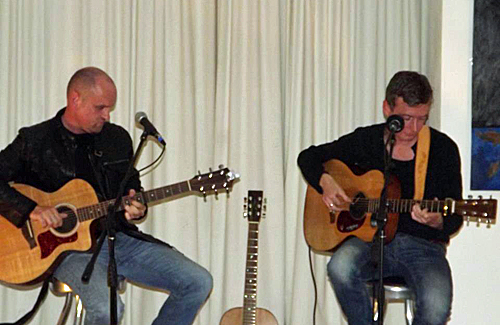 Last but by no means least, we had the wonderful TJ & Murphy, stars of "Songs From The Shed" and one of the best acoustic duos in the land. TJ&M create a beautiful sound with their interweaving acoustic guitars and subtle harmony vocals. Think acoustic Crosby, Stills and Nash or, perhaps, America on a good day and you won't be far wrong. Appropriately for this festival weekend they started with a lovely version of Norwegian Wood [which I am sure will outperform most other Beatles covers played this weekend in terms of subtlety and musicality]. As well as being superb musicians, TJ& M are also excellent songwriters, as evidenced by songs like "Joe Crazy Rose" [about a local hellraiser]; "Old Dog" [about a road trip in a Citroen AX!] and "Starcrossed Love "[based on the story of Romeo and Juliet]. At the end of their set, the crowd demanded two encores. The first was a fine version of Neil Young's "Harvest Moon" and the second was a superb David Crosby-ish song called "Power of Persuasion", which featured some great guitar picking.
All in all, it was yet another hugely enjoyable evening of wonderful music at Liverpool Acoustic. Long may it continue.
© 2012 Peter Cowley – Fatea Magazine
fatea-magazine.co.uk
republished with kind permission
live review tj and murphy view two gallery

Peter Cowley is a regular reviewer of live music for Fatea Magazine - fatea-magazine.co.uk