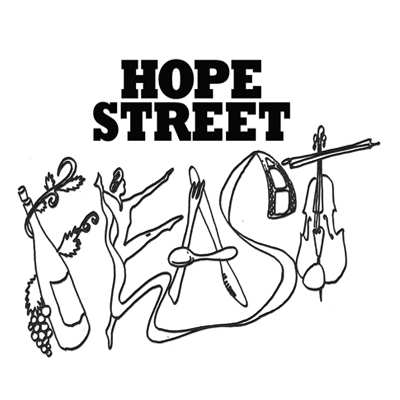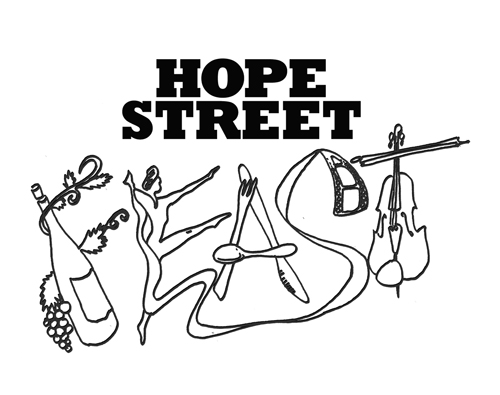 Hope Street Feast returns for its 7th year this coming Sunday 16th September 2012 and promises another day of open air and indoor food, drink, music, theatre and events from 10.30am to 5.30pm.
For those of you who don't know about Hope Street Feast (seriously, where've you been?) it's the annual urban village fete of the Hope Street Quarter, celebrating the start of the cultural and academic year with a magical family-friendly blend of all the ingredients that characterise Hope Street's special contribution to Liverpool life.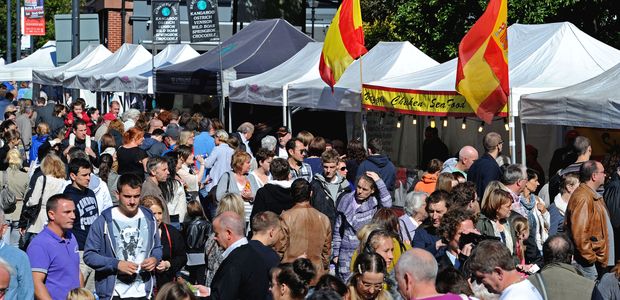 The foody side of the celebrations sees a vast street food market, fresh produce, fine food and drink, al fresco dining areas (fingers crossed for dry weather), pop-ups, and lots of lovely special offers. We always bring our own bag or small rucsac! As you're browsing, look out for street theatre with this year's theme Lost Games of Liverpool.
There's a feast of music too, with two open air music stages, and plenty going on indoors.
Liverpool Philharmonic's After 8 Stage in association with Liverpool Organic Brewery on Myrtle Street features world-class roots music including Mercury Music Prize nominee Sam Lee and Friends, Cocos Lovers, Rachel Sermanni, a foretaste of the autumn's Folk Rising showcase, and a set from Pauline Scanlon, Meabh O'Hare & Alan Burke.
A new stage in the car park at Blackburne House will feature the best of the city's acoustic talent, including Sian T, Jay Alexzander, Ever Anew, Leon Pearce, and Highfields.
This year also sees Vasily Petrenko return to the Feast to conduct the Royal Liverpool Philharmonic Orchestra in two free performances as part of the Open Day at Liverpool Philharmonic, which also includes Rhos Orpheus Male Choir and a foretaste of 2012's Irish Sea Sessions line up. There are performance and presentations in the Rodewald Suite which are free, although you will need to book a ticket in advance – details and times can be found at liverpoolphil.com
Hope Street Hotel Residents' Lounge will have an indoor live music stage. It's hosted by Ian Prowse and features music from The Drifting Classroom, Alan Burke, Beatnik Hurricane, Dave Jackson and the Cathedral Mountaineers, and Alex Hulme.
The Caledonia has live music all day, plus a pop-up piano bar at the Mount Street suitcases. And once the dust has settled, they'll be hosting an after party from 8pm with the Loose Moose String Band – full details here.
And if all that wasn't enough, the To Do Market returns to the Unity Theatre, another of the many great open days throughout the Quarter which includes dance workshops at Merseyside Dance Initiative, whilst Blackburne House also hosts an Arts and Crafts Fair, and an exhibition of Memories of Mr Seel's Garden.
You can find the official website at hopestreetfeast.com

 Download the full brochure (1.6mb pdf) showing what's on, who's who, and what's where.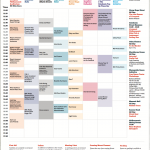 Click to download an image of just the performance times.
There's a facebook event (click and join!) and real time updates on twitter @HopeStreetFeast
The organisers are expecting around 30,000 people, and given that the original Feast was partly inspired by European Car Free Day visitors are being asked to use public transport where possible. Travel, parking and accommodation info can be found here.

Hope Street Feast 2012  - Sunday 16th September 2012

Liverpool Acoustic is the only website of its kind in the UK. It was created by Graham Holland in April 2008 as a central resource for the vibrant and exciting acoustic music scene in Liverpool and the Greater Merseyside area. It contains an extensive diary of acoustic events, from festivals, theatre concerts and folk clubs to showcases and open mic nights. The News and Reviews service is available as a free email subscription and carries news about upcoming events, reviews of cds and gigs, interviews with local musicians, and a newsletter on the first of each month.