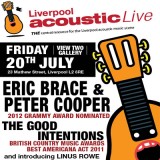 tagged:
billy butler
,
eric brace and peter cooper
,
grandma's batman tattoo
,
linus rowe
,
the good intentions
,
view two gallery
Posted by Liverpool Acoustic in news, news and reviews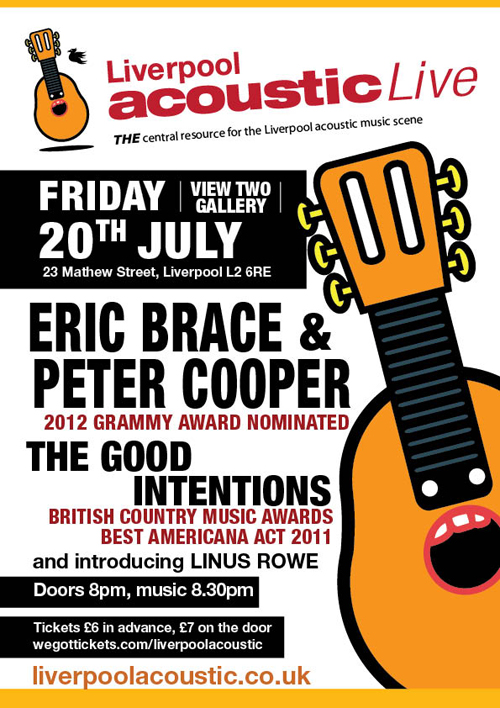 We know we've only recently told you about the next Liverpool Acoustic Live event when we posted the latest Liverpool Acoustic Spotlight #74, but we've got some more details that we think you'd like to know.
Firstly, Eric Brace and Peter Cooper will be performing live on Billy Butler's afternoon show on BBC Radio Merseyside this coming Friday 20th July. They are due on after 2.30pm, and you can listen live on 95.8FM, DAB, and online.
Secondly, the tickets for Friday's intimate show are selling fast, and currently there are only 17 left online at £6 each. We've set aside 20 tickets for people to pay £7 on the door, but once they're gone after the doors open at 8.00pm (first come, first served!) we'll be full.
Thirdly, in addition to an opening set from young banjo player Linus Rowe, and a supporting set from the award winning The Good Intentions, our special guests Eric Brace and Peter Cooper will be performing two sets on the night – after all, they've come all the way from the USA so it's only right that we give them the extra time to play for us.
Finally, those of you who receive our PR emails will already have seen this, but we think it's worth sharing with the rest of the world. In the week before the new Batman blockbuster The Dark Knight Rises opens nationwide, here are Eric Brace and Peter Cooper singing their song Grandma's Batman Tattoo – click on the image below to enjoy!
Liverpool Acoustic Live – Friday 20th July, 2012
Eric Brace & Peter Cooper [USA] – GRAMMY-nominated
The Good Intentions – Americana Act of the Year 2011, British Country Music Awards
and introducing Linus Rowe
View Two Gallery, 23 Mathew Street
Doors 8.00pm, music 8.30pm, finishing by 11.15pm
Tickets £6 in advance from wegottickets.com/liverpoolacoustic
20 x £7 tickets available on the door – first come, first served
Join the facebook event here.
eric brace and peter cooper liverpool acoustic grandma's batman tattoo

Liverpool Acoustic is the only website of its kind in the UK. It was created by Graham Holland in April 2008 as a central resource for the vibrant and exciting acoustic music scene in Liverpool and the Greater Merseyside area. It contains an extensive diary of acoustic events, from festivals, theatre concerts and folk clubs to showcases and open mic nights. The News and Reviews service is available as a free email subscription and carries previews of upcoming events, reviews of music releases and gigs, the Liverpool Acoustic Spotlight podcast, and a newsletter on the first of each month.