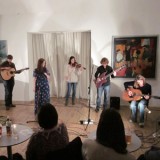 tagged:
Atlas Twins
,
fatea magazine
,
Galley Beggar
,
Laura&Claire
,
liverpool acoustic live
,
Mark Byrne
,
peter cowley
,
view two gallery
Posted by Peter Cowley in live reviews, news and reviews
Live review: Galley Beggar @ Liverpool Acoustic Live
plus Atlas Twins, Mark Byrne, and Laura&Claire
The View Two Gallery
Friday 22nd June 2012
This was the day of the Midsummer Mersey Monsoon when a month's rain fell in one day. However, those brave souls who ventured out to Liverpool Acoustic Live were rewarded with a typically superb night of music in the relaxed, informal surroundings of the View Two Gallery where Graham Holland and Stuart Todd had assembled another impeccable line up of local and national talent.
Starting off the evening were Laura&Claire from Widnes who wowed the audience with their lovely harmony vocals and remarkably polished songwriting [for example, the song "Midnight Blue"]. The nearest comparison would be to the Smoke Fairies. I wish them well with their debut album, which they are currently recording.
Next up was Mark Byrne, a talented singer/songwriter from Liverpool who is also a fine guitarist. Appropriately, Mark sang a song about the end of summer ["winter's around the corner"]. As well as being a solo performer, Mark is also in The Solid Air Band, which plays [you've guessed it ] the music of John Martyn. In tribute to John, Mark played a lovely version of the traditional song "Spencer the Rover", which will forever be associated with John Martyn, even though it was not written by him. To complete his set, Mark played a song in waltz time ["Carry On"] and an excellent new song called "All In Good Time".
Penultimate act of the evening was Atlas Twins from Chester. Atlas Twins are Dave [finger-picked, nylon-strung guitar ] and Lianne [vocals]. They have a unique sound being the blend of Dave's mellow, Spanish-tinged guitar and Lianne's beautifully clear, angelic voice. The Twins performed several of their own intensely personal songs together with one cover – John Martyn's [him again] "Fairytale Lullaby " and received a great response from the discerning crowd.
And so to the headliners – Galley Beggar. There's no way that this band could be described as local. They are based in the London area and had to endure an eight hour drive in dreadful weather conditions to get to this gig [and drive back again afterwards]. Was it worth their considerable efforts? The answer is a resounding "Yes ". It was a fantastic performance by an outstanding band.
Looking round the room, I was clearly not the only old folk-rocker in the audience who can remember seeing the great electric folk bands of the late 1960's /early 1970's – bands like Fairport Convention, Steeleye Span, Fotheringay, The Albion Country Band, Pentangle and Trees. Galley Beggar do a superb job in evoking the spirit and music of those great bands. Normally they play electric but tonight we were treated to a mainly acoustic set [no electric guitars or drums but we did have electric bass guitar expertly played by the drummer!]. The band boasts two excellent guitarists, a superb fiddle player [Celine Marshall] and a wonderful lead vocalist in Maria O'Donnell.
The set started with some songs from the band's forthcoming second album "Galley Beggar". We had superb versions of "Willow Tree" [complete with raga-like guitar solo]; "Nottamun Town" [with excellent 3 part harmonies] and "Lucy Gray" [with mandolin solo]. From their first album " Reformation House" we had a rocking "Sir Richard". This band are incredibly powerful, even when playing acoustically. Also from the first album we had "Sun God", on which the audience participated with rhythmic hand clapping, and "Restless Sinners". To conclude the all too brief set, we had excellent versions of two well-known folk songs, "Jack Orion" and "John Barleycorn".
This is a fabulous band and I cannot wait to see them in full electric mode. Get to see them if you can.
Thanks go to Graham, Stuart and their crew for putting on another night of superb music at Liverpool Acoustic Live
© 2012 Peter Cowley – Fatea Magazine
fatea-magazine.co.uk
republished with kind permission
Live review: Galley Beggar @ Liverpool Acoustic Live 22/6/12

Peter Cowley is a regular reviewer of live music for Fatea Magazine - fatea-magazine.co.uk