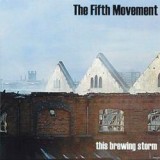 tagged:
ep review
,
graham holland
,
kco
,
kevin critchley
,
luke moore
,
music review
,
the fifth movement
,
this brewing storm
Posted by Graham Holland in music reviews, news and reviews, reviews
EP REVIEW
Artist: The Fifth Movement
EP: This Brewing Storm
I've been following the exploits of Kevin Critchley since he shoved his first EP in my hand back in 2006 and I was blown away by the energy, power and passion in those four tracks. Kevin went on to form the Kevin Critchley Outfit by bringing in regular members Luke Moore (cello), Josie Forsey (violin), JJ Rio (bass), and Paul Walsham (drums and percussion) to produce an all-round bigger, deeper sound. When I reviewed KCO's debut album Scars on the Liverpool Acoustic News and Reviews site in April 2009 I gave it a 'fully charged' thumbs up.

Fast-forward to November 2011 and things had moved on. The lineup had changed with the addition of Alex Williams taking over on drums and percussion, and Graeme Runeckles picking up bass duties. They also started performing live with an expanded string section and the occasional choir – so not your average indie band then! With their music taking on a much wider scope, and no longer wanting the group to be focused around one person, KCO changed their name to The Fifth Movement and launched a brand new EP This Brewing Storm as a sample of things to come.

The first track Stop the Chaos opens with 16 seconds of frantic acoustic guitar strumming before the string section sweeps in, and wow! I wasn't expecting that! The orchestration gives it the feeling of a Bond soundtrack or a 1970s Love Boat-type theme tune, and it sounds boss! But this track is multi-layered beast and we're soon introduced to Kevin's powerful vocals and Luke Moore on piano as the mood and tempo changes throughout the piece.

Unravel also starts with just guitar, but this time broodingly picked in KCO's (sorry, old habits die hard) The Fifth Movement's trademark minor key, as the strings, instrumentation and vocals are introduced all haunting and dreamlike. 

C-Song is one of the highlights of The Fifth Movement's live set, giving the band members the chance to shine as individuals whilst creating a cohesive togetherness that only comes from a high level of musicianship and hours of practice. While understandably not having the full energetic buzz that comes with playing this live, the recorded version still ably captures the feeling of regret over lost opportunity as described in the lyrics.

Entropy is an instrumental that opens with four quivers from the string section – supplemented on this EP by Christoph Demetriou and Greta Svabo Bech – before piano, autoharp, guitar, bass and percussion are introduced with an ever-increasing sense of urgency and menace, much like the brewing storm in the EP's title. I can imagine this track being used as the opening music to a Hollywood-produced psychological drama or horror movie, it's that good.  

One of the things I enjoy most about my involvement with the local music scene is seeing artists exploring new musical collaborations and artistic directions. Kevin Critchley and Luke Moore, the creative driving force behind The Fifth Movement, can never be accused of sitting on their laurels, and it's refreshing to see a group of musicians so dedicated to pursuing their own musical path with scant thought for genre or labels. A word of praise must be saved for Gary Lloyd who produced, mixed and mastered the EP brilliantly. We're told that This Brewing Storm is just a taste of the band's forthcoming album. If that's the case, then grab your wellies and brollies, batten down the hatches, and get ready for the full storm to hit. It's going to be quite a ride!

This Brewing Storm can be bought direct from the band – contact details on their facebook page facebook.com/TheFifthMovement
© 2012 Graham Holland
Graham Holland is the owner and editor-in-chief of the Liverpool Acoustic website. He also runs the Liverpool Acoustic Live events with local musician Stuart Todd. In real life he's an e-learning teacher and Apple Distinguished Educator, has been producing podcasts on a regular basis since July 2006, and runs a number of websites for other organisations.

Graham Holland is the owner and editor of the Liverpool Acoustic website, and runs Liverpool Acoustic's award-winning live music events with local musician Stuart Todd. In real life he's an Apple Professional Development Authorised Trainer, has been producing podcasts on a regular basis since July 2006, and runs a number of websites for other organisations. He lives in Wavertree with his partner and their cat Xiao Hei.