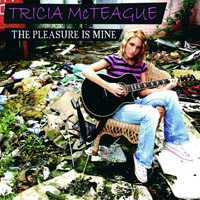 ALBUM REVIEW
Artist:
Tricia McTeague
Album:
The Pleasure Is Mine

I have to admit, before I came across this artist I would have probably, flippantly, described her style of music as 'not my musical cup of tea' but after catching a live gig in town and verifying the authenticity of Tricia's powerful and emotional live vocals I realised how this album is a natural product of her passion and talent. Well-crafted songs and evocative story telling belies any musical genre.
Tricia McTeague has already earned herself a huge reputation as one of our country's leading studio and live session singers. For this, her stunning debut album release entitled 'The Pleasure Is Mine', she brings to the table every one of her incredible and unique vocal attributes. It also additionally presents her with an opportunity to exhibit breathtaking songwriting talents in a fantastically diverse and eclectic mix of original material drawn from many different influences and musical genres. Tricia's vast experience has been gathered in a relatively short space of time and is clearly evident in the perfectly polished professionalism with which this CD has been recorded. Collaborating and performing with many leading artists, predominantly from the world of pop and rock, has obviously made a significant impact in honing Tricia's already amazing natural skills. Each track bears testimony to a mastery of her art and extremely gifted technique, particularly in the attention to detail. Tricia's outstanding ability in the creation and flawless execution of radio friendly songs with such intricate precision are a pleasure to behold, especially her fusion of the classic and contemporary. Her phenomenal construction of lyrical content which takes the listener on an emotional rollercoaster is magically poetic as though inspired by a young Stevie Nicks style of approach. Melodious compositions, wonderful interweaving harmonies and a magnificent falsetto vocal define this brilliant masterpiece 'The Pleasure Is Mine', enjoy….

This spiritual journey begins when we are introduced to Tricia by way of a powerful album opener called 'Thicker Than Blood' which sees her adopt an unusally feisty mindset and send out an emotive message. The versatility and virtuosity of her passionate vocal with its sustained vibrato becomes apparent from the outset, as you can see from the video below. It both encapsulates the story and paints a picture of someone wronged who has been forced to contend with or carry a bitterly raw emotional burden, this stinging sneer is their release from that.


Tricia's second offering 'Can You Love Someone Too Much?' provides a controlled shift in vocal dynamic and another extremely catchy hook for the chorus line which is undoubtedly another standout element of Tricia's performance throughout this album. Track three, 'Beautiful Pain', is an evocative, melancholy ballad once again portraying Tricia's immensely vast vocal range with crystal clarity in her phrasing. This is followed by 'Beer Stained Coaster' which comprises a mid-tempo rhythm and radiates an articulate, enchanting summer vibe with a reflective lyric featuring excellent use of backing harmonies. Already, we have an indication that Tricia is setting an incredibly high standard of musicianship with her consistently elusive, charming and charismatic qualities which are very impressively maintained for the remainder of this CD.
The innovative and mystical fifth song 'Free Spirit/Lost Soul' encompasses Tricia's brief but complex, counterpoint multi-layered vocal intro and specifically highlights her genuinely authentic ability to incorporate exceptionally well-crafted, subtle harmonies as does 'Let Me Breathe' although this brings about an elaborate change of pace to the party. Here, Tricia again showcases a multi-dimensional approach to her exemplary songwriting arrangements and utilises some vocal distortion over a superb rhythm throughout on this slow burning rocker. Next comes the intelligently creative 'This Isn't Love' which places an even greater emphasis on Tricia's spectacular falsetto vocal than previously heard on the album. 'Sweetness & Light' is exactly what it suggests, a sweet composition exuding warmth of personality. Tricia's subdued and soothing tone suddenly transcends into a soaring vocal, most notably those truly majestic interweaving harmonies emanate from within the heavily-laden mix. These are a mainstay on the majority of the tracks courtesy of Tricia's technically adept artistry, her vocal is indeed an orchestra in itself.
The following number 'Turn Around' delivers a laid-back groove consisting of yet more cleverly thought out, productive and imaginative lyrics which clearly verifies another unmistakable Tricia signature. Her greatest forte, among a multitude of strong contenders, is probably her natural instinct for beautifully haunting melodies and the entrancing 'Nothing I Can Do' is a classic example of this trait. It contains a velvet textured, mellow vocal and leads us into 'Get What You Give'. After a muted opening few bars this fine, smouldering pop/rocker is underpinned by a driving beat that picks up the tempo once again and there are also more of those trademark harmonies which are so eloquently presented throughout this CD. As we head towards the album's conclusion, the climactic encore 'Liberty' proves Tricia really is a musician right at the peak of her game in every sense of the word. This time her silky, delicate vocal with its soft reverb and contemplative lyric is accompanied by some very welcoming and wonderfully understated piano/keyboard playing. Ingeniously, the backing is stripped down thus establishing a minimalist approach and ensuring Tricia's voice is right at the fore as the focal point for this dramatic piece which brings about the closure of a stunningly expressive album.
When I initially listened to this CD, my hope was to discover a competent performance whereas what I actually heard completely changed my musical perspective and outlook. Tricia has obviously endeavoured to, and succeeded in, producing the ultimate debut album which collates an embarrassment of riches. 
All in all, 'The Pleasure Is Mine' is a fabulously multi-faceted but non-convoluted, easy listening collection of songs that warrants and deserves a great deal more attention and exposure. This CD can be purchased from iTunes or alternatively a hard copy can be ordered via Tricia's website which is: triciamcteague.com

© 2011 Mike Partington
Liverpool Acoustic – liverpoolacoustic.co.uk

Mike Partington love music and writes reviews as a hobby.