Posted by Liverpool Acoustic in news, news and reviews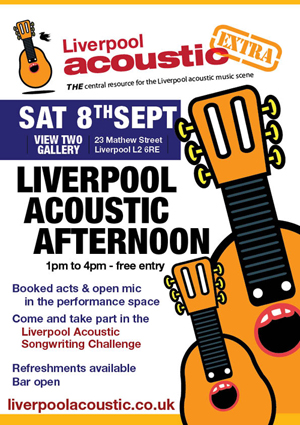 This is your friendly reminder that the next Liverpool Acoustic Live gig is taking place on this coming Friday 20th March 2009 at the View Two Gallery on Mathew Street.
The doors open at 8.00pm and the music starts at 8.30pm.
Entrance is £4 on the door, but don't forget you can get in for only £3 in advance by emailing contact[at]liverpoolacoustic.co.uk
We've got four great acts for you to enjoy.
The Good Intentions
Michael Ryder
Virginia Haze
Lorelei Loveridge
You can join the facebook event page too!
And we've just heard that this will be one of Virginia Haze's last gigs in Liverpool before she leaves for her new venture in Bulgaria.

Liverpool Acoustic is the only website of its kind in the UK. It was created by Graham Holland in April 2008 as a central resource for the vibrant and exciting acoustic music scene in Liverpool and the Greater Merseyside area. It contains an extensive diary of acoustic events, from festivals, theatre concerts and folk clubs to showcases and open mic nights. The News and Reviews service is available as a free email subscription and carries previews of upcoming events, reviews of music releases and gigs, the Liverpool Acoustic Spotlight podcast, and a newsletter on the first of each month.