Posted by Graham Holland in news and reviews, spotlight
Liverpool Acoustic Spotlight #4
August 2008 – Kaya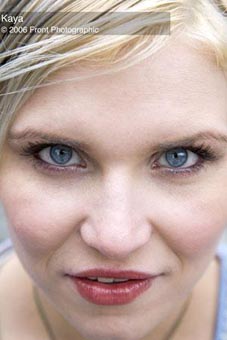 1.
Balloon In A Cactus Field
2. Demon Woman
3. Sick Champagne Waltz
4. Fairytale Blues

To play click here Spotlight #4
or right click the link to download for free
Kaya works hard
, plays hard and bites hard, but isn't a very hard person at all.
Growing up
thinking she was weird she prefers quirky these days, but still isn't very easy to put in a box. (That's where the biting comes in).
She started chewing her violin bow
at 5, and still chews on instruments every time she gets an urge, which isn't very often anymore. And it's not the violin at all ­- the guitar is what she'd pick these days…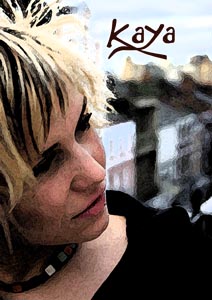 Originally from Norway
, she's made Liverpool her home since 1999 and has become a well-know name on the local scene playing venues like Barfly, Zanzibar, Magnet, and her residencies at Metro, Dragon and the famous 3345 Parr Street Studios. All of this has lead her to play with people like Brett Anderson (Suede), Cherry Ghost, John Smith, Liam Frost and the Slowdown Family, The Wombats, The Sonic Hearts and pretty much the rest of the Liverpool scene and never tires of a good gig experience!
She sings and writes songs
but sounds very different from most female singer/songwriters with a dynamic output that can blow your socks off. She's had reviews like "an extraordinary vocal talent" and "the perfect balance of warm, charming and light-hearted and serious, powerful and mesmerising" and was BBC Liverpool's unsigned artist of the month for
July 2007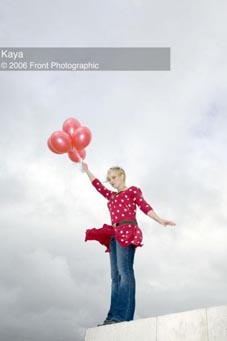 She has finished recording
her album
"Balloon in a Cactus field"
which is released on the
22nd September
with Ultimate Fake Music and her first single "Meat Market Special / The Sick Champagne Waltz" was released in May last year and sold out.
Now she is finally ready for world domination….
Just let's see if the world is ready for her!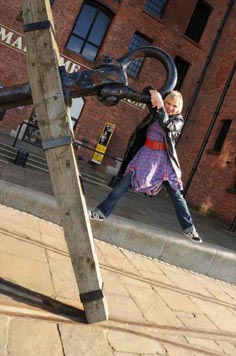 Reviews
"An outstandingly talented Norwegian/Scouse songwriter, Kaya's output is hard, constructed melodicism delivered with an extraordinary vocal talent."
Order, BarFly Magazine
"A driving riff, top class production and Kaya's outstanding vocals make this track easy on the ear, but don't let that fool you, there's a message in there about self-respect and knowing who you are."
Rough Trade
"I can honestly say that this girl is in the first division of the first league of champions in her craft. "Meat Market Special" is cocky and charming, spiritedly and energetic, dynamic and original and "The sick champagne" waltz just happens to be all of that and oh my God how the hauntingly chilling strings opening makes this song so much more!"

International Online Music

"Both as a musician and a person, Kaya strikes the perfect balance. She is warm, charming and light-hearted in the gaps between songs and serious, powerful and mesmerising when it comes to the rendering of her music."

Pollen8
"Music of this calibre can burst your heart with its inviolate beauty (…) one of the most compelling, complete and classy acts that you're likely ever to see (…) these are real songs performed by an artist deserving of a wider stage. The widest stage. Magnificent."

Drowned in Sound Magazine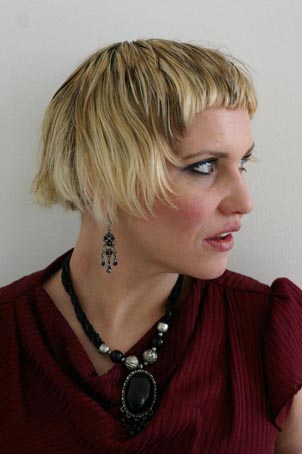 "The best female rock singer in Liverpool." Sakura, rockphotographer.net
"Vulnerable, raw and excellent! (…) This is definitely one of the musical highlights of the Summer. Kaya glows on stage."
(Frontpage and full page) Fremover (Norway)
"Huge vocal extravaganza, dynamic songs at their best."
www.Glasswerk.co.uk
"The acoustic guitar and Kaya's voice are the only instruments needed to give the song the intensity that only a gifted vocalist and musician could achieve." Uneathedtreasures.co.uk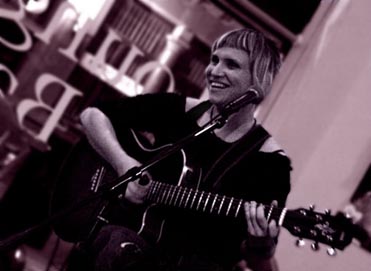 Thank you to Kaya
for making her music available for the show. You can find out all about her at
Website
www.kaya.no
Look out for news of her album launch in September.
Kaya hosts the weekly
Metroacoustic
night at Metro Bar on Victoria Street, and the monthly
Acoustica
night at 3345 Parr Street. See her MySpace profile for more details. Also, from Saturday 9th August, tune in to BBC 1 and vote for Liverpool's Sense of Sound Choir. You'll see Kaya bobbing up and down at the front!
If you get the chance, please support your local artists by emailing them, joining their mailing lists, leaving them comments, going to their gigs, and buying their music direct from them where possible.
If you'd like to suggest a local acoustic musician to be featured on the show then email contact@liverpoolacoustic.co.uk or use the 'contact us form on the website.
The Liverpool Acoustic Spotlight is produced and presented by me, Graham Holland, on behalf of the Liverpool Acoustic website at liverpoolacoustic.co.uk While you're there you can sign up to receive the News and Reviews blog posts by email. Just put your email address in the box on the frontpage – it's as simple as that, and we promise we won't spam you.
You can find me on the Internet at grahamholland.co.uk Why not go to itsafrogslife.net/podcast and listen to the It's A Frog's Life Acoustic Podcast, a fortnightly acoustic music show featuring some of the best, podsafe acoustic music from across the whole of the UK.

Graham Holland is the owner and editor of the Liverpool Acoustic website, and runs Liverpool Acoustic's award-winning live music events with local musician Stuart Todd. In real life he's an Apple Education Trainer, has been producing podcasts on a regular basis since July 2006, and runs a number of websites for other organisations. He lives in Wavertree with his husband and their cat Xiao Hei.