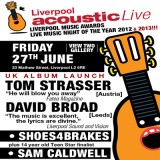 tagged:
david broad
,
liverpool acoustic live
,
liverpool acoustic spotlight
,
sam caldwell
,
shoes4brakes
,
tom strasser
,
view two gallery
Posted by Graham Holland in news, news and reviews, spotlight
LIVERPOOL ACOUSTIC LIVE
FRIDAY 27th June 2014
Austrian guitar sensation Tom Strasser will be holding the UK launch of his new album at Liverpool Acoustic Live this coming Friday 27th June 2014 at Mathew Street's View Two Gallery.
Tom Strasser last played in Liverpool in August 2012 and caused FATEA Magazine reviewer Peter Cowley to write "Fabulous stuff – if you ever get the chance to see Tom, do so, because he will blow you away." Tom is currently touring Europe to promote his new album Second Thoughts and has chosen Liverpool as the place to launch it in the UK.
Joining Tom Strasser on the night will be Leeds-based folk and blues musician David Broad who provided a memorable night at the View Two Gallery back in 2012 when he appeared with Serious Sam Barrett.
Also playing will be Shoes4Brakes, a local duo who perform catchy, upbeat songs on guitar and cajon.
Completing the lineup is 15 year old Sam Caldwell who last year reached the UK final of the Teen Stars competition and performed his self-penned song 'Myself' at the O2 Arena.
Event: Liverpool Acoustic Live
Artists: TOM STRASSER (Austria) UK ALBUM LAUNCH
David Broad (Leeds)
Shoes4Brakes
and introducing 15 year old Teen Star finalist Sam Caldwell
Date: Friday 27th June 2014
Times: 7.45pm doors, 8.15pm start
Venue: View Two Gallery, 23 Mathew Street
Tickets: £5 in advance, £6 on the door
wegottickets.com/liverpoolacoustic
The facebook event can be found at facebook.com/liverpoolacoustic/events
Details of all Liverpool Acoustic music events can be found at liverpoolacoustic.co.uk/live
Press enquiries & guestlist email contact@liverpoolacoustic.co.uk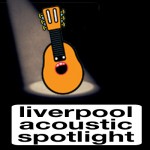 Liverpool Acoustic Spotlight 113

Spotlight 113: Tom Strasser & David Broad
Play Now
|
Play in Popup
|
Download
To play click the player above or right click Spotlight 113 to download for free.
If you're an acoustic musician from the Greater Merseyside area, or from further afield but play on the Liverpool scene, then feel free to send us your music for future shows. We can't promise we'll be able to play everything that's sent to us, but we will listen to every track. Find out all about the show, how to submit your music, and the Terms of Use, at liverpoolacoustic.co.uk/spotlight/about
1. Tom Strasser – Time To Mind
tomstrasser.com
Buy Tom's new album Second Thoughts from his website
2. David Broad – Too Late
davidbroad.co.uk
Buy David's albums from his website
3. Shoes4Brakes – The Flame
facebook.com/Shoes4Brakes
4. Sam Caldwell – Myself
facebook.com/pages/Sam-Caldwell/298030116983868
Buy Sam's 'Myself' EP on iTunes
ARTIST INFORMATION
TOM STRASSER
tomstrasser.com
"Exceptional skill. Tom Strasser is a brilliant guitarist, a highly talented songwriter. He thrills his audience." Jochen Linder – Pinzgau News
"Fabulous stuff – if you ever get the chance to see Tom, do so, because he will blow you away." Peter Cowley – FATEA Magazine
"You do not want to miss Tom Strasser! He is an absolutely brilliant performer who's mastered the guitar." James Olmos – G+
Seriously, Tom didn't make this up. These are just a few words the press have to say about him. After releasing his solo debut "Live & Learn" in 2012, Tom now delivers his first full length album. "Second Thoughts" features songs written through the past two years of touring and playing to international audiences, his reflections and impressions, as well as his views on the world around him. Tom's lyrics span a wide range of topics, from personal to global, emotional to critical, ironical to insightful.
Musically, "Second Thoughts" is another brilliant display of Tom's now signature style on guitar, using and mixing regular fingerpicking with tapping and percussion on the instrument to make it sound like an entire band. In the studio, together with producer Robin Gillard, the songs were recorded as closely to the live sound as possible. Well tempered vocals with soothing harmonies blend in nicely with the acoustic guitar, accentuated by elements of groovy bass and a few special feature instruments popping up when needed. An album rich in colour and content.
VIDEO PREVIEW youtu.be/pnpLC8OxGsc – Watch Tom Strasser performing One Of These Days live at Bar&Co in Vienna
DAVID BROAD
davidbroad.co.uk
David Broad is a singer, songwriter and folk/blues musician from Leeds who last played for us at Liverpool Acoustic in 2012 when he toured with Serious Sam Barrett. His new album with Serious Sam – Live at Cafe Lento – features 23 tracks.
"The way David Broad plays guitar, it's a finger-twister. This man from Leeds, England, is one of the best finger pickers I've seen live."
Brad Spurgeon, bradspurgeon.com
"Such was the passion in his delivery and authenticity of his delta-blues-like guitar playing, tracks like St James Infirmary Blues were utterly compelling."
Lawrence Poole
VIDEO PREVIEW youtu.be/D0U2l6_8KkA – A fine outdoor recording of You Never Can Tell filmed last autumn in Golden Acre Park.

SHOES4BRAKES
facebook.com/Shoes4Brakes
Shoes4Brakes are an acoustic two-piece band with guitar and cajon drum with driving, sun shining, top down tunes and upbeat feel, reaching back to the days when you stopped your BMX with your trainers. Shoes4Brakes play regularly throughout Merseyside.
VIDEO PREVIEW youtu.be/21LvWpxHg_w – Another outdoor recording, this time it's Shoes4Brakes performing Minnesota for the Addistock Sessions down at Festival Gardens.
SAM CALDWELL
facebook.com/pages/Sam-Caldwell/298030116983868
Sam Caldwell is a 15 year old singer-songwriter from Liverpool. He's self-taught on acoustic guitar, electric guitar, bass, piano, keys and drums, and is obsessed with Snapbacks and Vans. Inspired by the likes of Lucy Spraggan, Ed Sheeran and Labrinth, last year Sam reached the national final of Teen Star UK and performed his self-penned song 'Myself' at London's O2 Arena.
Early 2014 saw the release of Sam's debut EP 'Myself' and this month saw an impromptu performance on Billy Butler's BBC Radio Merseyside show after loaning his guitar to Buzz Hawkins from The Bradshaws!
VIDEO PREVIEW youtu.be/1lO35AWdIaE – Here's Sam Caldwell playing his song Myself at the Teen Star national final at the O2 Arena in London. Nice one Sam!
If you get the chance, please support your local artists by joining their mailing lists, liking their facebook pages, following them on twitter, leaving them comments, going to their gigs, and buying their music direct from them where possible. The Liverpool Acoustic Spotlight is produced and presented by Graham Holland on behalf of the Liverpool Acoustic website, and is a proud member of the Association of Music Podcasting. The theme music is King of the Faeries by Andrew Ellis from his CD Midnight On The Water.
>>>
Spotlight 113: Friday 27th June 2014 – Tom Strasser and David Broad

Graham Holland is the owner and editor of the Liverpool Acoustic website, and runs Liverpool Acoustic's award-winning live music events with local musician Stuart Todd. In real life he's an Apple Education Trainer, has been producing podcasts on a regular basis since July 2006, and runs a number of websites for other organisations. He lives in Wavertree with his husband and their cat Xiao Hei.