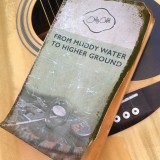 tagged:
alan o'hare
,
album review
,
crosstown studios
,
jon lawton
,
laura mckinley
,
lis garrett
,
music review
,
only child
,
vanessa murray
Posted by Lis Garrett in music reviews, news and reviews, reviews
ALBUM REVIEW
Artist: Only Child
Album: From Muddy Water To Higher Ground
Reviewer: Lis Garrett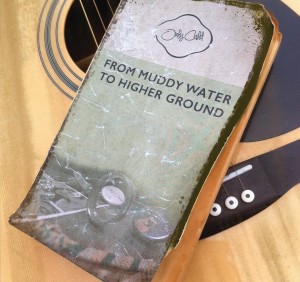 Alan O'Hare told us at the launch of Only Child's album "From Muddy Water to Higher Ground" that this was an album all about love. He's not wrong. This album is overflowing with it – from love of family, of music, of home. It's all there. This is the album we've been waiting for from O'Hare. The promise and potential has always been there right back with the Trestles but it took this coming together of a new sound, the addition of the string led genius of Laura McKinley and the exquisite harmonies of Vanessa Murray, to breathe life into the passion and joy that has always been just below the surface in O'Hare's music.
Only Child is a fluid collaboration of musicians and the version of the band that launched this album at the Zanzibar was immense – 11 members on stage at one point I think – and the music demands it. It is complex and layered and after listening to the album all week I am still having my senses assaulted by a new sound or idea with each run through. The inclusion of Jon Lawton to the production side has clearly paid dividends and there is a cohesion to the sound that is good to hear.
The single Higher Ground is the stand out track for me on first run though, the piano is a wonderful addition to Only Child's sound. The song starts slowly but builds and grows and swirls around your head and fills you with hope and promise.
The hypnotic opening violin on Green Eyes Singing is a wondrous thing. I've been aware of this song for a while, having heard it a couple of times live over the last year or so. It's like the song has finally realised its potential. The strings are soaring in places, providing a driving rhythm for the vocals in others. Murray's extra vocals rounding out the song and making it whole and by the time I've heard the album several times this is the track I love most.
The Price shouldn't work. Drum machines, 80's sounding synths, poppy vocals. But then you really listen to the words, hear the violins and that beat gets into your brain and it will not leave. You find yourself humming it at work. Or waiting for the bus.  I don't know why it works, but it does. It really does.
There are love songs sitting side by side with songs about injustice and prejudice and that's as it should be – life is not in neat little boxes, no reason why our music should be either. Captain Of Your Soul is a lovely blending of vocals, flutes and keyboards and is beautiful, and deceptively complex.  What Kind Of World questions and pokes at things you know you should pay attention to, but don't always. Gypsy Boy starts with a mournful violin and ends up being a raucous affair, lamenting the labels that life saddles people with.
While She's Asleep made me cry the first time I heard it. This is a good thing – there's a very exclusive list of songs that do this to me and I'm always happy when I find something that touches me with that immediacy, that passion. This song is a love poem, pure and simple. There is nothing complex or sophisticated about it – it is a powerful statement about the love of a man for his woman. It's simply beautiful.
This album delivers on all fronts – it's punchy and thought provoking at the same time as being gentle and touching. It makes you want to dance and whirl, and then hold the one you love and tell them what they mean to you. We all need a bit of that in our lives.
"…. can you tell me, is that enough?", no Mr O'Hare, it's not – we want more of this, much more please.
© 2014 Lis Garrett – Liverpool Acoustic
Only Child
Website – onlychildmusicuk.wordpress.com
Facebook – facebook.com/onlychildmusic
Twitter – @onlychildmusic
Album review: Only Child – From Muddy Water To Higher Ground
>>>


Born and bred Scouser, finally living back in the motherland, after 25 years in exile in the deep south. HTML/CSS monkey by trade, currently curating grass roots sports content at the Echo. Photographer and scrapbooker at heart but need to pay the bills! Long list of musical influences, too long to list and changes too often to document, suffice to say a jangly guitar and a clever lyric will get me every time. Avid reader of fiction (from YA to Homer). Firmly on the Apple side of the Mac vs PC argument. On and off blogger looking for something to write about.