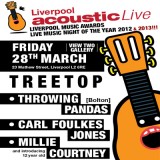 tagged:
carl foulkes jones
,
craig lamb
,
graham holland
,
liverpool acoustic live
,
liverpool acoustic spotlight
,
millie courtney
,
throwing pandas
,
treetop
,
view two gallery
Posted by Graham Holland in news, news and reviews, spotlight
FRIDAY 28th MARCH 2014
LIVERPOOL ACOUSTIC LIVE
Liverpool Acoustic Live takes place on Friday 28th March 2014 at the View Two Gallery at the heart of the world-famous Cavern Quarter.
Headlining the event is Treetop, the musical project of Craig Lamb, who won the Liverpool Echo's competition to find an unsigned act to play the Liverpool Music Awards ceremony at St George's Hall last August.
Supporting Craig on the night will be freshened folk with a psychedelic twist from Bolton-based Throwing Pandas, music from the rootsy end of the pop spectrum with Chester's Carl Foulkes Jones, and an opening set from 12 year old Millie Courtney.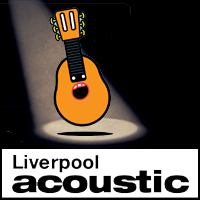 Liverpool Acoustic Spotlight 110

Spotlight 110 - Treetop
Play Now
|
Play in Popup
|
Download
To play click the player above or right click Spotlight 110 to download for free.
If you're an acoustic musician from the Greater Merseyside area, or from further afield but play on the Liverpool scene, then feel free to send us your music for future shows. We can't promise we'll be able to play everything that's sent to us, but we will listen to every track. Find out all about the show, how to submit your music, and the Terms of Use, at liverpoolacoustic.co.uk/spotlight/about
1. Treetop - I Just Need You
TreeTopMusic.co.uk
Available as a free download from TreeTopOfficial.bandcamp.com
2. Carl Foulkes Jones - God's Got It
soundcloud.com/carl-foulkes-jones
3. Millie Courtney - Feels Like Heaven
facebook.com/millie.courtney.33
ARTIST INFORMATION

TREETOP
TreeTopMusic.co.uk
Treetop is the solo project of Craig Lamb, a singer songwriter from Liverpool. Treetop began in the summer of 2013 and took off in a big way with numerous support slots, a live session for BBC introducing and an extremely well received performance at the Liverpool Music Awards. Since then, Craig has continued to gig around the northwest and record in a variety of locations around Liverpool. The first song to be released from these recording sessions is "I Just Need You" – a sparse stripped back song combining electric guitar and vocals, recently released for free from TreeTopOfficial.bandcamp.com
With many other releases planned for the coming months along with numerous high profile gigs, 2014 looks to be a good year for Treetop.
THROWING PANDAS
reverbnation.com/throwingpandas
An eclectic mix of sounds, heavily acoustic, with a great slab of ukelele sparkle, from funky to folky with influence from Dylan to Arcade Fire; from Marley to Midlake; sweet songs and revolutionary tales of a war with humans and pandas! A new sound has arrived – freshened folk alternative with a psychedelic twist!
CARL FOULKES JONES
soundcloud.com/carl-foulkes-jones
Sounding loosely like a street quartet of musicians Carl plays four instruments at once: a bass pedal (made up of old piano hammers and bass guitar strings) with his right foot, a snare drum with his left foot, a hung harmonica and acoustic guitar.
Armed with this he goes about troubadour alike exploring the rootsy end of the pop spectrum and playing in a long line of tradition with songs passed down from country blues to folk.
Recording has been done live at the minute and Jones is in the process of recording his first album to be called Monkey Chunk.
MILLIE COURTNEY
facebook.com/millie.courtney.33
12 year old Millie Courtney hit the press last year with her self-penned Hillsborough tribute Broken Winged Angels. Since then she has been awarded an Artist Development Deal by Bold Management with Martin O'Shea as her manager.Millie recently played the Young Musicians Showcase at The Brink and is looking forward to announcing more exciting gigs for later this year.
If you get the chance, please support your local artists by joining their mailing lists, liking their facebook pages, following them on twitter, leaving them comments, going to their gigs, and buying their music direct from them where possible. The Liverpool Acoustic Spotlight is produced and presented by Graham Holland on behalf of the Liverpool Acoustic website, and is a proud member of the Association of Music Podcasting. The theme music is King of the Faeries by Andrew Ellis from his CD Midnight On The Water.
>>>


Spotlight 110: Friday 28th March 2014 – Treetop

Graham Holland is the owner and editor of the Liverpool Acoustic website, and runs Liverpool Acoustic's award-winning live music events with local musician Stuart Todd. In real life he's an Apple Professional Development Authorised Trainer, has been producing podcasts on a regular basis since July 2006, and runs a number of websites for other organisations. He lives in Wavertree with his partner and their cat Xiao Hei.