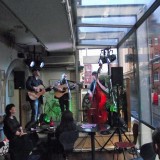 tagged:
ewan mclennan
,
ian mcnabb
,
laura campbell
,
liam pickup
,
liverpool acoustic festival
,
liverpool organic brewery
,
Natalie McCool
,
paul dunbar
,
robert vincent
,
shannen bamford
,
sophia ben-yousef
,
the gary edward jones trio
,
thom morecroft
,
thomas j speight
,
tj & murphy
,
unity
,
unity theatre
Posted by Liam Pickup in live reviews, news and reviews, reviews
Live review: Liverpool Acoustic Festival
Date: Friday 21st and Saturday 22nd March 2014
Venue: The Unity Theatre
Reviewer: Liam Pickup
Last weekend (Friday 21st and Saturday 22nd March) saw the birth of the first ever Liverpool Acoustic Festival. Naturally, Liverpool Acoustic was there to soak up the atmosphere, and Liverpool Organic Beer, at the wonderful Unity Theatre.
The Unity Theatre has been expanding its acoustic music programme over the past couple of years, and has provided a fantastic platform for new and established talent in the city. It makes perfect sense then that it provides the home for a festival described as:
"A celebration of current and bygone acoustic music that had either originated or ended up in our great city." Paul Dunbar (local musician/festival director)
Testament to this statement, the line up is truly impeccable. Headliners for the two-day event come in the shape of Liverpool Acoustic favourite Robert Vincent and local icon/former icicle works front man Ian McNabb. In addition to live acts, the festival promised Beer and Food tasting sessions with Liverpool Organic Brewery, an acoustic guitar workshop and a wide variety of seminars and Q&A sessions with acts. Sound good? . . . It was!
With so much going on it would be ridiculous to provide a blow-by-blow account of the weekends happenings. So, instead let's focus on the highlights across the two days.
Friday's proceedings saw some fantastic opening sets from the stunning Shannen Bamford [bar] and three-time Liverpool Music Award winner Thom Morecroft [unity 1]. Headlining the night was Robert Vincent, accompanied by a 3-piece band inclusive of a double bass player, percussionist and the wonderful Anna Corcoran on backing vocals and piano. Playing an earlier slot than planned due to the delayed arrival of another act, Vincent's set comprised of everything that acoustic music has to offer. From the delicate intricacies of 'Light of the Stars' through to the foot stomping western vibes of 'Life in Easy Steps' Robert Vincent more than lived up to the hype that has seen Q Magazine refer to him as "The Scouse Springsteen". Following Vincent was the aforementioned fashionably late Ewan McLennan. McLennan was a wonder to behold, his skills as a traditional folk guitarist are unquestionable, and yet the highlight of the set was his spell bounding a capella performance of folk song 'Old Man's Tale'.
Saturday saw things step up a gear, with sessions running from 1pm to 11pm, the day was jam packed with the cream of Liverpool's acoustic talent. Although I arrived a tad late due to other commitments, I was there to witness The Gary Edward Jones trio playing a blinding set in the unity's bar. With warm vocals, impressive lead guitar and some additional depth through the medium of a double bass, this trio where born to play together. TJ & Murphy, Paul Dunbar, Laura Campbell and Sophia Ben-Yousef provided some additional sets of note throughout the evening but for me the real revelation was Thomas J Speight. With Natalie McCool on backing vocals, Speight worked his way through an interactive and well thought out set list. The highlight of the set was his unplugged performance dedicated to Natalie's Mum.
Headlining the evening was Liverpool Icon Ian McNabb. From past experience, I've learnt that when someone is classed as an icon, it's best not to overhype him/her as they usually disappoint. This, coupled with the fact that I'd never seen McNabb play live, meant that I was completely open-minded going into his performance. Yet, like the Scouse troubadour that he is, McNabb avoided any disappointment and instead played a set that was a total triumph. Overall the day felt much more like a festival than the previous evening, every inch of the Unity theatre was utilised to its full potential and there was a rather pleasant buzz about the place.
Despite all of this loveliness, I do have a few minor gripes. Firstly, I have some concerns with using the word 'Festival' for any event that doesn't stretch beyond one venue. Whilst I appreciate that the Unity opened up every available space for the event, I would love to see the festival expand to use a variety of different venues over the weekend.
Secondly, this year's event was in danger of submitting to a stereotypical view of live acoustic music. This being that acoustic music is all nice and lovely, and everyone should take their seats and absorb its loveliness. To some extent this stereotype works, no one can suggest that in a seated theatre with a candle light ambience the talents of TJ & Murphy didn't shine. But, as artists like Ed Sheeran, Newton Faulkner and Paul Dunbar himself have proven, acoustic music can take on a more energetic dimension. Indeed, had Robert Vincent's set been in a standing venue, I would have been two stepping with some serious vigour. It's for this reason that in pursuit of an additional space, it would be great to include a standing venue.
That being said, I hope my comments here are not taken in the wrong way, what the festival organisers have achieved with the very first Liverpool Acoustic Festival is remarkable. All I suggest is that if the festival returns next year then the team behind it should take the success of this year's event and build on it. Liverpool has a truly vibrant music scene that already boasts some amazing city centre, multi-site festivals, but never before has there been a festival fully dedicated to acoustic music. This Liverpool Acoustic Festival's success is representative of the love of acoustic music in this city, and I hope that it becomes an annual occurrence on the Liverpool events calendar.
© 2014 Liam Pickup – Liverpool Acoustic
(Please note that the Liverpool Acoustic Festival is an event run by the Unity Theatre and is not connected with the Liverpool Acoustic website or live events… yet! – Ed)
>>>


Live review: Liverpool Acoustic Festival @ Unity 21-22 March 2014

Liam Pickup is a music blogger/reviewer with a keen interest in the Liverpool Music Scene. Posting all of his reviews on his 'LiverpoolGigReview' Facebook page, he hopes to grow his audience organically. Liam lives in the Huyton area and in his 'real job' works as a fashion retail manager for an International brand.