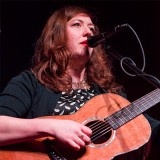 tagged:
ben trigg
,
ceremony concerts
,
david page
,
featured
,
gig review
,
graham holland
,
kathryn williams
,
leaf
,
leaf on bold st
,
live review
,
lizzie nunnery
,
matt deighton
,
mellowtone
,
vidar norheim
Posted by Graham Holland in live reviews, news and reviews, reviews
Live review: Kathryn Williams
Support: Lizzie Nunnery and Vidar Norheim, Matt Deighton
Date: Wednesday 19th March 2014
Venue: Leaf on Bold St
Reviewer: Graham Holland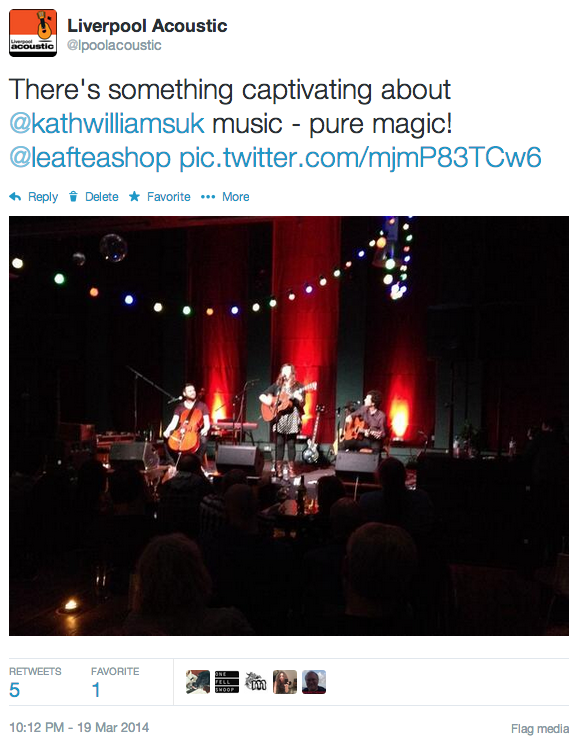 At 10.12pm on Wednesday 19th March 2014 I tweeted via @lpoolacoustic "There's something captivating about @KathWilliamsUK music – pure magic!". I was standing at the back of a packed Leaf, just one of many caught up in the spellbinding world of Kathryn Williams. She was stood on stage flanked to two talented musicians and was treating those lucky enough to be there to songs from her current album Crown Electric alongside offerings from across her previous albums.
But I'm getting ahead of myself!
The evening opened with a set from Essex-born, Wales-based Matt Deighton. I'd like to be able to tell you just how good he was, but unfortunately I didn't get to the venue in time. I arrived to hear the final 20 seconds of his closing instrumental – not really enough to give an informed opinion. Kathryn rates him highly though ("he's phenomenal") and that's good enough for me!
Next on stage were Lizzie Nunnery and Vidar Norheim with a set that perfectly complimented the headline act to follow. I found it interesting that so many of the people who were there to see Kathryn Williams perform had not seen Lizzie and Vidar before. I have no doubt that these people will have been instantly converted into new fans after hearing 5,000 Birds, One Day I Wanna Get Straight, A Smile And A Knife (a new song dedicated to Tony Benn), England Loves A Poor Boy, Lullaby For Alice, Sand, and Poverty Knocks. Long time followers of Liverpool Acoustic will know just how highly I think of Lizzie and Vidar as my review of their current album testifies.
Now I'm not one of those reviewers who can weave words together to create flowing, lyrical prose to extol the virtues of a particular musician or performer. So I'll refer you back to my tweet. Kathryn Williams captivated me with a collection of songs that were pure magic. Switching between two different acoustic guitars she was joined on stage by Ben Trigg (Dexys, Jamie Cullum, UNKLE) on cello, keyboard and bass, and David Page on acoustic guitar and bass. Trigg's cello was gorgeous and versatile, while Page's guitar and vocals were a delight.
Williams opened with four songs from her new album. Picture Book, Crown Electric (with plucked cello playing bass riffs), Underground (written on the floor at Euston Station), and Heart Shaped Stone (the current single). Kathryn paused after Underground to tell us that the last time she had been in this room she was a kid jumping on piles of coats. It turns out that her Dad had owned the leather goods shop downstairs and she used to play in the stockroom upstairs. Who'd have thought that three decades later she'd be back in the same room performing to her Mum and Dad.
Talking of Kathryn's parents, the next song – Flicker from the classic 2000 album Little Black Numbers – was revealed as Mum's favourite. She has great taste as it's one of my favourites too.
Returning to Crown Electric, Count saw the introduction of looped vocals which were also used in the next song Little Black Numbers from Old Low Light. This time Kathryn's vocal loops were added one on top of another to create an impressive wall of sound. Out Of Time was followed by the catchy Monday Morning which is due out as the new single on 28th April.
Trigg moved to keyboard and passed the bass guitar to Page for the Ed Harcourt co-written song Sequins which we were told she wrote while in Ed's bath, although there was neither water nor Ed in the bath at the time. Kathryn brought her set to a close with two more co-written songs. Come With Me and Grey Goes can be found on the 2008 album Two, a collaboration with talented Crown Electric producer Neill MacColl.
We were treated to two encores – The Known and a beautiful reinterpretation of Springsteen's Dancing In The Dark. If you want to know how good this final song was you can find it on the soon-to-be-released Monday Morning EP.
And that was it. To be honest if we'd been treated to 28 songs instead of 14 I'd still have been disappointed that the gig had come to a close. As it was I was just happy to have been in the presence of an incredible songwriter and performer who is at the top of her game.
Thanks to Mellowtone and Ceremony Concerts for bringing Kathryn Williams back for an all-too-rare gig on home soil. Whenever she chooses to return, try not to miss her – I definitely won't.
© 2014 Graham Holland – Liverpool Acoustic
Kathryn Williams
website - kathrynwilliams.co.uk
facebook - facebook.com/KathrynWilliamsMusic
twitter - @kathwilliamsuk
>>>


Live review: Kathryn Williams @ Leaf 19/3/14

Graham Holland is the owner and editor of the Liverpool Acoustic website, and runs Liverpool Acoustic's award-winning live music events with local musician Stuart Todd. In real life he's an Apple Professional Development Authorised Trainer, has been producing podcasts on a regular basis since July 2006, and runs a number of websites for other organisations. He lives in Wavertree with his partner and their cat Xiao Hei.