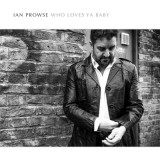 tagged:
alan o'hare
,
album review
,
amsterdam
,
ian prowse
,
music review
,
who loves ya baby
Posted by Alan O'Hare in interviews, music reviews, news and reviews, reviews
ALBUM REVIEW
Artist: Ian Prowse
Album: Who Loves Ya Baby
Reviewer: Alan O'Hare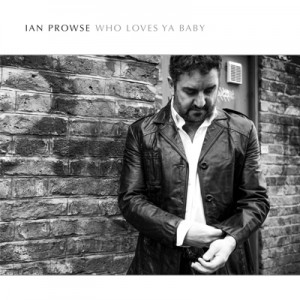 Categorising music can be a dangerous thing to do.
Sure, we're all guilty of it: critics, fans… even artists can get side tracked by what people think. It's natural. But, sometimes, you can put something in a box and forget to keep an eye on it. When that happens, you're in danger of missing out on (or, indeed, making) so much great new music.
Ian Prowse is a well-known musician on Merseyside and beyond. Full throated Celtic anthems, with a dash of rock 'n' roll, are his stock and trade and his followers love him for it. Scouse pride, you could call it. But to leave it at that would be a crime.
The man himself has been guilty of it in the recent past: a 'best of' release, in 2012, seemed to place a package around his muse and set his style in stone. Prowse's profile soared – but said attention locked his art into a glass case.
Or so it seemed. As, behind the curtain, the Little Sutton songwriter had an album of hidden delights up his sleeve.
It shouldn't come as a surprise, really. When Prowse's second band, Amsterdam, burst onto the scene as an NME 'one to watch' at the end of the 90s, they sounded as fresh as anything I'd heard in years: loud, melodic and virile. They had it all – but failed to ignite on a national scale. Since then, he has released two full albums under the Amsterdam banner ('The Journey', 2005 and 'Arm In Arm', 2008), all the while taking baby steps towards a solo career.
And now, that debut solo record has arrived. 'Who Loves Ya Baby' contains twelve songs, divided into old school sides one and two, and with sleeve notes to make you aware of how precious its contents are. They're not wrong, as this is Prowse's best set of songs since Amsterdam self-released a debut album called 'Attitunes' in 2001.
Lyrical themes are updated, brand new melodies flow from the speakers and the music is beyond categorisation: is that a Gil Scot Heron-esque jazz chord sequence, complete with floating flute, on 'I Did It For Love'; can I hear a touch of 'Definitely Maybe'-era Oasis in the raging guitars of 'Empire' and what is that devastating sound effect that tugs at my conscience throughout 'Six Factories'?
This is music for adults who still want to get attached to a record: "World War I, racism, the Cuban revolution, the NHS, it's all there," says Prowse. The singing on the album – mostly all from Prowse, with an occasional female harmony – will possess you and clutch you to its massive heart.
Opener 'God and Man' sets the scene and updates the ex-Pele man's sound brilliantly. There's not a fiddle or flute within earshot, as the stacked acoustic 12 string guitars and major key melody bring the big music of The Waterboys front and centre. Said fiddles and flutes (with the flute/whistle in a much more prominent role) return on the second and third songs, 'Coming Up For Air' and 'We Were Men', respectively. The former revolves around a massive riff that suits the bruised lyric perfectly ("You're in the rear view mirror, getting smaller all the time…"), while the latter is a gorgeous wee folk song, taking an unflinching look at getting older ("I have a theory that the final act of growing up is when our parents pass away," says the writer).
Death looms large on the record, no more so than through the Gallic accordion and battlefield cries that introduce 'Lest We Forget', a song that takes a direct look at the ordinary people who were asked to fight World War I. The singer uses a different voice here, playing the part of a young man asked to fight for his country in "the war to end all wars" and going off "to my younger brothers, a hero was I, firing guns far away and at sea". We all know how the story ends – so why sing it now? "If there's one thing I've learned from doing two degrees in the past seven years, it's that all history is contestable and someone somewhere will assert that World War I was a good and just fight," declares Ian.
Such passion belongs in folk music and, indeed, it's an area Prowse has dabbled with for years – especially with his (near) permanent residence in the Irish Sea Sessions. So it's refreshing, then, to see him step back into the protest singer mould on another aching lament, 'The Ballad of Charles Wootton'. Revolving around a delicious fingerpicked acoustic guitar melody, and an aching violin, the broadside takes aim at racial profiling and highlights two incidents, a century apart. At times, it's breath taking.
This type of fearless song writing ("you coloureds stay at home") dominates the record and makes 'Who Loves Ya Baby' an album that screams out for your attention.
© 2014 Alan O'Hare – Liverpool Acoustic
 Who Loves Ya Baby is released on Monday 17th March 2014 and is available to buy from
Ian Prowse
website - amsterdam-music.com
facebook - facebook.com/ian.prowse.5
twitter - @IanProwse
>>>


Album review: Ian Prowse – Who Loves Ya Baby

Alan O'Hare is a musician and songwriter from Liverpool. Well known as the former lead singer of The Trestles, Al's current venture is Only Child alongside Laura McKinlay.