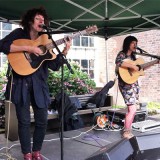 tagged:
ian d hall
,
live review
,
liverpool acoustic garden
,
liverpool international music festival
,
Liverpool Sound and Vision
,
the bluecoat
Posted by Ian D Hall in live reviews, news, news and reviews
Live review: Liverpool Acoustic Garden
Simon Cousins
SheBeat
John Chatterton
Me and Deboe
@ the bluecoat
Liverpool International Music Festival
Saturday 24th August 2013
Simon Cousins
Liverpool Sound and Vision Rating 7/10
Some musicians just radiate warmth and a sort of musical love as soon as they step on a stage. Without even playing a note on a guitar, just by the simple motion of saying hello to a collected crowd, the affection is felt around you. Whoever has come to take in the musician's work, be it friends, fans or the surprised newcomer, what comes palpably across is the thought that everybody who is watching just wants the musician to succeed. In that respect the warmth felt for Simon Cousins could keep a large town's heating suppliers out of business for a long while.
The Liverpool singer-songwriter gave credence to the notion that sometimes just hearing music is enough to change a life, the legacy of any musician to make an audience think and take their lyrics and run with them, to make someone smile inwardly even when times are so tough no one could blame them for breaking down and giving in is what music has, it is what art contains compared to the cold brutal and sometimes harsh reality of science.
Simon Cousins is generous enough in spirit to recognise the power of words and his gentle humour and kind demeanour reflected that as he performed in the Bluecoat Garden. With tracks such as My Guitar and Me and the beautiful Loved You When We Met opening up the set, the tracks floating through the air as if they were butterflies being let loose from a collector's net in a moment of humanity and reason, Simon Cousins gave a great account of himself in such a short time.
His collection of songs, both his own personal tracks and the large abundance of covers available to him complement each other so well that the musician could have played for a couple of hours and no one would have been bored or persuaded to leave the gardens.
With a packed afternoon still infront of the audience, Mr. Cousins gently steamed through his set and with tracks such as Sometimes A Fool, the very cool Loves Counterfeit and a very enjoyable cover of Bob Marley and The Wailers' classic song Three Little Birds.
Bank Holidays are meant to be a time of social ease, the chance to lay back and relax and for anybody catching the dulcet tones of Simon Cousins under the auspicious eyes of Liverpool Acoustic will have felt all the cares in the world simply drain away and a certain calmness descend upon them. Very cool and very serene, Simon Cousins is a great find.
You can find out more about Simon Cousins at www.sicousins.co.uk
[original article here]
John R Chatterton
Liverpool Sound and Vision Rating * * * *
John R. Chatterton has the unnerving ability to make songs that you have listened to perhaps a million times before sound somehow fresh and new. Tracks, that despite having been on the end of radio play and being sat in people's records collections gathering dust, mean a great deal to people but have become stale and repetitive. In the hands of this superb musician, the music, his own compositions and those he covered were played with aplomb, a defining skill and instrumental ability that is hard to imagine anybody else being able to do.
As part of the International Music Festival taking place all over the city centre, the docks and the huge gathering going on at Sefton Park, it was the serene setting of the Bluecoat Garden and it's sense of history that Mr. Chatterton laid down his guitar at the end and took in the great pleasure shown to him from a upbeat audience who had been enraptured by the music.
Liverpool Acoustic and especially Graham Holland who does much for the scene in Liverpool certainly scored a big hit by having John R. Chatterton perform on a Saturday afternoon. By starting with his own work, a track simply titled Blues Piece, the afternoon took a turn down a road in which lyrics were abandoned and the guitar became undisputed king. By adding on the very sweet track Robin's Dance to the set list, the guitar didn't just become king, it became a tool in which to entrance, the sound of strings pulling in the sensitive, the unabashed and the unsure with the ease of a qualified hypnotist.
August Bank holidays are special, for many it could be the chance to take in the final long days off before the build-up to the winter period begins in earnest, the option to revel in the afternoon sun and take in smooth music before the speed in which life dictates more and more that for some reason to be pushed to do more and more is a good thing. To take time out to have your soul stroked by the sound of real music and not the plastic sounds of commercialism is not a bad thing and by performing incredible stringed versions of I Shot The Sheriff, the hauntingly beautiful Whilst My Guitar Gently Weeps and a bold take on Led Zepplin's Stairway To Heaven,John R. Chatterton added more to the 2013 summer Bank Holiday that could be thought possible.
Music is a healer when in the right hands, and in the carefree but talented hands of John R. Chatterton, music becomes something to cherish and nurture.
[original article here]
SheBeat
Liverpool Sound and Vision Rating * * * *
For a woman who has been performing for a little over 12 months, SheBeat catches audiences completely unaware, she sneaks up on them with arms outstretched and then takes her chosen audience on a journey that will stay with them for a long, long time.
The Bluecoat is a fascinating building; its history seems to seep out of every stone and edifice that makes the structure a must see, to wallow in its garden and sit and listen to the world and its joys, groans and ideas. With songs that showed great depth of character and an interesting take on life, SheBeat made sure that what she bought to the table would be enjoyed and chewed over as much as anybody else over the International Music Week Festival and rightly so.
SheBeat has cut her musical teeth performing in places such as Ian Prowse's Monday Night Club and now infront of an audience which was chilled, near serene like, she took her guitar in hand and the audience by the heart through tracks such as Mine, Won't Be The Same, the fantastic Supermoon Lover, Impossible and the outstanding Freaky Crazy.
With any act performing in Liverpool this week, there is always an homage to The Beatles and whilst in some acts, the dedication and respect maybe well placed, sometimes it can feel as if the song they choose to perform to the audience is forced as if they know they want to do it but there is no real heart to the sentiment, in SheBeat's almost wonderfully expressive version ofShe Loves You, this was a cover that was played with the right level of admiration in her voice. Alongside her own very cool songs and compositions, to take on a much loved early classic by the Liverpool foursome was worthy and marvellous.
SheBeat might have only been performing for a year but what she gave to the audience who came along to hear music promoted by Liverpool Acoustic at The Bluecoat will surely garner more interest in her music in the future.
[original article here]
Me and Deboe
Liverpool Sound and Vision Rating * * * * *
If an E.P. or album can whet the appetite of seeing a group perform for the first time, then Me and Deboe's fantastic self-titled recording released earlier in the year has had the same effect of being shown the menu of a five star restaurant which serves the finest food anywhere in the world and knowing you can eat there for free with a gift voucher but noticing you have to wait the best part of fifty years before you get even pick up a fork and smell the tantalising aroma.
All good things come to those who wait and as the afternoon in the Bluecoat Gardens was coming to an end, the final session, the absolute crowning glory hosted by Liverpool Acoustic on a superb day of music was the sight of Mercy Elise and Sarah Deboe performing under the green canvas shelter and an audience completely absorbed by the sound and sight of these two very brilliant performers.
There are many reasons to fall for a group; there are lots of explanations available for why a singer/duo/band can fill your heart with such passion that the music just inflames something deep within you. As the music from Me and Deboe seemed to carry past the walls that surround the Bluecoat and its history and out beyond towards Sefton Park, the Cheshire duo showed those attending their portion of the afternoon that to fall for a band is easy, to hold the attention to the point where a pin can drop and be heard in a bustling music filled city centre, is akin to the exhilaration you would feel when completing a long held ambition and then letting the moment sink in to your soul.
The duo complement each other so well memories of Simon and Garfunkel at their most gracious rise to the forefront of the mind and by starting with a new track, the aptly titledForward, both Sarah and Mercy showed that they have a great future infront of them. The splendid guitar work, impressing it seemed all who had sat throughout the afternoon, were also bowled over by the captivating vocals on songs such as Just Go, The Frustration Song, the excellent Ten Toes and the cerebral beauty of Mother Shipton and to be fair who could in the end blame them for falling head over heels with this tremendous pair.
Music is quite rightly all over Liverpool, not just during The Liverpool International Music Week but all year round, however for a moment in time, music belonged solely to Me and Deboe at the Bluecoat.
[original article here]
You can see Me and Deboe playing at the next Liverpool Acoustic Live on Friday 27th September at the View Two Gallery. Facebook event here, and tickets here.
© 2013 Ian D Hall – Liverpool Sound and Vision
liverpoolsoundandvision.co.uk
>>>
Live review: Liverpool Acoustic Garden @ the Bluecoat 24/8/13
Ian D. Hall was brought up in Birmingham and spent the vast majority of his teenage years in Bicester, near Oxford. He grew up loving music from a very early years. In the last ten years Ian has written reviews for the Birmingham Evening Mail, Liverpool Live, Chris High and the University of Liverpool's L.S. Media web site. For the last year of his graduate degree he was joint Arts Editor for L.S. Media and it has been his privilege to write on many of the arts in Liverpool, Merseyside, the U.K. and the rest of the World, having reviewed gigs as far as away as Poland and Canada. Liverpool has been his home for the last eight years and is without doubt the most vibrant, most cultural part of the UK. His love of music and theatre has led him to see great bands and plays, not just in Liverpool but the wider artistic community. His dearest music loves are Punk, Progressive Rock, Metal, Rock, folk and pop. Ian D. Hall graduated from the University of Liverpool in June 2012 with a degree of Bachelor of Arts with Honours in English. He now edits the Liverpool Sound and Vision website.