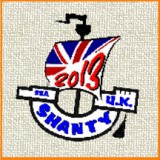 tagged:
ellesmere port
,
les males de mer
,
national waterways museum
,
sea shanties
,
sea shanty
,
sea shanty festival
,
shanty festival
,
shanty uk
,
trim rig and a doxy
Posted by Liverpool Acoustic in news, news and reviews
There are many annual festivals for different types of music and some of them have been happening for many years but there is only one that in just 3 short years has risen from nothing to become the largest annual maritime festival in the UK and possibly the world. That is the Shanty UK Sea Shanty Festival which will once again take place over the Easter weekend at the National Waterways Museum, Ellesmere Port from Friday 29th to Sunday 31st March 2013.
This truly international gathering has attracted performers and visitors from all over the world. This year's line-up contains 34 groups or performers booked so far and more will probably join in over the weekend.
Spearheading the list is the group that were such a hit at last year's festival Les Males de Mer who are a remarkable quartet from Belgium who sing and entertain with a wide range of songs including many English standards as well as shanties from across the water delivered with an infectious humour that has audiences alternately clutching their sides with laughter or joining in with full-throated glee.
Also adding their own distinctive talents are a wide variety of shanty crews, duos and solo artists such as Enkhuizen 4+ 1, Trim Rig and a Doxy , Hissyfit, Derek Gifford, Rapsquillion and many more (check the website for details). All of these can be seen at the many indoor and outdoor events around the museum or at the evening concerts on Saturday and Sunday.
The festival is not just about singing though. There will be displays from Boat Museum Society narrow boat gathering, children's activities, talks from Jim Radford, Derek Gifford, Jim Saville and Red Duster on various aspects of sea, ships and sailors as well as tales of inland navigation on the canal boats as well. There will be craft stalls, face painting and of course all the usual boats that can be found at the museum (augmented by those arriving just for the weekend crewed by visitors and guests alike). The festival is an outing for the whole family for less than the a night at the pictures.
Apart from the two evening concerts (£10) all of this fantastic range of events and activities will cost no more than the museum entry fee of £6.50 for one 3-day weekend ticket.
Checkout the website www.shanty.org.uk for more details.
Shanty UK Sea Shanty Festival – Easter 2013

Liverpool Acoustic is the only website of its kind in the UK. It was created by Graham Holland in April 2008 as a central resource for the vibrant and exciting acoustic music scene in Liverpool and the Greater Merseyside area. It contains an extensive diary of acoustic events, from festivals, theatre concerts and folk clubs to showcases and open mic nights. The News and Reviews service is available as a free email subscription and carries previews of upcoming events, reviews of music releases and gigs, the Liverpool Acoustic Spotlight podcast, and a newsletter on the first of each month.