tagged:
freya jonas
,
liverpool acoustic
,
liverpool acoustic live
,
phil hare
,
stuart todd
,
three minute hero
,
view two gallery
Posted by Liverpool Acoustic in news, news and reviews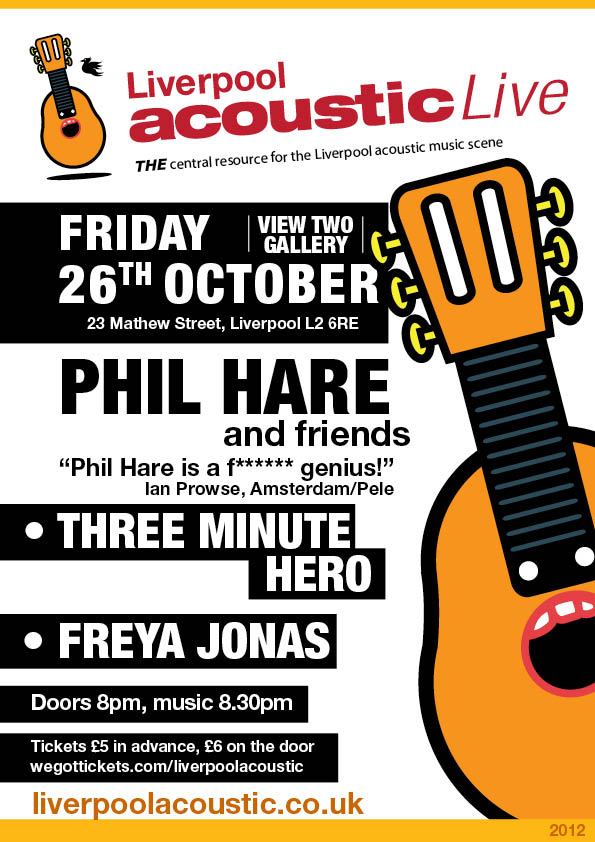 Liverpool Acoustic Live this coming Friday 26th October 2012 features local favourite Phil Hare, who'll be appearing at the View Two Gallery possibly with a special guest or two!
Support on the night is provided by Three Minute Hero, the new project from Liverpool Acoustic Live's co-organiser Stuart Todd, and Devon-based LIPA graduate Freya Jonas who'll be putting the grand piano to good use.
Tickets are £5 in advance from wegottickets.com/liverpoolacoustic or £6 on the door.
The doors open at 8.00pm, and the music runs from 8.30pm to just after 11.00pm.
LIVERPOOL ACOUSTIC LIVE
FINALIST – LIVE MUSIC EVENT OF THE YEAR
LIVERPOOL MUSIC AWARDS 2012
If you've never been to one of our events at the View Two before, then now is as good a time as any to find out why we've been shortlisted for Music Night of the Year in the Liverpool Music Awards 2012. And if you get the chance, please vote for us (and the other acoustic acts) by following the link here.
phil hare at the view two this friday 26th october 2012

Liverpool Acoustic is the only website of its kind in the UK. It was created by Graham Holland in April 2008 as a central resource for the vibrant and exciting acoustic music scene in Liverpool and the Greater Merseyside area. It contains an extensive diary of acoustic events, from festivals, theatre concerts and folk clubs to showcases and open mic nights. The News and Reviews service is available as a free email subscription and carries news about upcoming events, reviews of cds and gigs, interviews with local musicians, and a newsletter on the first of each month.