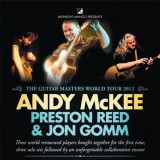 tagged:
andy mckee
,
david burton
,
guitar masters
,
jon gomm
,
live review
,
preston reed.
,
the epstein
Posted by David Burton in live reviews, news and reviews, reviews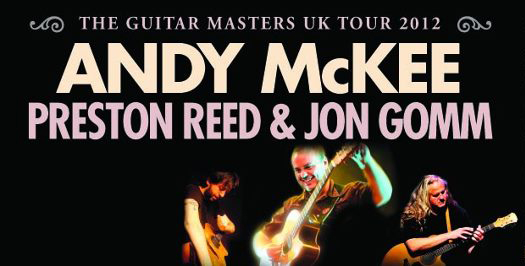 Live review: Guitar Masters UK Tour 2012 – Andy McKee, Preston Reed, & Jon Gomm
@ The Epstein Theatre, Liverpool
Wednesday 26th September 2012 
As a long time fan of finger-style guitar it was with great anticipation that I queued up to listen to not just one but three of the best known proponents of the genre. The occasion, known as the "Guitar Masters Tour" was one of a major twenty-date tour by the three musicians including solo sets by all three followed by a rare opportunity to see them performing together writes David Burton.
First up was Jon Gomm, riding a wave of well-deserved popularity since his tune "Passionflower" had been given a welcome boost by Stephen Fry on his Twitter account. Having had the pleasure of catching him a couple of years earlier I knew that I would be in for a treat. In his opening track "Temporary" the poignant ballad for his mother, Jon demonstrates his ability to fuse amazing technical expertise with the ability to write a moving and emotional song. Setting the scene with beautiful harping harmonic effects, he moves into the main riff of the song and his trade mark use of banjo pegs to bend notes in a way that sounds not unlike a lap steel.
His next song, a cover of Chaka Khan's "Ain't Nobody" changes the mood entirely, his relaxed and friendly stage patter informing us that this was a response to "scared and angry pensioners on their holidays" demanding "something they knew". From the second he begins his two-handed tapped intro you cannot fail to be mesmerized as he seemingly effortlessly provides percussion, bassline and melody employing further use of harmonics in his instrumental version of the song.
Other standout tracks include " Gloria" the comic/tragic ballad of his first relationship, containing the Hendrix homage "I still need my guitar!" before launching into huge overdriven solo. Gomm proves that there really is no limitation to what can be achieved with an acoustic and a board of effects.
Next up was Preston Reed. Reed is recognised along with Michael Hedges as the Godfather of the use of percussive effects and clearly a huge influence on both the younger musicians. Displaying less of the emotional and atmospheric sound that infuses Gomm's work, Reed favours a much harder edged bluesy sound, typified by his opening the track the "Hangman" perhaps inspired by the classic "Gallow's Pole".
Much of Reed's set was blisteringly fast and rhythmic. Amongst his stand out tracks were frantic "Tractor Pull" with its hypnotic melody that you could imagine being pumped out of an arpeggiator on a synth in a techno club! Rare moments of calm serenity were provided by the sleepy ballad "New Horizon" and the dissonant, otherworldly "The Waltz of the Snail".
The final solo spot of the night went to Andy McKee, whose huge popularity on Youtube has come to make him as close to a household name as finger-style guitarists are likely to get. His opening track "Hunter's Moon", a primarily rhythmic instrumental, showcased his now familiar "over the back" style and use of harmonics to pick out a melody over the top. Next up was "Drifting" the piece that has had guitarists around the world confined to their bedrooms. Unfortunately the new strings he had put on before the show were a bit unstable meaning on this occasion his guitar was noticeably out of tune by the end of the track. The highlight for me though was the beautiful ballad "Rylynn", proving that McKee can also write a stunningly poignant melody; dedicating this track to the memory of his friend's daughter of the same name.
In the third part of the show the guitarists combine their efforts over a variety of pieces. Unfortunately the opening song Gomm's "Waterfall", featuring his beautiful ethereal vocals, was beset by feedback problems which after a second attempt at it prompted the three forgo their amplification and perform totally unplugged for the rest of the set. The success of the ensemble was mixed with some songs seeming to gain little from the additional parts and in the others the timing drifted a little with two or more providing rhythmic accompaniment simultaneously. However "New Moon Rising" provided an excellent opportunity to hear the three soloing in their unique styles with Reed getting out his slide and Gomm on astounding form with his presumably improvised Jazz solos. After the "sleazy funk" (his description) of Reed's "Lady's Night" the musicians left the stage and did not return for an encore. I think the sound engineer may well have been on the receiving end of some slapping of his own!
Despite the setbacks, this was an entertaining and eclectic night showcasing some of the most adept guitar playing you are likely to hear. I would recommend anyone to go to future dates if they can!
© 2012 David Burton – Liverpool Acoustic
Live review: Guitar Masters Tour @ The Epstein 26/9/12

David is an acoustic finger-style guitarist, singer-songwriter and teacher based in North Wales. He has performed up and down the country both solo and with his previous band The Invisible Wires as well as various collaborations including a stint with Duffy.