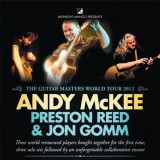 tagged:
andy mckee
,
Epstein Theatre
,
guitar masters
,
jon gomm
,
preston reed.
Posted by Liverpool Acoustic in news, news and reviews

Followers of Liverpool Acoustic will know we're big fans of Blackpool-born, Leeds-based, superhuman guitarist (and all-round nice guy) Jon Gomm, having hosted him twice at the View Two Gallery (see the last review here). So imagine our delight when we found out he is touring the UK this autumn on what can only be described as a Dream Ticket.
The Guitar Masters UK Tour 2012 comes to the newly opened Epstein Theatre (formally The Neptune) on Wednesday 26th September and brings together on the same stage the holy trinity of acoustic guitar – Andy McKee, Preston Reed, and Jon Gomm.
Andy McKee [andymckee.com] is one of the world's finest acoustic guitar soloists. Having shot to worldwide prominence with his technically astounding Drifting, he has since received over a staggering 200 million plays on YouTube, and previously held the top three positions for top-rated videos of all time. Acoustic Guitar Magazine awarded McKee the Worldwide SIlver Medal Award for fingerstyle. His deft talents give his music life through altered tunings, syncopated rhythm and guitar taps. Andy's textural use of polyphonic tones and his unique multi-layering approach means his plucks, strums, and taps to strings and guitar body create the illusion of a full band. Check out the video Drifting – 44.8 million views and rising! youtu.be/Ddn4MGaS3N4
Preston Reed [prestonreed.com] is a one-man revolution. Acclaimed as one of the world's most gifted guitarists by Total Guitar Magazine the New York native tweaks the nose of musical convention, pokes the eye of accepted wisdom, and burns the guitar players' rulebook. His unique style is impossible, unfathomable, unthinkable, as with blurred hands he taps, tickles, slaps and soothes his instrument to create a sonic landscape. See what we mean on this YouTube video of Ladies Night, the title track from the album of the same name. youtu.be/356ViUx1Ktc
Jon Gomm [jongomm.com] is a singer-songwriter who accompanies himself with polyrhythmic hitting-on-the-side-of-the-guitar drumming, and who's known for his lightning-fast on-the-spot de/retuning during songs to access otherwise unavailable bass notes. His track Passionflower recently went viral after being tweeted by Stephen Fry, and lead to appearances on local and national TV, including BBC Breakfast and The One Show. Since then it has received almost 3 millions views – you can see it here, complete with his trusty guitar Wilma, and his famous de/retuning technique. youtu.be/nY7GnAq6Znw
Tickets for the 26th September show are £17.50 (plus booking fee) available from the Epstein box office on 0844 888 4411 or online at epsteinliverpool.co.uk
Be quick, because tickets are selling fast!
Doors open at 7.00pm and the show kicks off at 7.30pm.
Guitar Masters Tour at The Epstein this Wednesday 26th September 2012

Liverpool Acoustic is the only website of its kind in the UK. It was created by Graham Holland in April 2008 as a central resource for the vibrant and exciting acoustic music scene in Liverpool and the Greater Merseyside area. It contains an extensive diary of acoustic events, from festivals, theatre concerts and folk clubs to showcases and open mic nights. The News and Reviews service is available as a free email subscription and carries news about upcoming events, reviews of cds and gigs, interviews with local musicians, and a newsletter on the first of each month.