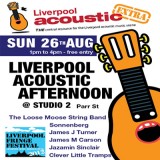 tagged:
clever little tramps
,
graham holland
,
james j turner
,
james m carson
,
jazamin sinclair
,
liverpool acoustic
,
Liverpool Fringe Festival
,
sonnenberg
,
studio 2
,
the loose moose string band
Posted by Graham Holland in news, news and reviews, spotlight
SUNDAY 26th AUGUST 2012
LIVERPOOL ACOUSTIC AFTERNOON
@ LIVERPOOL FRINGE FESTIVAL 
Liverpool Acoustic is taking part in the Liverpool Fringe Festival on Sunday 26th August when we'll be hosting a Liverpool Acoustic Afternoon at Studio 2 on Parr Street. The event runs from 1.00pm to 4.00pm and is absolutely free, so why not come along and chill out with some fantastic music in one of Liverpool's best venues?
1.00pm – The Loose Moose String Band
1.30pm – James J Turner
2.00pm – Clever Little Tramps
2.30pm – James M Carson
3.00pm – Jazamin Sinclair
3.30pm – Sonnenberg
FREE entry
Join the facebook event 
here
.
The Loose Moose String Band comprise of a gang of goodtime music loving fools from Liverpool who play styles including Bluegrass, Old Time, Honky Tonk, Western Swing, Rock and Roll and 80's/90's pop classics. This talented bunch are Barry (Banjo, Guitar, Fiddle, Vocals), Nairn (Guitar, Mandolin, Harmonica, Vocals), The Marshall (Stand-up Bass, Vocals), Alan (Guitar, Vocals, Fiddle), Paddy (Fiddle, Guitar, Vocals), and John (Mandolin, Guitar, Vocals).
In addition to playing weddings, funerals and Bar Mitzvahs, they can also be found playing every other Sunday at The Caledonia on Catharine Street.

James John Turner, a singer-songwriter, was born and bred in Liverpool. The city's diverse music melting pot was a heady influence on James, who started playing guitar and singing from a ridiculously young age and, unbelievably, played gigs at the Junior Cavern sessions from the tender age of 9. 
Over the years James has fronted several different line-ups including Lies All Lies and The Electric Morning, touring the UK and Europe. After paying his dues on the road he opened Liverpool Hard City Studios where his debut solo album The Believer was recorded. James was the only male singer/songwriter to have a track selected for Virgin/BPI's Best of British campaign in the US.
James has recently completed his new album How Could We Be Wrong? which takes him back to his roots using acoustic guitars, mandolin and violin. The album, and the single Let Love Into Your Heart, are due for release on 24th September 2012 on Touch The Moon Records.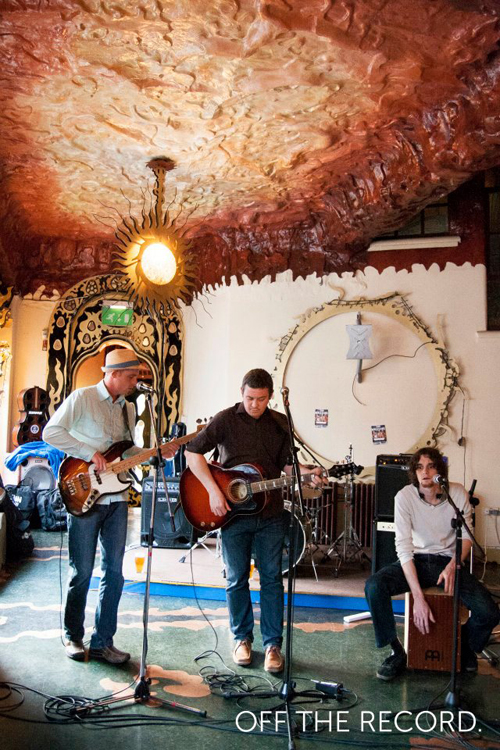 Clever Little Tramps
Clever Little Tramps, formed in 2011, are a 3-piece acoustic band from Merseyside with a passion for writing and performing songs with meaning and feeling. Consisting of Russell Holden on lead vocals/Guitar, Mark Holden Percussion/Backing vocals and Michael Bates Bass/Backing vocals. The focus on vocal harmonies and well thought lyrics have turned many heads and brought many great reviews including: "Clever Little Tramps mix elements of folk, country and pop into a gritty blend that is, by turns, funny, evocative and beautiful….excellent vocal harmonies with a knack for expressing non-sentimental but no less romantic poetry" playmusic magazine
Still in the first year as this set-up things are getting better and better and with the release of their first EP 'BLUE (Songs In A Flat)' the Liverpool music scene has found it hard not to have these boys mentioned whenever someone is looking for some great tracks or a gig where people get involved. The next 12 months could be very important for Clever Little Tramps, especially with EP reviews like this: "Mellow, bluesy acoustic number sung with character and well devised harmony arrangements with nods to peers such as Neil Young, Crosby Stills and Nash with a smattering of Fleet Foxes with an undercurrent of The Coral". MangoneBlog
They are currently recording their new EP which should be ready by the end of the year.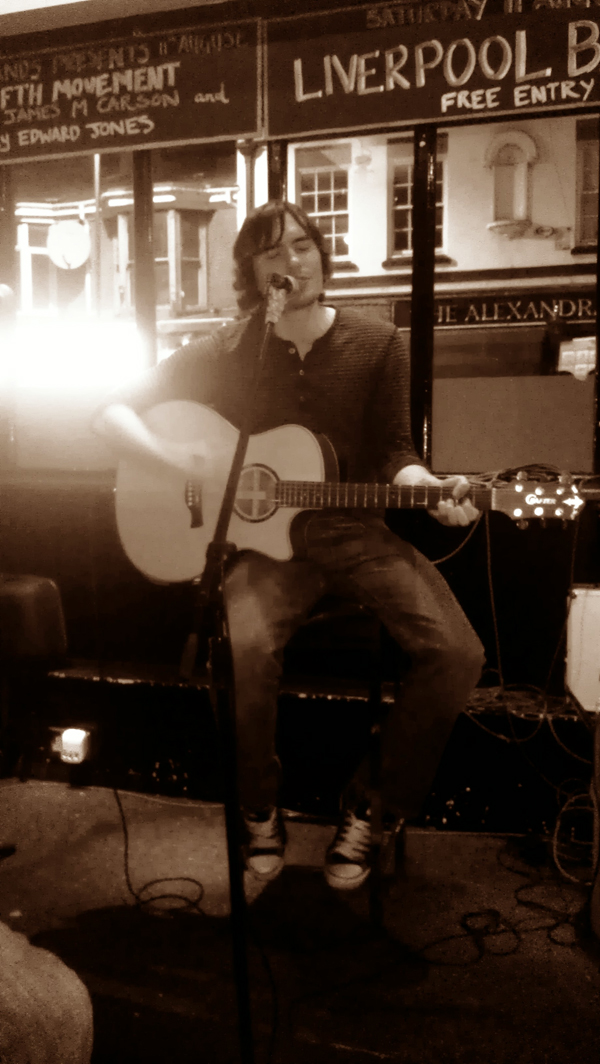 James M Carson 
James is a songwriter from the northwest of England with a style somewhere between alt-country-folk and classic-psych-rock. His influences are drawn from such artists as Tim Buckley, Wilco, Elliot Smith, Neil Young and Crazy Horse, Ryan Adams, Pentangle, T-Rex, George Harrison, and Ray Davies.  He has supported Blind Atlas as part of their album tour, and opened for Louis Barabbas and the Bedlam Six, The Big House, Our Fold, Audio Asylum, Silent Republic, and The Big I Am. James is currently working to complete a four track EP for release on Bandcamp.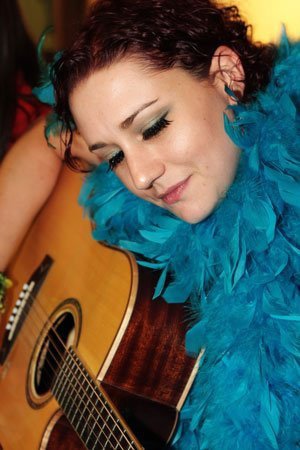 Jazamin Sinclair
jazamin.co.uk

Jazamin is an artist specialising in painting, drawing, photography, music, design, 
exhibitions, workshops & more. At her degree show, her painting 'Hot Pepper 
Sauce' was awarded The Welsh Assembly's Award for Fine Art. Since then she has 
taken part in more than 75 exhibitions. 
She now regularly organises exhibitions with HeadSpace@EggSpace and is part of 
Capture Photographers and Melodycrayons as well as working as a designer. 
As a singer-songwriter, Jazamin plays regularly in around Liverpool, and is a 
member of Sense of Sound singers.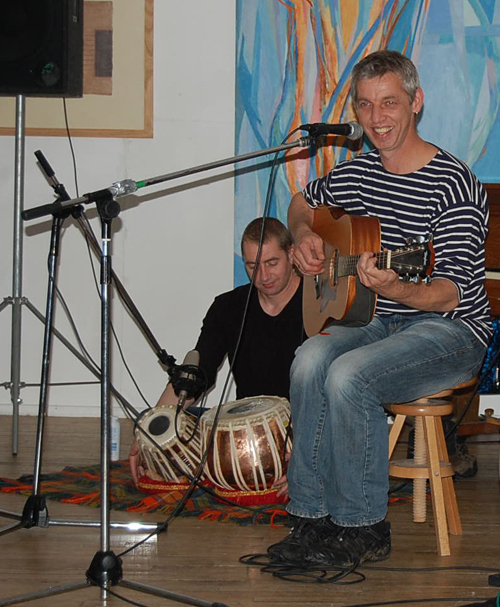 Sonnenberg
Sonnenberg is a folk-type of band around the singer/songwriter Zinney, 
multi-instrumentalist and songwriter Dave Thom, and percussionist/tabla-ist Saul Hughes. After the release of their debut album "fishing in the pool" (probe plus 60, 2007) the band performed in different formations (2-4-6 piece) in small venues as well as "the Shepherds Bush Theatre" in London and the "Boardwalk" in Sheffield. The new album "end of the rain" was released in June 2012.
Liverpool Acoustic Spotlight #76: Sunday 26th August 2012 – Liverpool Fringe Festival 
If you get the chance, please support your local artists by emailing them, joining their mailing lists, liking their facebook pages, following them on twitter, leaving them comments, going to their gigs, and buying their music direct from them where possible. The Liverpool Acoustic Spotlight is produced and presented by 
Graham Holland
 on behalf of the 
Liverpool Acoustic
 website, and is a proud member of the 
Association of Music Podcasting
. The theme music is King of the Faeries by 
Andrew Ellis
 from his CD Midnight On The Water.
Liverpool Acoustic Spotlight 76: Sunday 26th August 2012 – Liverpool Fringe Festival

Graham Holland is the owner and editor of the Liverpool Acoustic website, and runs Liverpool Acoustic's award-winning live music events with local musician Stuart Todd. In real life he's an Apple Education Trainer, has been producing podcasts on a regular basis since July 2006, and runs a number of websites for other organisations. He lives in Wavertree with his husband and their cat Xiao Hei.