Posted by Liverpool Acoustic in news, news and reviews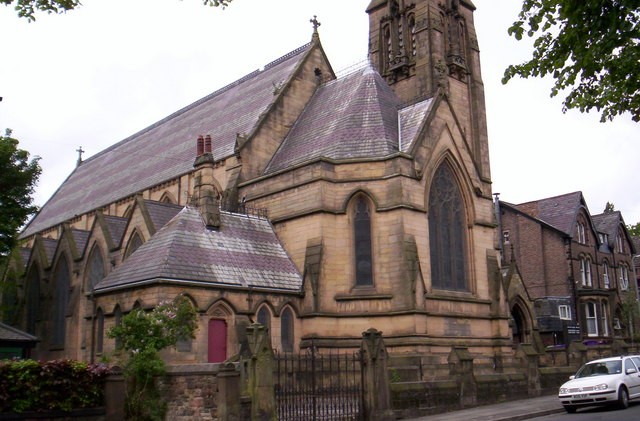 We hope you enjoyed the first Liverpool Fringe Festival – we certainly did!
And we can't think of a better way to relax afterwards than with the first Lark Lane Acoustic Festival, organised by local guitarist and musical impresario Neil Campbell.
It's taking place on Saturday 1st and Sunday 2nd September 2012 at the English Heritage Grade 2 listed Christ Church on Linnet Lane, just off Lark Lane (hence the festival's name!). Directions to the church can be found here.
Each day runs from 2.00pm to 7.30pm, with doors opening at 1.30pm.
Adults are £5 in, with children free (although any pesky kids must have a grown-up with them).
The confirmed lineup is as follows:-
Saturday 1st September – 2pm to 7.30pm
2.00pm – Ogo
2.30pm – Suzanne Jones
3.00pm – Thom Morecroft
3.30pm – Jazamin Sinclair
4.00pm – Choc Electrique Acoustic
4.30pm – Kaya
5.00pm – Mark Byrne
5.30pm – Dave O'Grady
6.00pm – Zinney Sonnenberg
6.30pm – Neil Campbell and Nicole Collarbone
Sunday 2nd September – 2pm to 7.30pm
2.00pm – Joanne Roberts
2.30pm – Paul Kappa
3.00pm – Rae Clark
3.30pm – Joanne Steel
4.00pm – Matt Lammin
4.30pm – Alister Said
5.00pm – Jo Bywater
5.30pm – Lizzie Nunnery
6.00pm – TJ & Murphy
6.30pm – Perri and Neil
Check out the facebook event to add your name to those who've clicked the 'Going' button, and to see videos and listen to music posted by some of the fabulous artists due to appear. This festival was originally due to take place at St Michael's in the Hamlet but was moved to a larger church. If you see any of the original adverts for the St Michael's Acoustic Festival you'll now know why!
Lark Lane Acoustic Festival this weekend

Liverpool Acoustic is the only website of its kind in the UK. It was created by Graham Holland in April 2008 as a central resource for the vibrant and exciting acoustic music scene in Liverpool and the Greater Merseyside area. It contains an extensive diary of acoustic events, from festivals, theatre concerts and folk clubs to showcases and open mic nights. The News and Reviews service is available as a free email subscription and carries previews of upcoming events, reviews of music releases and gigs, the Liverpool Acoustic Spotlight podcast, and a newsletter on the first of each month.