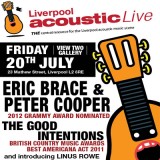 tagged:
eric brace and peter cooper
,
linus rowe
,
liverpool acoustic
,
liverpool acoustic spotlight
,
the good intentions
,
the view two gallery
Posted by Graham Holland in news, news and reviews, spotlight
FRIDAY 20th July 2012
LIVERPOOL ACOUSTIC LIVE
The next Liverpool Acoustic Live event features a very special performance by Grammy-nominated American duo Eric Brace & Peter Cooper in the intimate surroundings of the View Two Gallery on Mathew Street. The concert, which takes place on Friday 20th July 2012, has been brought forward a week to fit with the duo's busy UK touring schedule and to avoid clashing with the Olympic Opening Ceremony the Friday after. Supporting Eric and Peter on the night will be The Good Intentions, winners of the Americana Act of the Year at the 2011 British Country Music Awards.
Eric Brace & Peter Cooper [USA] – Grammy nominated
The Good Intentions – Americana Act of the Year, BCM
and introducing Linus Rowe
Doors open at 8.00pm with music starting at 8.30pm sharp. The night finishes at 11.15pm
Join the facebook event here.
Liverpool Acoustic Spotlight #74
Eric Brace & Peter Cooper – Wait A Minute
Eric Brace & Peter Cooper – Big Steve
redbeetrecords.com

buy the album Master Sessions [website] [Amazon] [iTunes]


The Good Intentions – Dark Stranger
The Good Intentions – Everybody Loves A Drinkin' Man
thegoodintentions.co.uk

buy the album Someone Else's Time [website] [Amazon] [iTunes]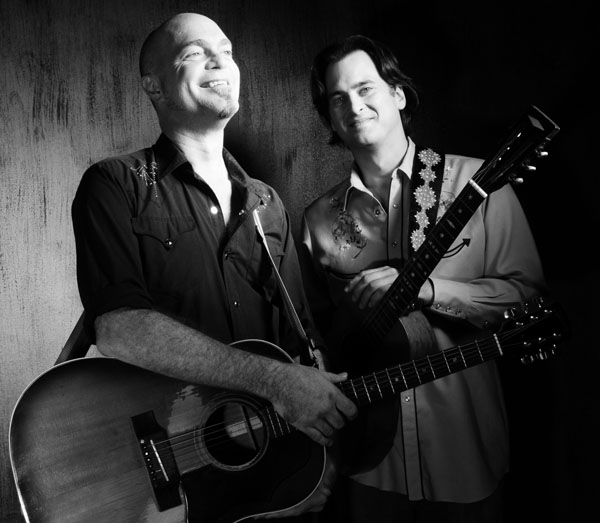 Eric Brace & Peter Cooper
redbeetrecords.com

Singer/songwriter Eric Brace is one of the most acclaimed artists in the Americana world. His latest release, "Master Sessions" (with Peter Cooper) is garnering the best reviews of Brace's career. Its evocative songs and its astonishing instrumental work, courtesy of pedal steel legend Lloyd Green and dobro ace Mike Auldridge, are raising eyebrows and catching ears worldwide.
Since 1997, Eric Brace has been the frontman and songwriter for the acclaimed roots-rock band Last Train Home. With eight CDs and one live concert DVD to its credit, LTH is one of the most prolific and admired bands in the Americana music world. At the core of the band's sound are Eric's evocative songs and his warm voice.
Brace's main musical outlet is his duo work with Peter Cooper.
Peter Cooper, who has his own solo career as a singer/songwriter, is also the music writer for Nashville's Tennessean newspaper. When Eric moved to Nashville in 2004, the two became fast friends, a friendship solidified in Peter's living room listening to Tom T. Hall, Willis Alan Ramsey, the Seldom Scene, Charley Pride, and Bear Family box sets while pouring screw top red wine. There were so many influences in common, it was inevitable that they'd soon be performing live together.
Eric and Peter were nominated for a GRAMMY earlier this year in the Best Children's Album category for "I Love: Tom T Hall's Songs of Fox Hollow" and although they didn't win it is seen as rightful recognition for their musical talent.
"Brace's tenor, when combined with his lyrics which evoke endless late nights on the prairies without ever specifically referring to them, is one of the treasures of the whole Americana genre." Sid Griffin, MOJO Magazine

"Cooper's songs are the work of an original, creative imagination, alive with humor and heartbreak and irony and intelligence, with truth and beauty in the details. Deep stuff. And they get better every time you listen." Kris Kristofferson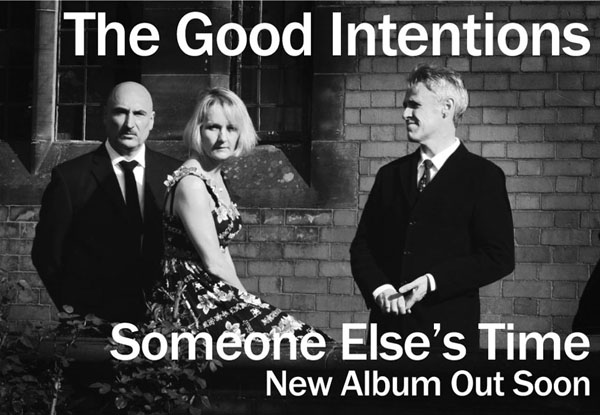 Formed in 2003, the award-winning The Good Intentions are R. Peter Davies, Gabrielle Monk, and Fransesco Roskell. The band's music is based around old time acoustic instrumental and three part harmony sounds, playing Alt Country, Americana, and Bluegrass, with all songs on their two albums being written by Peter.
The band won the Maverick Festival's Country Music Song Competition in 2009, and in the last two years The Good Intentions have moved from smaller venues in the north of England to playing music festivals in the UK, as well as touring The Netherlands and the USA. In October 2011 The Good Intentions won Americana Act of the Year at the British Country Music Awards – a real testimony to their professional musicianship and well-crafted songs.
"A classy country album… with subtle and impressive songs." Martin Chilcott, The Daily Telegraph

"Reminds me of how Country CDs used to sound when I was growing up. Davies and Monk hormonize like nobody's business." Andy Ziehll, Americana Gazette
And introducing Linus Rowe
As part of our ongoing mission to give performance opportunities to young, talented and up-and-coming musicians, we're pleased to announce that the Woody Guthrie Folk Club's resident banjo player Linus Rowe will be performing an opening set.
Liverpool Acoustic Spotlight #74: Friday 20th July 2012 – Liverpool Acoustic Live 
If you get the chance, please support your local artists by emailing them, joining their mailing lists, leaving them comments, going to their gigs, and buying their music direct from them where possible. The Liverpool Acoustic Spotlight is produced and presented by 
Graham Holland
 on behalf of the 
Liverpool Acoustic
 website, and is a proud member of the 
Association of Music Podcasting
. The theme music is King of the Faeries by 
Andrew Ellis
 from his CD Midnight On The Water.
Liverpool Acoustic Spotlight 74 Friday 20th July 2012

Graham Holland is the owner and editor of the Liverpool Acoustic website, and runs Liverpool Acoustic's award-winning live music events with local musician Stuart Todd. In real life he's an Apple Education Trainer, has been producing podcasts on a regular basis since July 2006, and runs a number of websites for other organisations. He lives in Wavertree with his husband and their cat Xiao Hei.