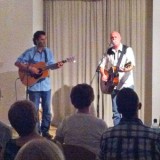 tagged:
eric brace and peter cooper
,
linus rowe
,
live review
,
Master Sessions
,
peter cowley
,
the good intentions
,
view two gallery
Posted by Peter Cowley in live reviews, news and reviews, reviews
Live review: Eric Brace and Peter Cooper
plus The Good Intentions, and Linus Rowe 
@ Liverpool Acoustic Live
The View Two Gallery, Mathew Street
Friday 20th July 2012
Eric Brace and Peter Cooper and the English Summer both made their long-awaited returns to Liverpool today. Eric and Peter last played in Liverpool (at the same lovely venue and also with support from The Good Intentions) three years ago on what was a memorable night of great music.
The evening began with a short set by teenager Linus Rowe, who is a talented singer/songwriter/guitarist who is also the resident banjo player at Liverpool's Woody Guthrie Folk Club. Linus began with "Silver Dagger" and proceeded to delight the capacity audience with his engaging style and promising songwriting. Linus Rowe – a name to watch out for in the future.
Next up were Liverpool's very own Americana band The Good Intentions, who are going from strength to strength having won the Americana Act of the Year award at the British Country Music Awards in October 2011. The core of the band is Peter Davies and Gabrielle (Gabi) Monk. Sadly, the third member of the band, guitarist/vocalist Francesco Roskell, was absent due to a family bereavement.
The Good Intentions have released two albums of all-original material, written by Peter, and are currently working on a third. Tonight they performed as a duo with Peter on vocals, guitar and harmonica and Gabi on vocals, autoharp and accordion. The most striking features of the band are their beautiful harmonies (which stretch right back to the roots of country music, with the Carter Family coming to mind) and the quality of Peter's songwriting (he has the knack of writing songs that sound as though they come from the Appalachians rather than Allerton, or the banks of the Mississippi rather than the banks of the Mersey). Prime examples of these included "Dark Stranger" on which Peter and Gabi were joined by Linus on banjo and Eric Brace on vocals and "Colfax Town" from the forthcoming album. The latter is an evocative song about the shooting of a suspected bank robber in that Northern California Goldrush town, which connects the hardships endured by the prospectors with hard times that are prevalent today.
A particularly poignant moment came when Peter and Gabi performed a moving "Oh My Darling" in memory of Francesco's wife Janet, who had passed away a few days earlier. The emotion in the room was tangible, as many of the audience knew Janet. The Good Intentions finished their set with, unusually, a cover song, namely Hank Cochrane's jukebox song "Please Don't Play A11". The Good Intentions then left the stage after what was a typically fine performance.
Headliners for the evening were the wonderful Eric Brace and Peter Cooper, fresh from an appearance on BBC Radio Merseyside's Billy Butler Show. Both Eric and Peter are acclaimed artists in their own right. Eric is the frontman and songwriter of Americana band Last Train Home and Peter is a singer/songwriter/ producer and journalist (he is senior music writer for Nashville's Tennessean newspaper). Not only that but Peter is also Professor of Country Music at Vanderbilt University (what a job-lucky man). Readers may have heard his recent discussion on Bob Harris Country on Radio 2 regarding the life and work of the late Kitty Wells.
As the duo began their performance, Eric proudly told us that he had been given a haircut by the famous Penny Lane Barber and showed the certificate to prove it. Although they are individual artists, when they sing and play together there is a tremendous synergy between them. Their soaring vocal harmonies and guitars blend together to create a gorgeous sound, very reminiscent of The Everly Brothers (yes, they are that good and yes, in case you are wondering, I have seen The Everly Brothers play live on more than one occasion).
Eric and Peter have released two albums as a duo (2008's "You Don't Have To Like Them Both" and 2010's "Master Sessions" with legendary players Lloyd Green and Mike Auldridge). Peter has made two solo albums ("Mission Door" and "The Lloyd Green Album"). Tonight's long set was drawn from those albums and a few new songs, including Peter's hilarious (John Prine influenced?) "Grandma's Tattoo", which is available as a free download.
Both Peter and Eric are wonderful songwriters and tell great stories. Particular standouts were "Feel Much Better Now" (Peter's song about his experiences in teaching and selling fast food); Eric's gothic "Dismal Hollow Road" and the co-written "Missoula Tonight" about having to flee your home to escape a forest fire. As today was the forty-third anniversary of the first Apollo moon landings, we had a tribute to Neil Armstrong ("Tranquility Base"). In total contrast, we had a song about a music-loving Nashville doorman by the name of "Big Steve".
Eric and Peter proudly announced their status as Grammy Losers (in 2011 they were nominated for a Grammy Award as co-producers of the album "I Love: Tom T. Hall's Songs Of Fox Hollow" but unfortunately did not win). From that album they played the track "Sneaky Snake" which was performed on the record by Nashville music legend Buddy Miller and the King of Twang, Duane Eddy (somehow they managed to replicate Eddy's guitar solo using acoustic guitars!).
Eric and Peter were joined by guest vocalist Gabi from The Good Intentions for a superb version of Englishman Paul Kennerly's "First In Line", which was covered by The Everly Brothers and Emmylou Harris (it is rumoured to be one of Emmy's favourite songs). Incidentally, Bob Harris had played Eric and Peter's version the previous evening on his Radio 2 Country show. Another guest spot featured Andrea Glass singing Bruce Springsteen's "Dancing In The Dark " accompanied by Peter Cooper, which went down well with the crowd. Eric and Peter also played some great covers, including a powerful version of Kevin Gordon's "Down To The Well", the great John Hiatt's "Train To Birmingham" (that's Alabama, not West Midlands) and a lovely version of their hero Tom T. Hall's tear-jerker "I Flew Over Our House Last Night" about a man seeing his former home (which is occupied by his ex) from an aeroplane.
It was another great Liverpool Acoustic night at the View Two Gallery, and then it was time to get that Last Train Home!
© 2012 Peter Cowley – Fatea Magazine
fatea-magazine.co.uk
republished with kind permission
Live Review: Eric Brace and Peter Cooper

Peter Cowley is a regular reviewer of live music for Fatea Magazine - fatea-magazine.co.uk