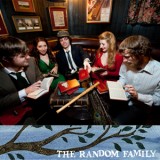 tagged:
family folk-up
,
interview
,
luke moore
,
the random family
Posted by Luke Moore in interviews, news, news and reviews
The Random Family have spent much of the last several years flying the flag for Liverpool folk music, with a couple of EPs, an album and their own regular night showcasing touring acts with local artists.  At the end of this month, however, they're calling it a day, so before they moved on to pastures new, I caught up with two of the band to talk about the last few years playing and recording together and what the future holds.
Joe's just getting a brew when I pitch up at Mello Mello and while we're waiting for bassist Paul to arrive, I ask him the question that's been bugging me since setting up this interview – why are The Random Family packing it all in?  He's probably been asking himself the same thing for a while, but Joe's response that "it's just run its course and run out of steam" makes a lot of sense when he mentions that two of the band have just had a baby.  But it seems that there's a little more to it and he goes on to tell me about how some performances to 'serious' folk audiences occasionally feel a bit like an exam, with much box-ticking rather than the kind of warm reception that The Random Family's 'Family Folk Up' nights have embodied.  Just as he elaborates on the challenges of finding a manager that a band can trust, Paul lays down his double bass and adds how difficult the prospect of taking things to the next level can seem after getting to where The Random Family has.
It's a shame to see a great act hitting the wall too, as musically, lyrically, the band have a lot going for them.  The songwriting partnership between writers Joe and Will leads to a well-crafted combination of Will's more traditional sense of narrative with Joe's generally more emotive approach.  There's a deep sincerity in the sound the band make and when I tell the guys that I thought I heard the influence of the likes of Seth Lakeman on their album Married to the Sea, they both reel off a range of influences, from the obvious (Dylan, Young) to the likes of Soundgarden, Pearl Jam, Tool and "anything with a lot of energy".  Before we get a bit sidetracked comparing notes on our experiences seeing System of a Down live, I ask them what they thought of the city's musical life.  They both agree that Liverpool always has a different scene and point out that Mello Mello and the Kazimier have definitely injected more life into it, but making a living from being a musician is getting even harder.  I push them on this and there's a sense that the city's council could do more, while developments such as those in the Baltic Triangle leading to a "creative quarter" have the potential to move Liverpool's musical axis a little.  Only time will tell but we all agree that the success of Threshold Festival a second year in a row can only be a good thing.
And so to life after The Random Family.  Joe tells me he is off to Leicestershire to be a teacher and has been gigging solo too, in addition to playing with Fallen Leaf and the Scilly Isles' very own Rough Island Band.  Paul was off to The Shipping Forecast after our chat for a soundcheck with Amy Rose Esdale, a songwriter he has been working with and the rest of the band are going their own ways.
With a great track record putting on their night at St Brides, the final Family Folk Up on the 30th June promises to be a fitting send off for The Random Family.  We talk a little more and given that the guys are starting afresh, I ask them what they think any aspiring bands and artists need to succeed.  "They have to sacrifice ideals to be financially viable, or just be very stubborn" is Joe's response, before Paul chips in that they "know a lot of stubborn, poor, musicians".  I also push them for a bit of advice and their one pearl of wisdom is "never hire a busker to play at your gig" before telling me about a particularly horrendous experience that is best not repeated!
So, on the 30th June, they will play their last gig and after that, we wish all of them the very best.  Given that blood is thicker than water, perhaps we'll see this particular family in action sometime in the future.  I certainly hope so.
Random Family interview and final Family Folk-up
(c) 2012 Luke Moore
The last ever Family Folk-up takes place on Saturday 30th June 2012 at St Bride's Church, and The Random Family are joined by Sparkewood & 21, Clean Cut Kid, and SJ Downes. Doors open at 7.30pm, and it's bring your own drinks. Tickets are £5 in advance from wegottickets.com or on the door (if it's not sold out). Facebook event here.

In addition to writing reviews for liverpoolacoustic.co.uk, Luke Moore is a freelance composer, arranger, session musician (cello/piano/bass guitar/double bass) and songwriter. With a business that aims to be a 'one stop shop' for bands and artists, Luke works with a lot of bands and artists in Liverpool, sharing their passion for original new music.