Posted by Liverpool Acoustic in news, news and reviews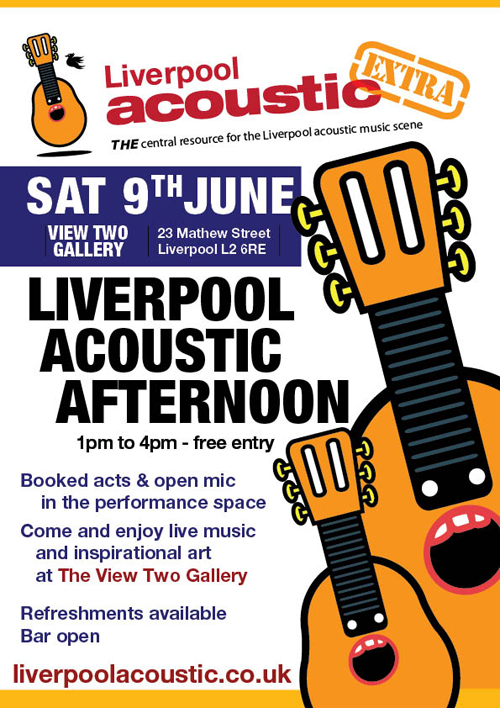 Last October we held our first Liverpool Acoustic Afternoon at Mathew Street's View Two Gallery. And we had so much fun that we've decided to do it all over again!
This coming Saturday 9th June 2012 Liverpool Acoustic will be hosting a relaxed event featuring mainly open mic with a couple of booked guests thrown in for good measure. It's all taking place in the View Two Gallery's top floor performance space from 1.00pm to 4.00pm and is free to attend.
Musicians wanting to take part in the open mic can just turn up on the day – the spaces will be filled on a first-come, first-served basis. The gallery opens at 12.00pm and closes at 5.00pm.
What can you expect on the day?
Relaxing music
Inspirational artwork
Friendly company
The bar serving tea, coffee, and alcohol
The windows open to let in the cool breeze on a hot, sunny summer day in Liverpool
OK, so we may not be able to guarantee the sunshine but the rest is a given.
Our two booked acts are Debbie Richards and Sean Michael.
Debbie Richards is a local singer, songwriter and pianist from Cheshire who'll be playing a 20 minute set of her original songs on the View Two Gallery's fabulous grand piano from 1.30pm. debbierichards.co.uk
Sean Michael, former member of local bands Dulce Como and The Suns, will be playing a 20 minute set at 3.00pm featuring a collection of his own guitar instrumentals influenced in style by the likes of John Fahey, Davey Graham and Leo Kotke.
The facebook event can be found here
Liverpool Acoustic Afternoon this Saturday 9th June

Liverpool Acoustic is the only website of its kind in the UK. It was created by Graham Holland in April 2008 as a central resource for the vibrant and exciting acoustic music scene in Liverpool and the Greater Merseyside area. It contains an extensive diary of acoustic events, from festivals, theatre concerts and folk clubs to showcases and open mic nights. The News and Reviews service is available as a free email subscription and carries previews of upcoming events, reviews of music releases and gigs, the Liverpool Acoustic Spotlight podcast, and a newsletter on the first of each month.