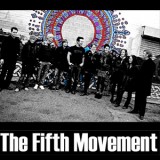 tagged:
a roll of the dice
,
deafen the creatures
,
ep launch
,
the edwardian picnic
,
the fifth movement
,
the kazimier
Posted by Liverpool Acoustic in news, news and reviews
As many of you know, The Fifth Movement have recently been in the studio recording their debut album and are really eager for you all to hear it. However, it's not quite ready yet, so they're giving us the next best thing instead – a new EP.
The Fifth Movement will be using their forthcoming gig this Saturday 26th May at The Kazimier to launch their second EP called 'A Roll of the Dice' which will include some tracks from the album and some tracks recorded just for the EP. The idea was to take the most cinematic tracks available in one place as a sort of imaginary film soundtrack. To help create the big sound they've become famous for, the band will be playing on the night with five extra musicians, bumping the number on stage up to ten.
Joining The Fifth Movement at The Kazimier will be special guest bands Deafen The Creatures, and The Edwardian Picnic, both of which come with the Liverpool Acoustic seal of approval. Add to the mix the fact that it's the week of Kevin Critchley's birthday, and it's set to be a real party atmosphere at the Wolstenholme Square venue.
Tickets for The Fifth Movement EP launch can be bought for £6 direct from any of the bands, or online from seetickets.com
The facebook event is here.


Liverpool Acoustic is the only website of its kind in the UK. It was created by Graham Holland in April 2008 as a central resource for the vibrant and exciting acoustic music scene in Liverpool and the Greater Merseyside area. It contains an extensive diary of acoustic events, from festivals, theatre concerts and folk clubs to showcases and open mic nights. The News and Reviews service is available as a free email subscription and carries previews of upcoming events, reviews of music releases and gigs, the Liverpool Acoustic Spotlight podcast, and a newsletter on the first of each month.