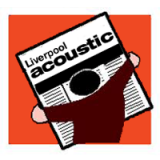 tagged:
liverpool acoustic newsletter
,
may
,
may 2012
,
news
,
newsletter
Posted by Liverpool Acoustic in news, news and reviews, newsletter
It's the start of May and we've got another month of fantastic live music ahead of us in Liverpool and Greater Merseyside. All you have to do is look in the ever-expanding online diary on our website to see just how busy we all are.
Taking place over three days from 17-19th May Liverpool Sound City combines concerts galore, a conference, and for the first time an Expo. Look out for the Youth Live events and the UK Music Student Awards too. There are plenty of acoustic treats over the three days, including Stephen Langstaff, Stealing Sheep, Fossil Collective, The Grande, The Hummingbirds, Tibi & Her Cello, The Second Grace, Johnny Sands, Thomas J Speight, and Dan Croll. Full details from liverpoolsoundcity.co.uk
Also coming up this month is the return of Light Night on Friday 18th May. There's just so much going on between 4pm and the end of the evening that we can't list them all here. Heck, there's even some music thrown into the mix too, including TJ & Murphy playing at the candle-lit labyrinth outside the Metropolitan Cathedral, and a Late Night Ceildh with traditional folk music at St George's Hall. Full details, including this year's brochure, can be found at lightnightliverpool.co.uk
Liverpool Acoustic has been approached by David Crawley from Up and Coming. He's looking for acoustic musicians to play outside the Domino Gallery on Light Night. If you're interested then read about the 21 Steps exhibition it will be part of here and drop him an email here.

LIVERPOOL ACOUSTIC LIVE
This month's Liverpool Acoustic Live is taking place on Friday 25th May 2012 at the View Two Gallery and features award-winning playwright and local musician Lizzie Nunnery, with support from Cheshire-based Dayve Dean, Wolverhampton's talented singer-songwriter Dan Whitehouse, and the inventively entertaining The Science of the Lamps.
Lizzie Nunnery
Dan Whitehead [Wolverhampton]
Dayve Dean
The Science of the Lamps
Tickets are available in advance for £5 from wegottickets.com/liverpoolacoustic or for £6 on the night when the doors open at 8.00pm. The music starts at 8.30pm and goes through to just after 11pm.
You can join the facebook event at facebook.com/liverpoolacoustic/events
All of our future live events can be found at liverpoolacoustic.co.uk/live and if you want to receive information about tickets before they go on general sale then sign up to our events publicity mailing list here.

DIARY NEWS
Here's our latest list of new events that have started, and current events that have changed or ended. If you know of any we've missed then do let us know so we can share the news with the rest of the world. You can follow more up-to-date news on our twitter feed twitter.com/lpoolacoustic
All change…
Kathleen Button has taken over the reins at Saturday Night at the Vinyl Bar on Lark Lane. This night (previously run by Miles Carrinton as Saturday Superhouse) features mainly acoustic music, and finishes off with the occasional band. Expect lots of sing-along covers plus more than a few original songs too. Details can be found on the new facebook page here.
The Everyman Folk Club has moved from the Fly in the Loaf to their new home in Osqa's Bar, on the corner of Oldham Street and Roscoe Street (see map). It takes place every Wednesday from 8.30pm onwards.
You say goodbye…
We've removed the fortnightly Thursday night Live at the (ljmu) Union event from the diary. If anyone out there knows if it's still running drop us a line on our Contact page. Ta!
The 2Track Open Mic night at Tank in St Helens is no longer taking place, although the 2Track Acoustic Sessions are continuing. Visit their facebook group for more info.
And I say hello…!
Mellowtone at The Attic is a new free event taking place on the first Wednesday of the month. The Attic is the new name for the old 3345 Parr Street venue which has had a major refurbishment and is now under new management.
OVER Spill @ The Brink is hosted every two weeks by the legendary Mr Tom O'Rourke and features a selection of acoustic performers, finishing off with a band. The opening night is Tuesday 8th May from 8pm to 11pm, and future lineups are filling up fast. Contact Tom on the event's facebook page for more details. Entry is free, and The Brink is a dry bar.
Hollywood's Hoedown is a new weekly event taking place every Sunday from 6pm to 11pm at the Harbour Bar in Waterloo. Essentially it's an open mic, but a little more organised, with acoustic acts getting 15-30 minute slots. For more information contact Eddie Simkins on facebook.
Kaleidescape is a new open floor poetry and acoustic music event taking place monthly at the Walker Art Gallery. The first one is on Friday 18th May, and it takes place between 7pm and 9pm as part of Liverpool Light Night. From June it will be on the last Sunday of the month from 1pm to 4pm. New and established artists are welcome, and original material is encouraged. For more details message Tony Kehoe on facebook.
Soul4Soul takes place on the last Sunday of the month and is a soulful mix of live music in a place where musicians and music lovers can come to be inspired by the music and conversation. It all happens in Studio 2 at Parr Street, and has a Motown and Soul theme. Entry is £5 on the door, and more info can be found on their facebook page.

MAY DIARY SELECTION BOX
Here's a selection of some of the acoustic events taking place in May. Click on the event in the diary for full details and links.
Tuesday 1st – Cellar Bar Folk @ The Cornmarket off Fenwick St. This event features floor singers for the first half of the evening, and after the break this month the Big Spot is in the more-than-capable hands of John O'Connell. And what's more, it's free!
Tuesday 1st – The Tuesday Takeover @ ljmu Student Union (The Haigh) from 8pm to 11pm and free. Hosted by Jessicas Ghost and featuring The Darryl Ryan Band and Barry Briercliffe. Might become a regular event, so why not go a long and support it? Facebook event page here.
Wednesday 2nd – Martin Harley Band @ The Shipping Forecast. A great opportunity to see this real quality guitarist and singer in the heart of Liverpool. Tickets £10 in advance from glasswerk.co.uk or £12 on the door.
Thursday 3rd – Bird @ Leaf – with support from The Mono LPs (acoustic set) and Anna Tai Hogan. Tickets £4 in advance here. Another fabulous night from Mellowtone. We love Bird!
Saturday 5th – Liverpool Bands @ Anotherplace. Another fantastic free gig from the ever-popular Liverpool Bands facebook page. This month sees a super acoustic lineup featuring Ratty Little Fingers, The Big I Am, Silent Cities, and Julian Riley. Find out more from the facebook event page.
Wednesday 9th – Wallis Bird @ Leaf – with support from Jenny Lindfors. £6 tickets here.
Friday 11th – Rathole Roadshow @ Leaf – Dan Lynch brings his Rathole Roadshow back to Liverpool for a 3rd successive year. Thom Morecroft will be playing on the night, alongside 20lb Sounds, P'Chenga, and The Corinthians. The fabulous audience-bot robot will be making a return too. The doors open at 8pm and it's free. More details from ratholeradio.org/roadshow
Saturday 12th – Heidi Talbot @ The Unity. Irish singer-songwriter Heidi Talbot returns to Liverpool's Unity Theatre for an evening of traditional and contemporary songs and a bittersweet spun-gold voice. Tickets are £12 (concessions available) – more info here.
Saturday 19th – Jez Lowe and the Bad Pennies @ The Brindley – SOLD OUT
Saturday 19th – Sandy Denny tribute @ Liverpool Philharmonic – An evening in tribute to Fairport Convention folk icon Sandy Denny, featuring members of Bellowhead, plus Maddy Prior, PP Arnold, Dave Swarbrick, Thea Gilmore, Blair Dunlop (Albion Band) and more. Details here and we hope to bring you a review the following week.
Sunday 20th – Sarah McQuaid @ Folk at the Manor – Born in Spain, raised in Chcago, moved to Ireland, now living in England, Sarah is a gifted and captivating performer. Tickets are £5 and more info is at folkatthemanor.co.uk
Sunday 20th – Jake Morley @ Eric's – The London-based singer-songwriter brings his infectious anthems to Mathew Street. Tickets £5 in advance from ticketmaster
Wednesday 23rd – The Handsome Family @ Leaf – with support from Tiny Ruins £10 tickets here.
Friday 25th May – Lizzie Nunnery @ Liverpool Acoustic Live, The View Two Gallery. Full details at the top of the newsletter.
Saturday 26th – The Fifth Movement @ The Kazimier, with support from Deafen the Creatures, and The Edwardian Picnic. More info from the facebook event page and tickets £6 here.
Thursday 31st – Woody Guthrie Folk Club, with special guest Nora Guthrie (Woody's daughter) @ The Rodewald Suite. What can we say? We're sorry if you wanted to go to this but the special event to celebrate what would have been Woody's 100th birthday is already SOLD OUT. Why not go and see Scotland's Dougie MacLean at The Brindley instead?
JUNE DIARY SNEEK PEEK
Now that you've had this month's lowdown, here are some events coming up next month that deserve a bit more advance notice.
Saturday 2nd June – Stealing Sheep & Simian Ghost @ Leaf – £6 from ticketweb.co.uk
Saturday 8th June – Liverpool Acoustic Afternoon @ The View Two Gallery – yes, we're back! We had so much fun last October we've decided to do it all again. Taking place from 1pm to 4pm this is a mix of open mic and booked slots. The bar will be open selling tea, coffee, and (hic) alcohol. More info coming soon.
The 8th Wirral Folk On The Coast Festival takes place from 7th to 10th June at the Whitby Sports & Social Club, Ellesmere Port. Joining headline act Barbara Dickson is Kieran Goss, Harvey Andrews, Jez Lowe & the Bad Pennies, Bernard Wrigley, Kathryn Roberts & Sean Lakeman, Keith Donnelly, Anthony John Clarke, Edwina Hayes, Jaywalkers, Elbow Jane, Bernie Davis, and many more. Full details available from wirralfolkonthecoast.com
Fire in the Mountain Festival takes place at Cwmnewidion Isaf, near Aberystwyth in Mid Wales from 1st to 5th June. Although it's far from local, there's a shed load of local artists and bands playing at the festival, including The Loose Moose String Band, The Flamin' Mamies, Married to the Sea, Dave Owen, Nick Ellis, Sidney Bailey's No Good Punching Clowns, and Jeff Jepson and the Angry Wasps. Details and ticket links can be found here.

AND FINALLY…
The Liverpool Acoustic Spotlight is always looking for acoustic music from local artists or bands to play on the show. If you're interested then visit the Spotlight page on our website liverpoolacoustic.co.uk/spotlight and scroll down to the 'Taking part' section to find out how to submit a track.
And talking of the Liverpool Acoustic website, many thanks to everyone who made nice comments about the new design. We're chuffed to bits with the new format where we can feature important news and reviews items in the swish slider at the top of the home page. We're still tweaking things to make them even better, and if you have an idea about how we can do that then drop us a line on our contact page – we'd love to hear from you.
Graham – on behalf of the Liverpool Acoustic Team


Liverpool Acoustic is the only website of its kind in the UK. It was created by Graham Holland in April 2008 as a central resource for the vibrant and exciting acoustic music scene in Liverpool and the Greater Merseyside area. It contains an extensive diary of acoustic events, from festivals, theatre concerts and folk clubs to showcases and open mic nights. The News and Reviews service is available as a free email subscription and carries previews of upcoming events, reviews of music releases and gigs, the Liverpool Acoustic Spotlight podcast, and a newsletter on the first of each month.