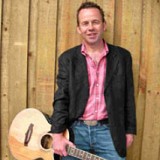 tagged:
celine carroll
,
dominic dunn
,
jimmy rae
,
roxanne de bastion
Posted by Peter Cowley in live reviews, news and reviews, reviews
Live review: Jimmy Rae @ Liverpool Acoustic Live
plus Roxanne de Bastion, Celine Carroll, and Dominic Dunn
The View Two Gallery
Friday 23rd March 2012


What a great evening! Graham Holland and his Liverpool Acoustic team have done it again! Tonight we had performances from four exceptionally talented artists, in the delightful ambience of the View Two Gallery, and all for the price of a couple of pints. I don't know how they do it!
Graham has a deserved reputation for spotting up-and-coming talent and the first act on, local lad
Dominic Dunn
, is no exception. At just fifteen years of age, Dominic is a fine songwriter whose sharply observed vignettes of everyday life belie his youthfulness. His professionalism would put many more seasoned performers to shame – he even has his own business cards. I am sure that Dominic has a great future ahead of him and wish him well.
Following Dominic in this exciting line-up was the charming Roxanne De Bastion. Like Dominic, Roxanne has been performing from a young age (in her case,10 years old). Roxanne grew up in Berlin but in 2007 she moved to the UK equipped only with a guitar and a one-way ticket. Since then, she hasn't looked back and has played such famous venues as the 100 Club, the Cavern and the Barfly, and her single "One Morning" was well-received by BBC Radio 6 Music.
Roxanne has a lovely voice (reminds me of Suzanne Vega) and writes quirky songs; for example, she sang one song about her blood cells! Another song, 1964, featured a whistling solo, you don't hear many of those these days. Roxanne's set ended with her single "Buckle Up", in which she had the the crowd singing along to the refrain "We're buckling buckling up".
The high quality of the performances continued, in great style, with the wonderful Celine Carroll from Dublin. Celine is a well-regarded songwriter (she wrote "Don't Get Me Wrong " for Frances Black) and is also a highly accomplished on both guitar and piano (fortunately the View Two has a grand piano for such occasions).
So good are Celine's jazz-inflected songs such as "Bird in a Cage", "Head Over Heels", and "Laugh While You Can" that they sound like standards from the Great Songbooks. Yes, she is that good!
Last but certainly not least, we had singer-songwriter-guitarist
Jimmy Rae
, accompanied by two members of his band The Firewalkers, Adrian Hall on grand piano and Jason Riley on electric bass guitar. Jimmy Rae is, perhaps, best known for being one half of the Reverb Brothers duo in the 1980s, who toured with acts such as OMD and Joe Jackson, before Jimmy quit the music business for about 20 years. Jimmy now performs with his alt-country band The Firewalkers, having released a solo album in 2009.
Jimmy is a superb songwriter, with numbers such as "Someone's Selling Off the Country " (highly topical in the week of the Budget); Eddie's Guitar (a poignant song about Eddie Cochran's mother's memories of her late son); "Where is the Love?" (with the lines "If We Can Find It ,We Might Discover How Much We Need Each Other") and, perhaps, best of all "Under the Mersey Moon" (a love song to Liverpool). Jimmy also played one cover, a lovely version of the great "People Get Ready" by Curtis Mayfield.
And so ended another night of great music at Liverpool Acoustic. I take my hat off to Graham Holland for his immaculate taste in the acts that he brings to the View Two!
© 2012 Peter Cowley – Fatea Magazine
fatea-magazine.co.uk
republished with kind permission

Peter Cowley is a regular reviewer of live music for Fatea Magazine - fatea-magazine.co.uk