Posted by Graham Holland in news and reviews, spotlight
Liverpool Acoustic Spotlight #15 Preview of Liverpool Acoustic Live 26/6/09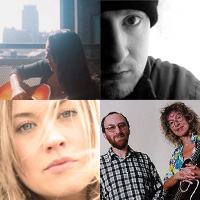 1. Vicky Neale – She's A Friend Of Mine
2. Barry Briercliffe – Walk In The Sun
3. Emily Barden – Standing In The Sun
4. Blue C – The Blues Will Go Rolling On
The next Liverpool Acoustic Live gig is taking place on Friday 26th June 2009 at the View Two Gallery on Mathew Street. The doors open at 8.00pm and the music starts at 8.30pm.
Entrance is £4 on the door, or £3 in advance from contact[at]liverpoolacoustic.co.uk
We've got four great acts for you to enjoy on the night.
Vicky Neale is a singer-songwriter who lists her influences as Roald Dahl, Kate Bush, Bob Dylan, Melanie Safka, Lewis Caroll, Joan Baez, and Nick Drake. Her favourite quote? "I'd rather walk in the gutter than crawl in the street." Quite right too!
Barry Briercliffe is a talented acoustic singer-songwriter from Kirkby who has gigged extensively across Merseyside and the Northwest. He takes his influences from the likes of Damien Rice, REM, KT Tunstall, and Pink Floyd. Barry's strong, soulful voice coupled with his great lyrics and quirky use of loop pedal enable him to build up layers of sounds, rhythm and voice that will excite and inspire audiences. His album When All You Need Is Answers is available to buy from his MySpace profile.
Emily Barden is the lead singer of local group Stella 66 in which she's joined by Ryan Forrest (Drums), JJ Rio (Bass), and Petter Dahlgren (Guitar/backing vocals). Stella 66 describe their music as 'country tinged acoustic folk pop.' "Imagine if Carole King had fronted The Band, or KT Tunstall was a band". Unfortunately, the sad news for the local music scene is that Emily is leaving Liverpool for a fab new job in West Sussex, but Liverpool Acoustic Live is fortunate to be hosting one of Emily's last two gigs in the city before she leaves. Definitely one not to be missed.
Blue C
myspace.com/bluecblues
Under the name Blue C, the Liverpool slide guitar/bass duo Raphael Callaghan and Christine Purnell have made a big impression on the British blues scene since 1991 with their special mix of traditional blues and a collection of original blues and gospel songs.
Their song "When Will The Blues Leave" was chosen for a Best of British Blues compilation album and Callaghan's "Someone Else's Blues" was the first winner of the Blues Song of the Year at the Great British Blues Festival at Colne.
Their album "Swimming against the Tide" is in much demand in the America after the world's largest circulation blues magazine Blues Revue praised… "the seamless combination of driving bass and highly accomplished guitar… secret ingredient is the calibre of the original compositions… a unique blues sound that has, at its heart, a thorough soaking in Anglo-Irish folk traditions".
In July 2008 Raphael and Christine launched Blues On The Rock, a monthly event taking place at Fort Perch Rock, New Brighton, on the second Sunday of every month. Each month Blue C play some of their own songs before introducing a special guest.
Liverpool Acoustic Spotlight #15
If you get the chance, please support your local artists by emailing them, joining their mailing lists, leaving them comments, going to their gigs, and buying their music direct from them where possible.
The Liverpool Acoustic Spotlight is produced and presented by Graham Holland on behalf of the Liverpool Acoustic website. It is also available on the Internet courtesy of Art In Liverpool FM (Defnet Media) and Re:place Radio (LIPA). The Liverpool Acoustic Spotlight proud to be a member of the Association of Music Podcasting and is supported by Libsyn.
The theme music is King of the Faeries by Andrew Ellis from his CD Midnight On The Water.

Graham Holland is the owner and editor of the Liverpool Acoustic website, and runs Liverpool Acoustic's award-winning live music events with local musician Stuart Todd. In real life he's an Apple Education Trainer, has been producing podcasts on a regular basis since July 2006, and runs a number of websites for other organisations. He lives in Wavertree with his husband and their cat Xiao Hei.