Liverpool Acoustic Spotlight #14 Preview of Liverpool Acoustic Live 15/5/09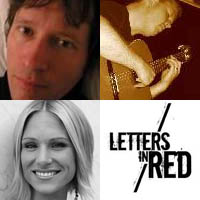 1. Jeff Jepson – 1001
2. Neil Campbell – November Song
3. Tricia McTeague – Beer Stained Coaster
4. Letters In Red – Got To Get You
The next Liverpool Acoustic Live gig is taking place on Friday 15th May 2009 at the View Two Gallery on Mathew Street. The doors open at 8.00pm and the music starts at 8.30pm.
Entrance is £4 on the door, or £3 in advance from contact[at]liverpoolacoustic.co.uk
We've got four great acts for you to enjoy on the night.
Jeff Jepson is a singer-songwriter-musician originally from the Isle of Mann who impresses with his distinctive voice everywhere he plays. Although he'll be playing solo acoustic at the Liverpool Acoustic Live gig, he's also to be seen about town with the Jeff Jepson Band, and making music with the Neil Campbell Collective and with Alex Dunford.
Neil Campbell is a virtuoso classical guitarist whose musical career has followed a number of seemingly divergent musical paths including free improviser, singer songwriter, systems music composer, band leader and virtuoso guitar soloist. His works, whatever he turns his hand to, continue to receive popular critical acclaim.
Tricia McTeague is a singer and songwriter from Widnes. She's had the pleasure of working with some amazing and talented people in the past as Backing Vocalist (Ronan Keating), Session Singer and Writing Collaborator. Here's your chance to enjoy Tricia in the wonderful surroundings of the View Two Gallery.
Letters in Red
myspace.com/lettersinreduk
Letters in Red are Rachel Sparx (vocals), Will Binden (guitar, mandolin & piano), Camilla Wilson (violin) & Christopher Wood (guitar & percussion). Based in Liverpool they write, perform and record their own music. Mixing a wide variety of influences such as pop, indie, folk, classical, soul and electronica, Letters in Red's songs reflect on love, loss and life. Winners of the 2008 Liverpool Irish Festival's Battle of the Bands, Letters in Red are ones to watch.
Liverpool Acoustic Spotlight #14
If you get the chance, please support your local artists by emailing them, joining their mailing lists, leaving them comments, going to their gigs, and buying their music direct from them where possible.
The Liverpool Acoustic Spotlight is produced and presented by
Graham Holland
on behalf of the
Liverpool Acoustic
website. It is also available on the Internet courtesy of Art In Liverpool FM (Defnet Media) and Re:place Radio (LIPA). The Liverpool Acoustic Spotlight proud to be a member of the
Association of Music Podcasting
and is supported by
Libsyn
.
The theme music is King of the Faeries by
Andrew Ellis
from his CD Midnight On The Water.

Graham Holland is the owner and editor of the Liverpool Acoustic website, and runs Liverpool Acoustic's award-winning live music events with local musician Stuart Todd. In real life he's an Apple Education Trainer, has been producing podcasts on a regular basis since July 2006, and runs a number of websites for other organisations. He lives in Wavertree with his husband and their cat Xiao Hei.