Posted by Liverpool Acoustic in news, news and reviews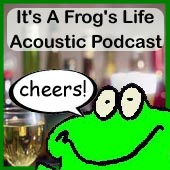 It's New Year's Eve and to celebrate we thought we'd point you in the direction of the It's A Frog's Life Acoustic Podcast. This is a fortnightly show featuring some of the best independent acoustic music from across the UK, with a fair few contributions from here in Liverpool.
Liverpool Acoustic's Graham Holland records the show on his lily pad on Wavertree Pond and places it on the Internet for listeners all around the world to enjoy.
Show 71 – Pour me a drink – is out today, and features eleven tracks all linked in some way with alcohol – rather appropriate for New Year's Eve, don't you think?
Click

for free download (54.3 MB)
(Right-click and 'save target/link as')
Click below to listen online (60 minutes)
(sorry, this doesn't work if you're reading this via email)
http://itsafrogslife.net/podcast/player/player.swf

If you want to check out the shownotes for the It's A Frog's Life Acoustic Podcast visit – itsafrogslife.net/podcast
Get this show automatically for free
[iTunes] [RSS] [get it by email]
[MySpace] [Facebook group]
[Digg me] [BT Podshow]
[iTunes leave a lovely review]
[Podcast Alley – vote for the show!]
The It's A Frog's Life Acoustic Podcast can now be heard
on Acoustic Alternative www.acousticalternative.com
every Friday at 3pm Pacific / 6pm Eastern / 11pm UK time

Liverpool Acoustic is the only website of its kind in the UK. It was created by Graham Holland in April 2008 as a central resource for the vibrant and exciting acoustic music scene in Liverpool and the Greater Merseyside area. It contains an extensive diary of acoustic events, from festivals, theatre concerts and folk clubs to showcases and open mic nights. The News and Reviews service is available as a free email subscription and carries previews of upcoming events, reviews of music releases and gigs, the Liverpool Acoustic Spotlight podcast, and a newsletter on the first of each month.